Diana's Desserts - www.dianasdesserts.com
See more recipes in
International Desserts and Treats
Serbian Baklava (Sevdidjan Baklava)
in Guest Recipe Book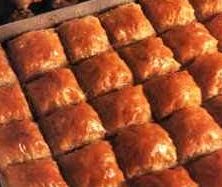 Average Rating:
(total ratings: 9)
[Read reviews]
[Post a review]
Servings: 24
Comments:
I believe that everyone has heard of Baklava filled with nuts (usually walnuts), but this recipe is a bit different. It is the Serbian version of the popular recipe for this sweet dessert, very common in the Balkans.
Ingredients:

10 phyllo pastry sheets

Filling:
200g butter
200g all-purpose flour
5 eggs
200g granulated sugar

For Syrup:
250ml water
500g granulated sugar
Fresh lemon juice
Instructions:
Beat eggs with 100g of the sugar. Add flour to mixture.

In a separate bowl cream 150g of the butter with the remaining 100g sugar. Add creamed butter/sugar mixture to egg mixture and mix well.

Melt the remaining 50g butter. Place 5 phyllo sheets into greased baking tray. Brush each sheet with melted butter. Pour filling over phyllo sheets and cover with remaining phyllo sheets, brushing each sheet with melted butter.

Bake at 200 degrees C (400 F) for 45 minutes.

For Syrup:
In a medium size saucepan bring water, sugar and lemon juice to a boil. Boil on medium heat for 10 minutes. Cool to room temperature and pour over baked baklava.

Makes 24 servings.

Source: www.kuvarica.co.yu - serbian culinary web site
Submitted By: Selma Cengic
Date: October 19, 2005
Reviews
Reviewer:
Alma
Rating:
Review:
Baklava is commonly served in Bosnia, not Serbia.
Reviewer:
S
Rating:
Review:
DISGUSTING! If you want to know how to make this ask a Bosnian.
Reviewer:
Katarina
Rating:
Review:
I have not tried this particular recipe but a correction to the comment by Alma above - baklava is very common all over the Balkans, especially all of the former Yugoslavia; it is by no means unique to Bosnia alone.
Reviewer:
Aubrey
Rating:
Review:
I am Serbian and I love baklava, just not this recipe.
Reviewer:
Magen
Rating:
Review:
I agree with Katarina, I am Croatian and we make delicious baklava. I haven't tried this recipe but if I did I would definately add walnuts and golden raisins, Yum!
Reviewer:
Aleksandra
Rating:
Review:
it is very funny how some people comment without common knowledge of history. Baklava is originaly Turkish and Arabian dish, not Bosnian, and it is made across the Balkans (from Greece to Serbia, FYRM, BIH, Croatia and Slovenia). I am Serbian from Herzegovina and my grandmother from Serbia/Belgrade was making the best baklava ever, and she was not from BIH, nor she was muslim. So please leave politics out of recipes, or at least learn history.
Reviewer:
NINA
Rating:
Review:
XCUSE ME!!!! Baklava from Bosnia? Baklava is well known all over the Balkans & the Middle East. Greece/Serbia/Bulgaria/Turkey/Lebanon/Syria/Egypt etc...in the Middle East also Christians and Jews eat Baklava...so the comment from ALMA that baklava is supposed to be eaten only in Bosnia is incorrect, get a life!!
Reviewer:
Kylie
Rating:
Review:
I know I am young but I made this and used this recipe for a school assignment and got an A+.
Reviewer:
Lee Lussier
Rating:
Review:
In Canada, I always find it dry and not appealling. The best baklava I have ever tasted was in Sarajavo and Split; I would like to learn that recipe.