Diana's Desserts - www.dianasdesserts.com
See more recipes in
International Desserts and Treats
Panettone
in Guest Recipe Book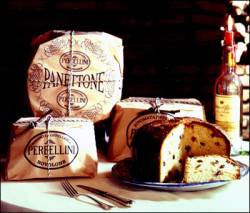 Average Rating:
(total ratings: 2)
[Read reviews]
[Post a review]
Servings: Makes 1 large loaf or 6 small loaves
Comments:
The origins and the real birth of the Panettone, the sweet symbol of Christmas, goes back to olden times and becomes richer and richer as time goes by. One of the oldest stories is a real and proper love story that gives the date of birth of this cake as the 15th Century at the court of the Duke Ludovico Maria Sforza, known in history as Ludovico il Moro; when Eghetti degli Antellari, Milanese Cavalier, fell in love with Adalgisa, the daughter of Mastro Toni, a baker in Porta Vercellina. The bold young man was burning with such a passion that he pretended to be a baker's apprentice to get into the bakery of his loved one's father to conquer her heart. It was really because of his passion that he invented this sweet bread made of flour, yeast, butter, eggs and sugar to be then filled with raisins, candied citron and orange peels. This cake met with such success that Ughetto conquered the heart of not only his beloved but the whole family as well and they got married.

Another legend, on the other hand, narrates that it was a nun, called Sister Ughetta who invented a sweet bread for Christmas to make her sister nuns happy and this cake met with immediate success both inside and outside the convent. And yet another tale, takes the birth of the Panettone back to the Court of Ludovico il Moro, where the duke offered a royal feast for Christmas Eve. But just as the cake was nearly finished, the chef realized that the cake that had been intended to wind up the meal, was burnt. Panic broke out in the kitchen and everyone was worried about the punishment they would receive if they didn't come up with a solution. It was then that a scullery boy by the name of Toni, proposed a sweet bread that he had prepared for himself using the ingredients that he had found among the left-overs of the burnt cake. As there was no other alternative, the chef had the candied cake brought to the table to the guests. The 'sweet bread', full of candied peels and butter, was welcomed with enthusiasm and was literally devoured. The Duke wanted to know the name of the candied, buttered cake and Toni presented himself saying that he had not given the cake a name yet. The duke then baptized it with the name of its maker 'pan de Toni', that is Panettone.

But the real history of this cake is a little different. In fact from the time of the Roman Empire, the families from Lombardy gathered together around a burning log and the head of the family sprayed the fire with wine and juniper and then broke the 'pan grande' into pieces. This rite was repeated time and again over the centuries until 1300 when, on the occasion of the Holy Christmas, a large bread made of wheat flour alone was prepared. This bread was most luxurious and was thus called 'pan de ton'.

As the culinary art progressed and became more luxurious, so did the 'pan de' ton become a rich and opulent cake, symbol of wealth but also to celebrate the Christmas festivities. One of the famous Panettone makers was Paolo Biffi, who prepared an enormous cake for Pope Pio IX and which had to be delivered in a special carriage. Without doubt Panettone as we all know it now, definitely comes from the region of Padua or to be more precise, Milan (even though the Piedmontese gastronomic tradition gives a typical recipe of a flattish Panettone covered with a crisp topping made from the round hazel nuts from the Langa region) and which has become famous on all the tables in Italy and abroad, because of its taste.

Ingredients:

1 cup raisins (dark, golden or a combination)
1 cup mixed peel or other chopped dried fruit such as apricots, figs or cranberries
1/2 cup brandy
1 cup milk, room temperature
1 envelope (2 1/2 tsp/7grams) active dry yeast
3/4 cup all-purpose flour
1/2 cup (1 stick/4 oz/113g) butter, softened
1/2 cup granulated sugar
4 eggs
1 tsp. vanilla extract
1/2 tsp. salt
3 to 4 cups all-purpose flour
2 tbsp. unsalted butter, melted

Instructions:
Combine dried fruit and brandy. Cover and let fruit soak at least 8 hours or overnight.

In a medium bowl, stir together milk and yeast until yeast starts to dissolve. Stir in the 3/4 cup flour until a sticky batter forms. Cover with plastic wrap and let rise until double in size, about 1 hour.

In a large mixing bowl, cream together the softened butter and sugar. Beat in eggs one by one, then beat in vanilla and salt. Beat for 5 minutes.

Add yeast mixture and 1 cup flour and beat until a smooth mixture forms. Attach a dough hook to your mixer and begin beating in 2 1/2 cups remaining flour. If you don't have a dough hook, mix in flour with your hands. Knead dough for 10 minutes. Add soaked fruit and continue to knead for another 3 minutes. Dough should be soft and slightly sticky.

Shape the dough into a ball and place in a well buttered large bowl. Turn dough over so surface of dough is lightly greased. Cover with a clean tea towel or plastic wrap and let rise in a warm place until dough is doubled, about 1 1/2 hours.

Punch down dough and shape into a ball. Place in a well greased panettone pan or a deep 8, 9 or 10-inch round baking pan (I use a souffle dish). To make smaller loaves, divide dough into 6 portions and place in smaller souffle or cake pans. Brush with 1 tablespoon melted butter. Let rise in a warm place until doubled, about 1 hour.

Bake at 375 degrees F (190 C) for 40 to 50 minutes or until a toothpick inserted into the center comes out clean. For small loaves, bake 25 to 30 minutes.

Brush with remaining melted butter and let cool 20 minutes before removing to cooling rack.

Makes 1 large panettone or 6 small panettone loaves.
Date: November 19, 2004
Reviews
Reviewer:
A.M. Barletta
Rating:
Review:
I'm looking forward to making this again for 2009. Be carefule not to overcook it.
Reviewer:
marie
Rating:
Review:
I cannot find the recipe for Panettone with a crisp topping of hazel nuts from the Langa (region). Would you please mail me the recipe. Thank you.