Diana's Desserts - www.dianasdesserts.com
See more recipes in
International Desserts and Treats
Dobos Torte
in Guest Recipe Book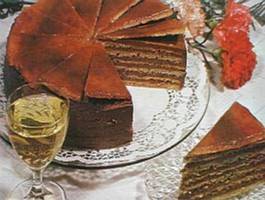 Average Rating:
(total ratings: 16)
[Read reviews]
[Post a review]
Servings: 12
Comments:
A classic Viennese layer cake, the Dobos torte was created by a Hungarian baker in 1885. Rivals tried, unsuccessfully, to copy it, and in 1906 József Dobos finally gave up the recipe. This updated version was crafted by Kurt Gutenbrunner, the chef at Manhattan's Wallsé and Cafe Sabarsky, who willingly offers his secret. As an extra indulgence, pair it with the lush 2000 Kracher Cuvée Beerenauslese, with its notes of apricot.
Ingredients:

Cake:
10 large eggs, separated, at room temperature
1 cup granulated sugar
2 1/2 sticks (1 1/4 cups/10 ounces/283g) unsalted butter, softened
1/2 cup confectioners' sugar
1 teaspoon finely grated lemon zest
1 teaspoon pure vanilla extract
1/8 teaspoon salt
1 1/2 cups all-purpose flour

Filling:
4 large eggs, at room temperature
2/3 cup granulated sugar
1/4 teaspoon pure vanilla extract
4 ounces bittersweet chocolate, coarsely chopped
3 tablespoons water
1 1/2 sticks (6 ounces) unsalted butter, at room temperature
Confectioners' sugar, for sifting

Caramel Topping:
1/2 cup granulated sugar
2 tablespoons water

Instructions:
1. MAKE THE CAKE:
Preheat the oven to 350°F (180°C). Lightly coat two 12 x 17-inch jelly-roll pans with vegetable oil spray; line them with parchment or wax paper.

2. In a standing electric mixer fitted with a whisk, beat the egg whites until soft peaks form. At high speed, gradually add the granulated sugar and beat until the whites are glossy and firm, about 1 minute. Transfer the beaten whites to a large bowl; rinse and dry the mixing bowl.

3. Add the egg yolks, butter, confectioners' sugar, lemon zest, vanilla and salt to the mixing bowl and beat at moderate speed until creamy. Beat in one-fourth of the beaten whites. Transfer the batter to a large bowl. Fold in one-third of the flour, followed by one-third of the remaining whites; repeat with the remaining flour and whites until no streaks of white remain. Divide the batter between the prepared pans and spread evenly with an offset spatula. Bake the cakes for about 12 minutes, or until firm, shifting the pans halfway through baking. Let cool.

4. MAKE THE FILLING:
In a large heatproof bowl set over a saucepan of simmering water, beat the eggs with the sugar until tripled in volume and an instant-read thermometer inserted in the mixture registers 165°F (73°C), about 6 minutes. Whisk in the vanilla. Remove the bowl from the pan and pour out the water. Add the chocolate and water to the pan and cook over moderate heat, stirring, until the chocolate is melted. Scrape the chocolate into a medium bowl. Whisk in one-fourth of the egg mixture, then gradually whisk in the rest. Let cool.

5. In a large bowl, using a handheld mixer, beat the butter until fluffy. Beat in the chocolate mixture. Refrigerate until firm.

6. Liberally sift confectioners' sugar over the cakes. Top each jelly-roll pan with a baking sheet; invert to release the cakes. Remove the parchment and dust the cakes with confectioners' sugar. Cut each cake crosswise into three 5 x 12-inch rectangles. Place 1 cake layer on a platter. Beat the filling until thick and fluffy, about 2 minutes; spread 1/2 cup evenly over the layer. Repeat to make a total of 5 layers, reserving the last cake rectangle and 1/4 cup of filling. Thinly frost the side of the cake with the remaining 1/4 cup of filling. Refrigerate until very firm.

7. MAKE THE CARAMEL:
Spray a large sheet of wax paper with vegetable oil spray. Center the remaining cake layer on the sheet. In a medium saucepan, cook the sugar and water over moderately high heat, stirring, until an amber caramel forms, 5 minutes. Carefully pour the caramel over the cake layer and spread it thinly with a small offset spatula. (About one-fourth of the caramel will end up on the paper.) Working quickly, cut the cake in half crosswise with a buttered sharp knife, then cut it in half crosswise again to form 4 rectangles. Cut each rectangle into 3 strips to make 12 equal strips. Trim any excess caramel from the sides. Let the caramel harden completely.

8. Arrange the caramel cake strips side by side on the top of the cake. Cut into slices between the strips and serve.

MAKE AHEAD:
The finished cake can be refrigerated, uncovered, for 2 days.

Makes 12 servings.
Source: Food and Wine Magazine, October 2002
Date: August 15, 2004
Reviews
Reviewer:
gisl
Rating:
Review:
photo is round cake - directions are for a rectangle.
Reviewer:
Andrew
Rating:
Review:
Not like the Dobos Torte my little Hungarian mother used to make!
Reviewer:
EVA
Rating:
Review:
THIS IS THE BEST CAKE IN THE WORLD
Reviewer:
eva
Rating:
Review:
THIS IS THE BEST CAKE IN THE WORLD.!!!!
Reviewer:
paul A nagy
Rating:
Review:
excellent
Reviewer:
Terri
Rating:
Review:
this recipe is fantastic, my oma made this cake and never had the recipe in yugoslavia in the 1940's from hungarian. they mixed their cakes with lots of trial and errors .... and made a lot of creations.
Reviewer:
Eniko
Rating:
Review:
Dobos Torta can be round or rectangular.
I have not tried this version (very different than what I was taught) but I must point out that this is a classic HUNGARIAN cake, not Viennese, as you noted it was created by a Hungarian baker, Jozsef Dobos.
Reviewer:
emma
Rating:
Review:
Is there anywhere in Sydney, Australia were I can buy Dobos Torte for my husband's birthday? Please Help!
Reviewer:
Erika Mills
Rating:
Review:
It is a hard to make Hungarian cake. Everybody will love it.
Reviewer:
cornelia sltz
Rating:
Review:
Good cake,but very hard to make.
Reviewer:
Sian
Rating:
Review:
i love this cake, but to make it easy for me as i did'nt have a lot of time, i cheated and bought the torta sponge and filled it and iced it with this recipe... mmmmmm dobos
Reviewer:
Dianna
Rating:
Review:
Available at the gelato shop at Bondi Beach Sydney. Can buy Dobos and many other hungarian sweets as well!!!
Reviewer:
Jim
Rating:
Review:
Great. The book Kaffeehaus by Rick Rodgers has am excellent recipe for this cake and many more. Emma you can buy it from Kinokuniya in the city upstairs on George Street across from QVB and there is also a cake shop called Sweet Kiss Cake Shop, 345 Clovelly Rd, Clovelly (www.cakeeurope.com). Try Esterhazy and Sacher.
Reviewer:
Stefanie
Rating:
Review:
Looking at this recipe, I could have sworn I'd seen it somewhere before. As my husband is a chef, we have extensive files of recipes we clip from magazines to try out and further develop. Sure enough, this recipe came from the October 2002 issue of "Food and Wine" magazine. It has been copied and pasted as one of "Diana's Desserts" VERBATIM, down to the comment at the top with the wine pairing suggestion. Going forward, you may want to consider crediting the source of a recipe if you are going to blatantly plagiarize it.
Reviewer:
Maria
Rating:
Review:
Diana help! My cake turned out beautifully, except the caramel. I cooked the sugar and the water in a black coated sauce pan, and it dried completely and became chalky before even it started caramelizing. I need to know more about the caramel technique, what am I doing wrong? This is one of my most favorite cakes, I'd like to enjoy it again. Please help!
Reviewer:
sue
Rating:
Review:
My family makes this cake all the time for special occasions and it is delicious.
Stephanie if you look at the bottom of the recipe it actually states that it is from the 2002 issue of Food and Wine. Next time you may want to read all the way to the bottom before accusing of plagiarism. Have a great day!