Diana's Desserts - www.dianasdesserts.com
See more recipes in
International Desserts and Treats
Muah Chee
in Guest Recipe Book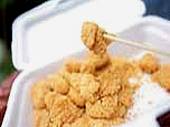 Average Rating:
(total ratings: 12)
[Read reviews]
[Post a review]
Servings: 4
Comments:
Muah Chee is a Chinese specialty snack eaten throughout Southeast Asia. It is a boiled gooey rice dough cut into small pieces and coated with finely chopped peanuts and sugar.

Ingredients:

For the Dough:
250 grams (8 ounces) glutinous rice flour
1 tablespoon vegetable oil
1 shallot, sliced (optional)

For the Peanut Powder:
1 package peanuts, (toasted, preferrably)
Sugar, to taste
Instructions:
1). In a large pot heat water until briskly boiling, then spoon in the glutinous rice flour gently. Don't scatter the flour. Boil until the flour floats. It should look like dough when it starts to float. Scoop out the cooked Muah Chee and put it on a plate. Repeat until all the flour has been cooked.

2). Fry shallot in vegetable oil, then pour mixture over Muah Chee. (optional)

*Note: Using shallot in this recipe is optional.

3). Use scissors to cut Muah Chee into bite sized portions before mixing it well with the oil. Set aside.

4). Grind the peanuts into a fine powder, adding sugar to taste. Take Muah Chee pieces and roll in the ground peanut powder. Continue rolling in peanut powder until all of the Muah Chee pieces are entirely coated with the peanut powder. Serve Muah Chee warm.

Makes 4 servings.

Date: March 20, 2004
Reviews
Reviewer:
wendy
Rating:
Review:
Hi, I really love your website. Was really glad to find that you had the recipe for muah chee and it looked real simple. However when I tried making it, it kinda flopped big time. Maybe I'm missing something. My flour floats on the surface of the water and the flour "cooked" unevenly with a transparent gelantinous outer layer and uncooked floor inside. Could you help me with this problem? Guess it is not as easy to make muah chee as the recipe seemed.
Reviewer:
shuhui
Rating:
Review:
great site. btw, do you know the origins of muah chee?
Reviewer:
brenda lee
Rating:
Review:
I have been looking for the muah chee recipe and am happy to find this web page that could tell me the recipe. It is a very nice food.
Reviewer:
Jackie Maria
Rating:
Review:
Fantastic site..my daughter loves muah chee and since we live in OZ..we can't find it here so now she and I are going to make it together thanks to your step by step instructions. God bless always
Reviewer:
Lauren
Rating:
Review:
cool site have been looking for cool recipes for my school assignment thanx
Reviewer:
Rachel&Veronica
Rating:
Review:
thanks a lot for the helpful information. now my mum and i can make muah chee together!
Reviewer:
jake
Rating:
Review:
Well, now i know all about Muah Chee making, thx!
Reviewer:
Sue
Rating:
Review:
great recipe. I recently traveled to Malaysia and ate Muah Chee at a local wet market. since than i have been trying eat to it again but i couldn't so i started to look for a recipe for it. Found yours and tried it. Voila, just as i remembered.
Reviewer:
florence
Rating:
Review:
Great!!, but I have one question: Why does my Muah Chee harden and how can we prevent it? Thanks
Reviewer:
Sylvia
Rating:
Review:
Can you tell me what the estimated pot size and the amount of water needed to mix with the glutinous rice powder?
Reviewer:
Iszy
Rating:
Review:
I find that using Mochiko powder and water then steaming it is a better option.
Reviewer:
OliverYapyixian
Rating:
Review:
Melaka powder?