Diana's Desserts - www.dianasdesserts.com
See more recipes in
International Desserts and Treats
Indonesian Layer Cake
in Guest Recipe Book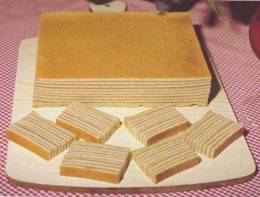 Average Rating:
(total ratings: 14)
[Read reviews]
[Post a review]
Servings: Makes 1 (7-inch) cake
Comments:
Making this cake may take a little more work, but the end result is worth the effort.

Ingredients:

7 egg yolks
150gm (5oz.) caster sugar (superfine or granulated sugar)
1 tsp. vanilla essence or extract
150gm (5oz.) butter, softened at room temperature
1 tbsp. brandy
90gm (3oz.) plain flour (all-purpose flour)
1 tsp. mixed spice (pumpkin pie spice may be substituted for the mixed spice)
7 egg whites
Instructions:
1. Grease the base and sides of a 17cm (7-inch) square cake tin and line base with greased greaseproof paper (baking paper or parchment paper).

2. Whisk the egg yolks with the sugar and vanilla essence until creamy. Beat in softened butter and brandy and stir in flour and mixed spice.

3. Whisk egg whites until just stiff. Pour egg yolk mixture into egg whites and fold gently.

4. Heat grill (or broiler in top part of oven) to moderate temperature (180 degrees C/350 degrees F) and place the prepared tin under grill (broiler in top part of oven) for 1 minute. Remove the tin from grill (broiler) and put in a ladle full (1/2 to 1 cup) of batter. Spread batter evenly by tilting tin, and grill (brown under broiler) for 5 minutes, or until lightly brown. Repeat until batter is used up.

Turn out and cool on a wire rack. Cut the cake only when it is completely cooled.

Makes 1 (7-inch) layer cake.
Submitted By: Irene
Date: March 17, 2004
Reviews
Reviewer:
bob
Rating:
Reviewer:
Pepy
Rating:
Review:
This is one of my favourite cakes. Reminds me of my home country, Indonesia.
Reviewer:
dora
Rating:
Review:
It is best to freeze it overnight and eat it the next day.
Reviewer:
dora
Rating:
Review:
My Mom used to make it and Federal Express it to me. It is great!
Reviewer:
Helen Hancock
Rating:
Reviewer:
Zariah Betten
Rating:
Review:
I would really like to know what is in the mixed spice (I did use the pumpkin pie spice and it was great), but if I could get the real deal, that would be awesome. Please email me the mixture. Thank you.
Reviewer:
Diana, Diana's Desserts
Rating:
Review:
Hi Zariah,
Here are the ingredients (and recipe) for Mixed Spice:
Mixed Spice
This typically British spice mixture can be purchased ready-mixed, but some cooks prefer experimenting and emphasizing different flavors. It is used in a variety of cakes and puddings, such as fruit cake, gingerbread and Christmas pudding. Make it up or buy it in small quantities as the mixture soon loses its full rich flavor. Allspice, cinnamon, cloves, nutmeg and ginger are the usual blend of spices, but some cooks like to add a few cardamom and coriander seeds.
Mixed Spice
Ingredients:
1 teaspoon allspice (or you may use 1 tsp. ground allspice)
1" (2.5 cm) piece cinnamon stick (or you may use 1/4 tsp. ground cinnamon)
1 teaspoon cloves (or you may use 1/4 tsp. ground cloves)
1 teaspoon ground nutmeg
1 teaspoon ground ginger
Instructions:
Grind the allspice, cinnamon and cloves (or you may use ground allspice, ground cinnamon and ground cloves) to a fine powder and mix well with the nutmeg and ginger. Use at once or store in an airtight jar away from light. Good luck and Enjoy!....Diana
Reviewer:
B. Krystyna Michnowski
Rating:
Review:
Thank you so much for this great sounding recipe that I found by trying to find a orange spiced layer cake cooked by contestant Jule on Aust. Masterchef his was in their Forum, read the instruct. it sounds great Thanks again will be making asap
Reviewer:
Jelaine
Rating:
Review:
I think i miss out the oven temp. can anyone tell me how many degrees should i set.
Reviewer:
Diana, Diana's Desserts
Rating:
Review:
Hi Jalaine
You should set your oven temperature to 350 degrees F/180 degrees C. Hope this helps you out. I will note this with this guest submitted recipe.......Diana, Diana's Desserts
Reviewer:
Cheryl
Rating:
Review:
I made this for my Indonesian friend. He was expecting one that had butter in between the layers and is much richer tasting, but he was pleased with the spices, which I added with a little sugar between the layers. I cooked it under the grill, it was easy, being careful to not scorch it. Just right for a small occasion. Thanks
Reviewer:
Jess
Rating:
Review:
Hi, can you advise me if I were to bake a cake, do I turn the oven fan on as well? What is the fan for?
Reviewer:
Enaa
Rating:
Review:
I would like to try to make it once I have the time. However, before I start baking, I would like to know what I can substitute the mixed spices with?
Reviewer:
Elizabeth
Rating:
Review:
My husband loved this cake very much, but we don't drink alcohol, can you tell me please what I can use to substitute for the brandy. Thanks a lot.