Diana's Desserts - www.dianasdesserts.com
See more recipes in
International Desserts and Treats
Fried Masa Cakes with Cheese (APREPAS DE QUESO)
in Guest Recipe Book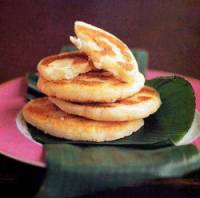 Average Rating:
(total ratings: 4)
[Read reviews]
[Post a review]
Servings: Makes 12 servings
Comments:
In her cookbook Fiesta!, Anya von Bremzen included a recipe by the Jackson Heights (Queens, New York) "arepa lady," known simply as Piedad. Though arepas are a common South American breakfast item (as well as a lunch and dinner starch), what makes hers so special is the luxurious inclusion of butter in the dough and the use of milk instead of water.

Arepas
Similar to an English muffins but made from precooked corn flour. It is cornmeal patty or pancake that is considered like bread in other countries. Arepas are popular throughout South America, but especially popular in Colombian and Venezuelan. It is considered the national dish of Venezuela (the local equivalent of an American hamburger). You can also find them all over Miami, Florida (the traditional arepa served in Miami has two ornmeal pancakes with a layer of cheese inside.) It is a bread that you can eat anytime, everywhere and with whatever you want. You can find arepas in small restaurants called areperas. The most famous is La reina pepiada, an arepa made with chopped meat, avocado and cheese. The favorite way to serve them in Venezuela is to split them open, remove some of the steaming moist corn meal, and then stuff them with your favorite ingredients. The arepa is wrapped in a square of slick paper (like butcher paper), and handed to the purchaser to eat standing up. The traditional arepas served in Miami has two cornmeal pancakes with a layer of cheese inside. Very few people make arepas at home, choosing to buy them at the store or have them delivered directly to their homes.

History of Arepas
They were first made by the Indians of Columbia and Venezuela as an important part of their diet. Just like corn tortillas were to the Aztecs. For many centuries, it was considered a food for the poor. Today they are considered a comfort food for everyone. Originally, in the beginning of the 20th century, the masa for the arepas was prepared using a "pilón". "Pilar" was an arduous activity, which consisted of hitting the corn inside a hallowed tree trunk or "pilón" to remove its heart and skin. It was then boiled until soft and ground on a large concave stone. After a soft dough was prepared, condiments were added. The dough was shaped by hand forming arepas to look like round cakes and then baked over hot charcoals. Today, with corn flour so easily available, arepas are easy to make.

Source: Emenus.ca
Emenus.ca is your restaurant solution on the Internet. We are Canada's newest dining guide and restaurant web service.
Ingredients:

2 1/2 cups milk
1/2 stick (1/4 cup) unsalted butter, cut into pieces
1 1/2 cups white arepa flour* (precooked cornmeal)
1 teaspoon salt
1 tablespoon sugar (optional)
1 cup grated mozzarella
2 tablespoons vegetable oil
Instructions:
Bring milk to a simmer in a small saucepan, then remove from heat and stir in butter.

Combine arepa flour, salt, sugar, and mozzarella in a large bowl.

Add hot milk and stir until combined. Let mixture stand until milk is absorbed enough for a soft dough to form, 1 to 2 minutes (dough will continue to stiffen).

Form dough into 12 balls (about 2 inches in diameter) and flatten between palms into 3 1/2- to 4-inch patties (about 1/3 inch thick).

Heat 1 tablespoon oil in a large nonstick skillet over moderately low heat until hot, then cook 3 or 4 arepas until cooked through and golden in patches, 6 to 8 minutes on each side. Make more arepas in same manner, adding oil as needed.

*Note
Arepa flour may be found in some Hispanic markets or grocery stores.

Makes 12 servings.
Source: Gourmet, May 2000
Submitted By: Joanne Teo
Date: January 28, 2004
Reviews
Reviewer:
ISADORA
Rating:
Review:
I LOVE AREPAS..I AM FROM VENEZUELA AND NEVER LEARNED HOW TO MAKE THEM, SINCE I GOT THIS RECIPE FROM THIS WEBSITE..I'VE BEEN EATING AREPAS SINCE THEN. THANKS FOR POSTING THESE RECIPES, PLEASE BRING MORE (DESSERTS) THANKS....
Reviewer:
Alex Madoxen
Rating:
Review:
the recipe was acurate
Reviewer:
Jack Whitesell
Rating:
Review:
Cut the recipe in half----used sour cream and water to replace milk----used shredded mexican cheese----put 6 balls between wax paper and squashed down to 1/4 inch with plate bottom-----took pictures and will send-----waiting for supper to see how the wife reacts-----
Reviewer:
halobo
Rating:
Review:
amazing recipe!