Diana's Desserts - www.dianasdesserts.com
See more recipes in
International Desserts and Treats
Grand Marnier Creme Caramel
in Guest Recipe Book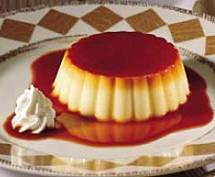 Average Rating:
(total ratings: 3)
[Read reviews]
[Post a review]
Servings: 8
Comments:
Flan or Creme Caramel (as it is called in France) is the most popular dessert in almost every Spanish taberna, as well as in Portuguese tascas, where a little liqueur, port or orange zest is sometimes added to flavor the custard base. Usually the custard is caramelized ; that is, baked in ramekins or custard cups that have been lined with caramel to create a sweet, golden sauce.

This Creme Caramel will make a lovely presentation for your New Year's Eve celebration; a scrumptious dessert your guests will adore.
Ingredients:

Zest of 3 oranges, in long strips
2 cups milk
2 cups heavy cream
1 cinnamon stick
2 cups sugar
1/4 cup water
6 whole eggs plus 3 egg yolks
1 teaspoon vanilla extract
3 tablespoons Grand Marnier or other orange liqueur
* (see note below)
Instructions:
In a saucepan over medium-high heat, combine the orange zest, milk, cream and cinnamon stick. Heat until small bubbles appear at the edge of the pan, then remove from the heat. Let stand for 1 hour to develop the flavors.

In a small, heavy saucepan over low heat, combine 1 cup of the sugar and the water. Stir until the sugar dissolves. Bring to a boil over high heat. Boil, without stirring, until the liquid is golden brown, 6-8 minutes. Carefully pour the hot syrup into the bottoms of eight 1-cup ramekins or custard cups, immediately tilting and swirling the dishes to coat the bottoms and sides with the caramel. Place the dishes in a large baking pan. Set aside. Preheat an oven to 325 degrees F.

Strain the cream mixture through a sieve into a clean saucepan. Warm over medium-high heat until tiny bubbles appear along the edge of the pan. (Do not allow to boil.)

Meanwhile, in a bowl, whisk together the whole eggs, egg yolks and the remaining 1 cup sugar until frothy. Gradually beat in the hot cream mixture, a little at a time. Stir in the vanilla, and then the Grand Marnier (or other orange liqueur, if using), if using. Strain the mixture through a sieve into the caramel-lined dishes, dividing it evenly.

Pour hot water into the baking pan to reach halfway up the sides of the custard cups. Cover the pan with foil and place in the oven. Bake until a knife inserted in the center of a custard comes out clean, about 30 minutes.

Remove the baking pan from the oven and remove the dishes from the pan. Let cool for 30 minutes, then cover and refrigerate until well chilled.

Just before serving, carefully run a knife around the inside edge of each custard and invert into individual shallow dessert bowls. Pour any extra caramel in the dishes over the custards and serve.

Makes 8 servings

Note:
Grand Marnier is an orange liqueur, and I reccommend it for this recipe. If you can't find Grand Marnier (it is usually sold in most large markets and liquor stores), use another good quality orange liqueur.
Source: DianasDesserts.com
Date: November 10, 2003
Reviews
Reviewer:
Laura Beth Steiner
Rating:
Review:
It was very delicous.
Reviewer:
Jan
Rating:
Review:
I've made this recipe a few times now and it is definitely a show stopper! I do find that my cooking time is much longer however, usually over an hour. A little bit of whipped cream and a sprig of mint doesn't hurt either. Definitely worth the effort! Thanks!
Reviewer:
Moni
Rating:
Review:
OK, this is a very hard recipe! However it turned out great..the appearance is so good so is the consistency but it was TOO CREAMY! Wasn't stiff Gelatin like.. so I don't know .. i'm not repeating it again.