Diana's Desserts - www.dianasdesserts.com
See more recipes in
International Desserts and Treats
Classic Vanilla Pots de Creme
in Guest Recipe Book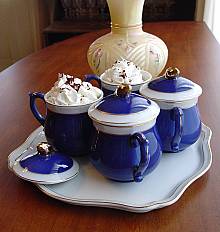 [Be the first to post a review!]
Servings: 6
Comments:
"I thought it would be helpful for those of you who don't know what Pots de Creme Cups looks like to see a photo of them. The photo above is of my new, pretty blue and white with gold trim Pots de Creme cups that I purchased recently".....Diana

There are 4 other recipes on Diana's Desserts Website for Pots de Creme. Look under this category: International Desserts and Treats, under the Chocolate Sweets Category, the Spoon Desserts, Gelatins, and Puddings Category to view other Pots de Creme recipes, or look under the Thanksgiving Category for Pumpkin Pots de Creme.

Pots de Creme
Pots de Creme refers to both the custard dessert as well as the small lidded pots this dessert is served in. Pots de creme, or pot-au-creme translates from French to English as "pot of cream". The French do not have a word for "custard" the dish is simply referred to as "creme". The pots may also be referred to as "petits pots". Technically the pots de creme is a lightly set, baked custard. The "traditional" proportions for this dessert is one whole egg to every five egg yolks for 2 1/2 to 3 cups of liquid. A dessert made with these basic proportions will yield a barely firm custard. This is why the custard is best served in small pots (or ramekins).

The Pots
Pot History and Information
The pots are typically made of porcelain and hold approximately 3 ounces of custard although this will vary from manufacturer to manufacturer. Most cups we have seen have a single tiny handle. The lids are normally adorned with a finial on top such as an acorn, a bird, or a piece of fruit. The designs vary from smooth, simple, white, devoid of any additional decoration to ornate gilded or floral patterns. A popular design for the cups was white porcelain with gold trim reminiscent of the simple gold and white Haviland Limoges pieces.

Here is a very classic recipe for Vanilla Pots de Creme. Although chocolate is popular the "traditional" pots de creme was vanilla.
Ingredients:

For Pots de Creme:
2 cups light cream (half and half)
1 (3-inch) vanilla bean
6 egg yolks
1/2 cup granulated sugar
1/8 teaspoon salt

For Garnish: (optional)
Whipped Cream
Cocoa Powder

You will also need:
A large roasting pan and a large pot or kettle of hot or boiling water.
Instructions:
1). Preheat oven to 350°F (180°C). Have a large pot or kettle of hot or boiling water ready. (See instruction Number 6 pertaining to "water bath").

2). In a medium saucepan, heat 1 3/4 cups of the light cream (half & half) with the vanilla bean until cream is scalding. Do not boil. Remove from heat and set aside.

3). Beat egg yolks until they are lemon colored. Beat in the sugar, salt, and the remaining 1/4 cup of the light cream.

4). Remove the vanilla bean from the hot cream (rinse off the vanilla bean and dry. Store for future use, or you may discard the vanilla bean). Gradually beat the hot cream into the egg yolk mixture, stirring constantly.

5). Strain the mixture into a large 4-cup measuring cup.

6). Place six (6) pots de creme cups (or small souffle cups, custard cups or ramekins) in a large roasting pan. Divide the mixture evenly into the 6 cups. Pour enough hot or boiling water in the pan to come halfway up the sides of the cups (this is called a "water bath"). Cover the pan with aluminum foil or cover with the pot lids. Place in oven and bake at 350°F (180°C) until the custard is just set around the edges, approximately 30-35 minutes.

7). Carefully remove the pan (with very hot water) from the oven. Leave pots de creme in pan in water bath, and allow the pots de creme to cool to room temperature. Then, remove the pots de creme from water bath; cover them with plastic wrap and chill in refrigerator for at least 2 hours or up to overnight.

8). Serve chilled pots de creme with a spoonful of whipped cream and a light dusting of cocoa powder, if desired.

Tip:
The pots de creme may be chilled in refrigerator for up to 2 days, covered with plastic wrap.

Makes 6 servings.

Note:
Recipe revised on August 19, 2003.

Photograph taken by Diana Baker Woodall ©2003
Source: DianasDesserts.com
Date: August 5, 2003