Diana's Desserts - www.dianasdesserts.com
See more recipes in
International Desserts and Treats
Petits Pots de Crème à l'Orange
in Guest Recipe Book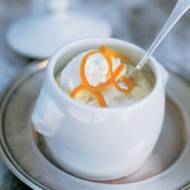 [Be the first to post a review!]
Servings: 8
Comments:
What are Pots de Creme?

Pots de Creme refers to both the custard dessert as well as the small lidded pots this dessert is served in. Pots de creme, or pot-au-creme translates from French to English as "pot of cream". The French do not have a word for "custard" the dish is simply referred to as "creme". The pots may also be referred to as "petits pots". Technically the pots de creme is a lightly set, baked custard. The "traditional" proportions for this dessert is one whole egg to every five egg yolks for 2 1/2 to 3 cups of liquid. A dessert made with these basic proportions will yield a barely firm custard. This is why the custard is best served in small pots (or ramekins).

Source: Gourmet Sleuth

Petits pots de crème are such a popular dessert in France that porcelain factories make dainty individual pots with lids expressly designed for the cream. Ramekins that hold a scant 1/2 cup are an alternative. A few small orange segments can be placed alongside each serving.

Ingredients:

1 orange
2 cups milk
6 tbsp. granulated sugar
3 eggs
A few drops of vanilla extract
1 cup water
1 cup heavy cream, whipped until stiff (optional)

Instructions:
Using a small knife with a flexible blade, remove the zest from the orange in strips 3/4 inch wide and as long as possible. Reserve 3 of the strips to infuse the custard. Turn the other strips over and, using a small, sharp knife, remove any residual white pith. Cut the strips into fine julienne for the garnish and set aside. (Reserve the orange flesh for another use.)

Pour the milk into a saucepan and add the reserved zest strips. Let stand for 30 minutes.

Preheat an oven to 400°F (204°C). Select a baking dish large enough to hold 8 small pots or ramekins and set them in the dish. Have a pot of boiling water ready.

Add 4 tbsp. of the sugar to the saucepan with the milk, place over medium heat and stir to dissolve the sugar. Bring just to a boil and remove from the heat.

In a bowl, whisk the eggs until blended. Pour half of the hot milk mixture over the eggs, whisking constantly. Pour the egg-milk mixture into the saucepan, place over medium heat and cook, stirring constantly, until the mixture coats the back of a spoon, about 2 minutes. Do not allow it to boil. An instant-read thermometer inserted into the custard should register 180°F (82ºC).

Add the vanilla, whisk to blend and then quickly pour the custard through a sieve into the pots, dividing it evenly. Discard the zest strips. Place the baking dish on an extended oven rack, add boiling water to the dish to reach nearly to the rims of the pots, and carefully slide the rack into the oven.

Bake the custards until set, about 20 minutes. A metal skewer inserted into the center of a custard should come out clean. Transfer the baking dish to a work surface and remove the pots. Let cool, then refrigerate until set, 2 to 3 hours.

Meanwhile, in a small saucepan over high heat, combine the reserved julienned zest, the water and the remaining 2 Tbs. sugar. Bring to a boil, stirring to dissolve the sugar. Boil rapidly until the zest becomes flexible and shiny from the sugar, about 2 minutes. Drain and spread out on a plate.

To serve, top each custard with whipped cream and a few strands of the julienned zest.

Makes 8 servings.

Source: Recipe adapted from Williams-Sonoma Savoring Series,Savoring Provence,by Diane Holuigue (Time-Life Books, 2002)
Date: August 5, 2003