Diana's Desserts - www.dianasdesserts.com
See more recipes in
International Desserts and Treats
Savoiardi (Ladyfingers)
in Guest Recipe Book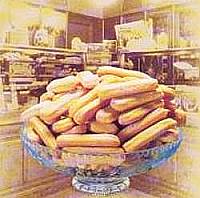 [Be the first to post a review!]
Comments:
Savoiardi
(Ladyfingers)

A light, delicate sponge cake roughly shaped like a rather large, fat finger. It's used as an accompaniment to ice cream, puddings and other desserts. Ladyfingers are also employed as an integral part of some desserts, such as charlottes. Ladyfingers can be made at home or purchased in bakeries or supermarkets.

Copyright (c) 1995 by Barron's Educational Series, from The New Food Lover's Companion, Second Edition, by Sharon Tyler Herbst
Ingredients:

3 eggs, separated
6 tbsp. granulated sugar
3/4 cup cake flour, sifted
6 tbsp. confectioners' sugar
Additional confectioners' sugar, for dusting tops (optional)

Instructions:
Preheat the oven to 350 degrees F (180 C).

Brush 2 baking sheets with softened butter and line with parchment paper.

Beat the egg whites with a whisk or electric mixer until stiff peaks form.

Gradually beat in the granulated sugar and continue beating until stiff peaks form again; the meringue will be glossy and smooth.

Lightly beat the egg yolks with a fork, and fold into the meringue with a wooden spoon.

Sift the flour over the mixture and fold in gently.

Pipe the Ladyfingers:
Fit the pastry bag with the large plain tip and fill with the ladyfinger batter.

Pipe strips of batter 5 inches long and 3/4 inches wide diagonally onto the baking sheets, leaving 1 to 2 inches between each strip.

Sprinkle half the confectioners' sugar over the ladyfingers; wait 5 minutes and sprinkle with the remaining sugar.

Holding the parchment paper in place with your thumb, lift one side of the baking sheet and gently tap it on the work surface to remove excess confectioners' sugar.

Bake without opening the oven door for 10 minutes, then, rotate the baking sheet so the ladyfingers color evenly. Cook until lightly golden, about 5 more minutes.

Remove the ladyfingers from the baking sheet with a metal spatula while still hot, and let cool on a rack. Dust with more confectioners' sugar if desired.
Source: DianasDesserts.com
Date: May 15, 2003