Diana's Desserts - www.dianasdesserts.com
See more recipes in
International Desserts and Treats
Tres Leches Cake with Whipped Cream Topping
in Guest Recipe Book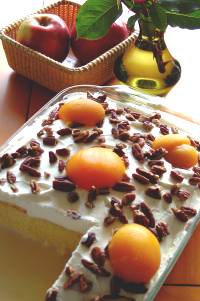 Average Rating:
(total ratings: 21)
[Read reviews]
[Post a review]
Servings: 9-12
Comments:
Tres Leches Cake is served at holiday celebrations such as Cinco de Mayo in Mexico and has become a favorite with most of the Latin community in the United States. The very popular Tres Leches cake is made for festive occasions in Latin America and North America, and also served at many hispanic restaurants. Tres Leches means "three milks" in spanish, which are the indispensable ingredients in this very rich and decadent cake. Once you take your first bite of Tres Leches, you'll understand why people love it so much.............Diana

Ingredients:

For The Cake:
6 eggs, whites and yolks separated
1 1/2 cups granulated sugar
2 cups all-purpose flour
1/8 tsp. salt
2 tsp. baking powder
1/4 cup ice water
1 tsp. vanilla extract

For The Soaking Syrup:
1 can (14 oz.) sweetened condensed milk
1 can (12 oz.) evaporated milk
1 cup whole milk
1 cup heavy whipping cream
1/4 cup rum, brandy or frangelico (optional)

For The Whipped Cream Topping:
2 cups heavy whipping cream
1 cup granulated sugar
1 tsp. lemon extract or 2 tsp. lemon juice (optional)
1 tsp. vanilla extract

Garnish: (optional)
1 can cling peaches, halves
1 cup chopped pecans
Instructions:
Preheat oven to 350 degrees F (180 C). Lightly grease and flour a 9 x 13-inch baking dish and set aside.

In a bowl of an electric mixer, beat the egg whites on low speed until soft peaks form. Gradually add the sugar and beat until stiff peaks form. Add in the egg yolks one at a time, beating well after each addition. Mix the flour, baking powder and salt together and add to egg mixture. Mix in the 1/4 cup of ice water and vanilla extract.

Pour batter into prepared baking dish, and bake in preheated oven at 350ºF (180ºC) for 25-30 minutes, or until a toothpick inserted in center of cake comes out clean. Remove cake from oven and place on wire cooling rack. Let cool in baking dish for 10 minutes. (DO NOT turn cake out of baking dish) While cake is cooling, make the Soaking Syrup.

To Make The Soaking Syrup:
In a large bowl, mix together the sweetened condensed milk, evaporated milk, the whole milk and the heavy whipping cream. Mix well. Stir in rum, brandy or frangelico, if using (the liquor or liqueur is an optional ingredient).

While cake is in baking dish, with a toothpick or skewer poke holes over top of cake and pour the Soaking Syrup over the top of cake until completely absorbed. (DO NOT remove cake from baking dish).

Once cake has cooled completely, refrigerate (in baking dish) for at least 3 hours before frosting with whipped cream topping. Spread whipped cream topping evenly over Tres Leches Cake and garnish top of cake with peach halves and chopped pecans or garnish of your choice.

Serve cake chilled. Refrigerate any leftover cake.

Makes 9-12 servings.

Whipped Cream Topping

TIP:
Before making the Whipped Cream Topping, chill your beaters and bowl in freezer for 10-15 minutes. (Make sure your heavy whipping cream is well chilled also).

Pour heavy whipping cream into a large mixing bowl, beat until soft peaks form; add the sugar, vanilla and lemon extracts (lemon extract or lemon juice is optional) and beat until stiff peaks form. (Important Note: Do not overbeat the heavy whipping cream or your whipped cream will turn into butter).

Makes approximately 4 cups whipped cream topping.

Photograph taken by Diana Baker Woodall© 2003
Source: DianasDesserts.com
Date: May 6, 2003
Reviews
Reviewer:
Sanaz
Rating:
Reviewer:
courtny
Rating:
Review:
that was very good.
Reviewer:
Mari
Rating:
Review:
Very delicious. I will definently make this again.
Reviewer:
paul thompson
Rating:
Review:
Absolutely delicious! I had this cake when I was in Venezuela and so I made it myself at home from this recipe one of the nicest desserts ever.
Reviewer:
estela
Rating:
Review:
worth every calorie!!! also, would suggest topping w/coconut flakes or drizzling chocolate syrup!!!
Reviewer:
sara
Rating:
Review:
I absolutely love this cake. I had it when I went to mexico...yummmmmmm!!! I use this recipe whenever gusts come over!!!!
Reviewer:
lois
Rating:
Review:
i've never tasted it, but would someone mind making it for me? sounds delicious from what i heard..
Reviewer:
Jennifer
Rating:
Review:
Wonderful cake! This is my new favorite dessert to make. Very easy to make, and dinner guests have loved it too.
I've also started using the soaking syrup for breakfast rolls, too! A can of refrigerator biscuits in a pan covered in soaking syrup is better than cinnamon rolls! I am going to try it on baked french toast next.
I'd say this cake would be very easy to make with other different variations in addition to these that others have suggested: grated coconut, chocolate syrup, or strawberry filling... The possibilities are endless!
How about these variations: * Chocolate chips added to cake batter and chocolate curls (or chips) on the whipped topping instead of pecans with drizzled chocolate
* Peanut butter chips instead of chocolate with drizzled caramel and peanuts instead of pecans
* Orange marmalade between two layers (or on bottom before adding cake batter) and orange slices for garnish (maybe add a TBSP or two of orange juice concentrate to the soaking syrup)
* Blueberry pie filling and fresh blueberries and/or fresh strawberries for garnish
* Cherry pie filling and substitue almond extract for vanilla and slivered almonds for the pecans
* Crushed pineapple between two cake layers (or even place pineapple rings on the bottom of the pan before the batter goes in like a pineapple upside down cake) with pineapple rings and maraschino cherries for garnish
On and on... I think I might try the pineapple variation first!
Reviewer:
Dawn Heidtman
Rating:
Review:
I made this for the first time for a whole lot of Mexican friends that just arrived from mexico, and for a school that teaches english. All want me to make them one for their different parties.
Reviewer:
Jan Keller
Rating:
Review:
This cake is yummy! I fixed this for Easter Sunday and everyone liked it. Instead of the peaches and pecans, I went with fresh strawberries, blackberries and kiwi. I also had freshly toasted coconut available. I love this garnished with the toasted coconut.
Reviewer:
Dawn
Rating:
Review:
This cake is delicious. I made 2 thin layers and put strawberry pie filling between them then I soaked the cake and frosted it.
Reviewer:
Arlene
Rating:
Review:
This is one of the most delicious desserts i've ever tasted.
Reviewer:
louisa
Rating:
Review:
This recipe was very simple to make.The outcome was a delicious tasting cake!!
Reviewer:
Leah
Rating:
Review:
Amazing recipe and from now on i make my tres leche cake and not buy it
Reviewer:
Kristie
Rating:
Review:
Best tres leches cake recipe out there! The cake came out perfect and my whole family loved it.
Reviewer:
Tatiana
Rating:
Review:
The cake came out perfect! My family and friends loved it! This is definetely the recipe to stay in our family! Thank you so much!
Reviewer:
sarah
Rating:
Review:
I'd find research about the recipe in other countries for our cooking project in school, therefore, i prefer this dessert because I like cakes.
Reviewer:
jasmie
Rating:
Review:
My rating is for my outcome.. I made butter cake then I followed the syrup steps everything accordingly.. Then I realized my cake turned SOGGY!!! How is it possible? Can anyone tell me where I went wrong? Is it that I put too much of the syrup, because now it tastes like CAKE getting soaked in syrup!FEELS AND TASTES WEIRD!...SAVE ME
Reviewer:
nicole
Rating:
Review:
Absolutely delicious!!!! I tried it many times when I was in Venezuela... it is one of the nicest desserts...
Reviewer:
Sol Maria Correa
Rating:
Review:
Delicious!!!!!
Reviewer:
Sunanda
Rating: