Diana's Desserts - www.dianasdesserts.com
See more recipes in
International Desserts and Treats
Tiramisu
in Guest Recipe Book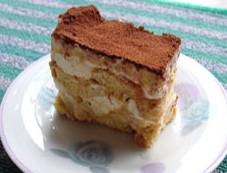 Average Rating:
(total ratings: 6)
[Read reviews]
[Post a review]
Servings: Approximately 10 servings
Comments:
From Diana's Desserts:

Elena, who lives in Feltre Italy, submitted this original Italian recipe for Tiramisu. Elena tells me that this is the REAL way to make Tiramisu, the way it's made and served in Italy. Elena also says to use the "best" quality mascarpone cheese in the recipe, as it's the mascarpone that really makes the tiramisu.

Ingredients:

1 pound (16oz. or 500g) best quality mascarpone cheese (see note
below)*
4 egg yolks
1 egg white
1/2 pound (8oz. or 225g) granulated sugar
30 Savoiardi Biscuits or Ladyfingers (a good brand is "Vicenzi")
Italian Espresso Style Coffee, warmed
Bittersweet Cocoa Powder

Instructions:
1). Whip together sugar and egg yolks until they become foamy.

2). Add mascarpone cheese to the egg yolk and sugar mixture and mix well, to avoid forming lumps.

3). Whip the egg white until it becomes very firm (until stiff peaks form) and gently fold it into the mascarpone mixture, (folding means mixing from the bottom to the top).

4). Spoon a little mascarpone mix into the bottom of a 9 x 13 inch baking dish; spread evenly.

5). Soak half of the savoiardi biscuits or ladyfingers in the warm coffee (or espresso) and place them on top of the mascarpone base. Then spread half of the mascarpone mixture evenly over the savoiardi or ladyfingers.

6). Soak the remaining half of biscuits or ladyfingers in warm coffee or espresso, and place over first mascarpone layer. Spread the remaining half of mascarpone mix over biscuits or ladyfingers.

7). Sprinkle with bittersweet cocoa powder just before serving, (otherwise the cocoa powder will become wet!)

8). Place in refrigerator for two hours and serve.

*Notes: If you want, you can add a little rum or marsala to the coffee or espresso.

About Mascarpone Cheese:
The quality of Mascarpone cheese that you use for Tiramisu is very important, as Tiramisu depends almost, from the quality of the mascarpone.

Makes approximately 10 servings.

Source: My Grandma
Submitted By: Elena Possiedi
Date: May 2, 2003
Reviews
Reviewer:
Sanela
Rating:
Review:
IT WAS AWSOME
Reviewer:
Anita
Rating:
Review:
Fantastic! Even a novice like me came out with excellent results.
Reviewer:
jawa green
Rating:
Review:
My husband and his parents love it very much! Thanks Diana.
Reviewer:
Thais Bradley
Rating:
Review:
Fantastic!!! No other recipe of Tiramisu beats this one! Thank you!
Reviewer:
Janet Maddox
Rating:
Review:
This was so simple to make. I used a douple espresso from a coffee shop to make this. I just quick dipped the ladyfingers in the liquid othe wise they get to soft. In between the layers I did sprinkle a dark cocoa powder. I used my Kitchen aid mixer so the mixture turned out very creamy in texture. This is a great dessert for company. It looks so labor intensive but goes together so quickly.
Reviewer:
Gigi
Rating:
Review:
This tiramisu was excellent however I found it a bit too sweet. Next time I would cut down by a quarter the sugar and add 2 or 3 tablespoons of amaretto in the cream.