Diana's Desserts - www.dianasdesserts.com
See more recipes in
International Desserts and Treats
Barbara's Baklava
in Guest Recipe Book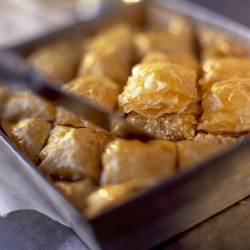 Average Rating:
(total ratings: 2)
[Read reviews]
[Post a review]
Servings: Makes 24-36 slices
Comments:
This baklava recipe is dedicated to my late sister Barbara..Your loving sister Diana

Popular in Greece and Turkey, this sweet dessert consists of many layers of butter-drenched phyllo pastry, spices and chopped nuts. A spiced honey-lemon syrup is poured over the warm pastry after it's baked and allowed to soak into the layers. Before serving, the dessert is cut into triangles and sometimes sprinkled with coarsely ground nuts.
Ingredients:

For Baklava:
1 box frozen (1 pound) phyllo dough, defrosted according to directions on package
1 pound butter (salted), or 1/2 pound butter and 1/2 pound margarine
4 cups finely chopped walnuts (see note #1 below)
1/4 cup granulated sugar
1 tsp. ground cinnamon

For Syrup Topping:
4 cups granulated sugar
2 cups water
1 tbsp. honey
1 tbsp. lemon juice
Instructions:
Prepare syrup (see recipe below) and let cool while making baklava. Preheat oven to 375 degrees F/190 degrees C. Mix walnuts, sugar, and cinnamon together. Melt the butter in a bowl. Use some of the butter on a pastry brush to butter a 9 x 13-inch baking dish.

Open and unroll phyllo roll. Keep the roll covered with a very slightly dampened towel all the time you're not taking sheets off (see note #2 below).

Peel one sheet of phyllo from the roll, place it on a flat surface, and brush it with melted butter. Use plenty of butter and cover the whole sheet but don't leave pools of butter (as you use butter don't stir the solids up a lot, use the butter off the top.) Take another sheet, lay it on top of the first sheet, and butter it. Repeat with 2 more sheets of phyllo (total of 4 sheets, each buttered). Sprinkle 3/4 to 1 cup of nut mixture over the phyllo stack. Don't put nuts closer than 1/2 inch to the short sides. Along one short side of the stack, fold over 1/2-inch of dough and butter the fold. Roll the stack into a log. Place the roll into the baking dish and butter the roll. Continue to make rolls with the rest of the filo, using 4 sheets for each.

Using a sharp knife slice each roll diagonally into slices about 2 inches wide. Place baking dish in the bottom third of the oven and bake until very golden brown, about 25-30 minutes (use more time if necessary, be sure baklava is well-baked). Pour about 2 cups of cooled syrup over hot baklava. If all the syrup gets absorbed add more until a little is left around the rolls. When baklava is cool you may, if desired, remove slices and place in paper muffin cups for serving.

To Make Syrup Topping:
Combine sugar and water in a saucepan and boil for 15 minutes. Add honey and lemon juice and boil for 5 minutes more. Remove from heat and cool before pouring over hot baked baklava.

Notes:
#1. The nuts should be in very small pieces - a hand-grinder works best. A food processor may be used but don't let them get ground to powder.

#2. Handling the sheets of phyllo requires a gentle touch. Don't worry about tears in the sheets, just place them and butter them and they will work fine. Keep remaining phyllo covered with the damp towel all the time - if the sheets dry out they become very brittle. If the sheets stick together too much the roll has becore too wet, so leave the towel off until they separate more easily.

#3. Pronounce "baklava" with the accent on the first syllable.

#4. You can use finely ground pistachio's or almonds in place of walnuts if so desired.

Makes 24-36 slices baklava.
Source: DianasDesserts.com
Date: February 3, 2002-Revised 1-8-2012
Reviews
Reviewer:
ann cooper
Rating:
Review:
Not only great but it took no time to make. THANKS!!! P.S. I LOOKED FOR THIS ON FOOD NETWORK AND THEY DID NOT HAVE A RECIPE!!
Reviewer:
rose
Rating:
Review:
Just made this for a birthday party.