Diana's Desserts - www.dianasdesserts.com
See more recipes in
International Desserts and Treats
French Madeleines
in Guest Recipe Book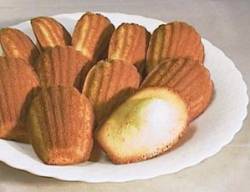 Average Rating:
(total ratings: 6)
[Read reviews]
[Post a review]
Servings: Makes 24 madeleines or 12 tartlets
Comments:
Madeleine

Definition: [MAD-l-ihn; mad-LEHN] A small, feather-light, spongy cake that is eaten like a cookie, often dipped in coffee or tea. Madeleines are baked in a special pan with scallop-shell indentations; the finished cakes take the form of the shell. In his landmark novel Remembrance of Things Past, French novelist Marcel Proust immortalized the madeleine when he wrote, "I raised to my lips a spoonful of the cake . . . a shudder ran through my whole body and I stopped, intent upon the extraordinary changes that were taking place." Sounds as though he rather liked it.
The New Food Lover's Companion, Second Edition, by Sharon Tyler Herbst

Bake the madeleines in their traditional scallop shell-shaped tin plaques, and eat them fresh. Enjoy the flavor with a good cup of coffee or tea. It's divine!

Ingredients:

2 eggs, separated
1/2 cup granulated sugar
Zest and juice of 1/2 lemon
1/2 teaspoon vanilla extract
1/2 cup cake flour
1/2 cup unsalted butter, melted and cooled
Confectioners' sugar

Instructions:
Preheat an oven to 350 degrees F (180 C). Lightly butter 24 madeleine molds or 12 tartlet tins, each 2 inches in diameter.

In a bowl, combine the egg yolks and granulated sugar. Using a heavy-duty stand mixer fitted with the whisk attachment or a handheld electric mixer, beat on high speed until pale lemon yellow and the mixture falls in thick ribbons when the beater is lifted, 6-8 minutes. Add the lemon zest and juice and the vanilla and mix briefly to combine.

In a small bowl, whisk the egg whites until lightly foamy. Using a rubber spatula or whisk, fold the egg whites into the egg yolk mixture until just partially blended. Do not mix them in completely at this point.

Sift the flour slowly onto the egg mixture, while folding it in with a rubber spatula. Before the last bit of flour is folded in, add the melted butter and then fold in the remaining flour until blended. Do not overmix or the madeleines will not have the correct tender crumb.

Fill the prepared madeleine molds or tartlet tins three-fourths full with the batter.

NOTE: If working in batches, be sure to keep the batter barely warm while holding it and to clean and regrease the pans between batches.

Bake until lightly golden brown on top, 15-20 minutes. Remove from the oven and let cool briefly in the molds. Then, using a small spoon or icing spatula, if necessary, gently remove them one by one. Sift confectioners' sugar lightly over the tops of the madeleines and serve.

Makes 24 madeleines or 12 tartlets.
Date: March 3, 2003
Reviews
Reviewer:
sarah
Rating:
Review:
i used this recipe earlier in the summer, i just found it again after 2 hours of searching! i've been making madeleines since i was 7 and this is the best recipe i've ever come across! thanks!!!
Reviewer:
Marina
Rating:
Review:
It turned out GREAT, everybody loves it. Thanks. Since I love lemon, I put in a little bit more lemon zest, still good.
Reviewer:
mari
Rating:
Review:
they were such a hit, every one loved them so much i made 3 batches in the 1 day.
Reviewer:
madeleine
Rating:
Review:
i wanted to try these out. they are fabby, fantastic, really lovely.
Reviewer:
Lady
Rating:
Review:
Its perfect! I like madeleines so much and have only found the recipe here. Thanks!!!!
Reviewer:
Lea
Rating:
Review:
Wow! Thank you so very much. My daughter has to make something French for school. We just finished a test run at home and they are absolutely fantastic! I will be making these all the time now.