Diana's Desserts - www.dianasdesserts.com
See more recipes in
International Desserts and Treats
Torta della nocciola e del cioccolato
in Guest Recipe Book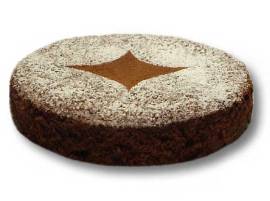 [Be the first to post a review!]
Servings: Makes 1 (10-inch by 2-inch) cake
Comments:
This is a wonderful Italian "flourless" torte that combines the taste of hazelnuts and bittersweet chocolate to perfection.
Ingredients:

8 ounces hazelnuts, roasted and peeled
8 ounces bittersweet chocolate
8 eggs, separated
1/2 cup supefine sugar
Cocoa powder and confectioners' sugar or melted chocolate, for decoration

Instructions:
1. Butter a round 10x2-inch cake pan (a 10-inch springform pan may be used). Preheat oven to 350 degrees F (175 C).

2. In a food processor, pulse the nuts until coarsely chopped. Set aside. Process the chocolate until coarsely chopped. Add to the chopped nuts.

3. In a mixing bowl, combine the egg yolks and 1/4 cup sugar. Beat until light and ribbony.

4. In another mixing bowl, beat the egg whites until soft peaks form. Slowly add the remaining 1/4 cup of sugar and continue to beat until stiff peaks form.

5. Fold the nuts and chocolate into the egg yolk mixture. Carefully fold the beaten egg whites into the yolk mixture. Fill the prepared cake pan 2/3 full. Bake for 20 minutes or until center is springy. Remove from the oven and cool on a baking rack.

6. Invert cake onto serving plate, or if using a springform pan release sides of pan and transfer cake to serving plate. Dust cake with cocoa powder and/or confectioners' sugar or decorate with melted chocolate.

TIP:
If desired, use a cake stencil to make an attractive design on top of torte with cocoa and/or confectioners' sugar.

Makes 1 (10-inch by 2-inch) cake.
Date: March 2, 2003