Diana's Desserts - www.dianasdesserts.com
See more recipes in
International Desserts and Treats
Smoutebollen-From Belgium
in Guest Recipe Book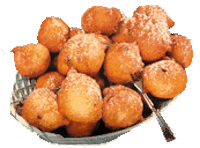 Average Rating:
(total ratings: 8)
[Read reviews]
[Post a review]
Servings: Makes 4-6 servings
Comments:
If we have to believe our bards, troubadours and poets, Belgium is "the land of milk and honey". Easy to accept if you happen to visit one of our popular, traditional street fairs, we call "de kermis". For most of us, the main attraction kermis always seems to be the ornate and colourful wagon where an imposing pastry chef creates magic in order to satisfy my countrymen's irrepressible penchant for sweets. Crusty waffles, tarts, pancakes, caramel coated apples but above all the enticing smoutebollen or apple beignets are the all-time favorites. These crispy, mouth-watering, beer-scented fritters, generously sprinkled with confectioners' sugar, are easy to reproduce at home. The secret lies in the use of a flavorful beer. The potent, brandy-like Scaldis brewed by Brasserie Dubuisson Freres would be my first choice. I love to serve Smoutebollen for dessert, especially the fruit filled ones, but they also are great for breakfast, perfect for an afternoon-tea and irresistible as a late night snack.


Ingredients:

1/2 cup milk
1 package active dry yeast
1 3/4 cups all-purpose flour
1 teaspoon salt
1 tablespoon sugar
1 large egg
3/4 cup Scaldis (Belgium's strongest beer) or
substitute with a light brandy or cognac or any beer (lager type, if possible) of your choice
2 tablespoons butter, melted
2 egg whites, beaten to soft peaks
1/2 to 3/4 cup raisins (optional)
2 apples, chopped (optional)

Vegetable oil for deep frying
Confectioners' sugar for dusting

Instructions:
In a small saucepan warm the milk to lukewarm. Sprinkle the dry yeast over the milk and set aside until dissolved.

Sift the flour and salt into a large bowl. Make a well in the center and add the sugar to it, the whole egg, the milk/ yeast mixture and 1/2 of the Scaldis. Using a wooden spoon, stir, gradually drawing in the flour, until you have a smooth paste. Stir in the remaining beer and the melted butter. Gently fold the beaten egg whites into the batter. Cover the bowl with a clean kitchen towel and let the batter rise in a warm spot for about one hour.

Heat the oil to 375 degrees F. In a pot suitable for deep-frying, drop large spoonfuls, the size of a walnut, of batter into the hot oil. Cook the fritters for a few minutes until they are golden brown. Keep them warm in a bowl or baking sheet lined with paper towels in a preheated oven while frying the rest. Sprinkle the fritters generously with confectioners' sugar and serve at once.

Variation:
If desired, add 1/2 to 3/4 cup raisins and 2 chopped apples to the recipe. Add these ingredients after you have stirred in the remaining beer and melted butter, then gently fold in the beaten egg whites into the batter. Continue with recipe instructions above.

Variations Using Other Fruit:

Peel, core, and slice firm, tart apples or pineapples, or cut firm pears or peaches in wedges and/or slice bananas diagonally into 1-inch pieces. Dip the fruit into the batter until evenly coated and fry as directed above. A fabulous dessert!


Source: Internet
Date: February 3, 2003
Reviews
Reviewer:
Herman
Rating:
Review:
Great, being a Belgian Executive Chef, working the last 25 years in Asia, nice to see a recipe for smoutebolle.... maar ik heb er nog geen gegeten die gevuld waren met rozijnen of zo....anyway keep it up great site. Herman.
Reviewer:
erin miles
Rating:
Reviewer:
Lu-Tze
Rating:
Review:
This made me think of home, as a Belgian living in Canada.
Reviewer:
lakasa
Rating:
Review:
it is ok. i do not like the taste so much.
Reviewer:
Ariane M.
Rating:
Review:
My stepchildren and husband LOVED, LOVED them!!!!!!!!!!!!!!! My stepdaughter stated they tasted BETTER than the ones she gets from the kermis. I tasted a couple; on a diet unfortunately. They are Belgian and I am American. So, that's a big compliment!
Reviewer:
Ariane M.
Rating:
Review:
My family and I LOVED, LOVED them. My stepdaughter stated they were BETTER than the ones she gets from the kermis. They, my husband and stepchildren, are Belgian and I am American.
Reviewer:
Dider Harris
Rating:
Review:
I loved them and they remind me of Beignets.
Reviewer:
Hoden
Rating:
Review:
Yum, I'll try it now.