Diana's Desserts - www.dianasdesserts.com
See more recipes in
Chanukah
Chanukah Pistaschio Cookies
in Diana's Recipe Book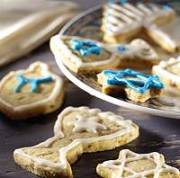 Average Rating:
(total ratings: 3)
[Read reviews]
[Post a review]
Servings: Makes 30 cookies
Comments:
During Hanukkah, it's traditional to partake in homemade treats to commemorate the annual Jewish celebration of freedom. These specially shaped shortbread-style cookies,with decorative icing, help pass the venerated tradition from generation to generation.
Ingredients:

Cookie Dough:
1 1/4 cups all-purpose flour
3 tablespoons granulated sugar
1/2 cup margarine (at least 80 percent vegetable oil)
1/3 cup finely chopped pistachio nuts

Icing:
1 tablespoon orange juice plus additional juice, if needed
1 cup sifted confectioners' sugar
1/4 teaspoon vanilla extract
Food coloring (optional)


Instructions:
1. In a medium mixing bowl stir together flour and sugar. Using a pastry cutter, cut in margarine until mixture resembles fine crumbs and starts to cling. Stir in pistachios. Form mixture into ball. Knead just until smooth. Wrap dough. Chill for 1 hour or until easy to handle.

2. Preheat oven to 325 degrees F (160 C). On a lightly floured surface roll the dough into a 10-inch x 6-inch rectangle. Cut the dough with decorative 2-inch cookie cutters or slice into thirty 2-inch x 1-inch strips. Place cut shapes or strips 1 inch apart on an ungreased cookie sheet.

3. Bake for 18 to 22 minutes or until bottoms are lightly browned. Cool on sheet 5 minutes. Transfer to wire rack; cool for 30 minutes.

4. For the Icing:
In a medium mixing bowl combine confectioners' sugar, orange juice, and vanilla. Stir in additional juice, 1 teaspoon at a time, until the icing reaches piping consistency. If desired, tint a portion of the icing with food coloring. Decorate cookies as desired with icing. Store in a tightly covered container.

Makes 30 cookies.
Source: DianasDesserts.com
Date: November 1, 2002
Reviews
Reviewer:
Arlene Lefkowitz
Rating:
Review:
Oven should not be preheated 1 hour before if cookie dough is to be refrigerated. Regarding instruction #4. Should be re; Icing. I see it in the "Print Version", not original. Doesn't this recipe need an egg? Batter is very crumbly.
Reviewer:
Diana
Rating:
Review:
Hi Arlene, You're right, the oven should not be preheated 1 hour before baking cookies. I have corrected this. I don't really understand what you mean by #4, "should be re; Icing". The icing instructions are included on both this page and the Printer Friendly Version. No, this recipe does not need an egg. Sorry that your cookie dough came out crumbly. Maybe you used too much flour or ground pistachios. Try again or maybe try another recipe next time........Diana, Diana's Desserts
Reviewer:
Elaine Cunningham
Rating:
Review:
Shortbread cookies are very simple: flour, butter (or substitute), and sugar. No eggs. If the batter is crumbly, it's probably due to improperly measuring the flour. Sift first, spoon the flour into measuring cups, level off with a knife or spatula. You'll end up with a lot less flour than if you dig a measuring cup into a bag or canister.
This is a classic shortbread recipe and the proportions are right. I love the addition of pistachios, and plan to make it with European style butter rather than margarine.