Diana's Desserts - www.dianasdesserts.com
See more recipes in
Thanksgiving Desserts
Old-Fashion Pumpkin Pie
in Diana's Recipe Book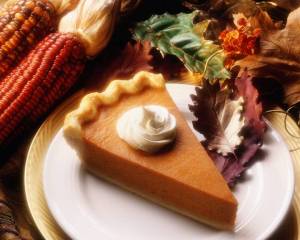 Average Rating:
(total ratings: 9)
[Read reviews]
[Post a review]
Servings: 8-10
Comments:
Pumpkin Pie, always the most traditional and delicious ending to your festive Thankgiving meal.
Ingredients:

Crust:
1 1/4 cups all-purpose flour
1 tbsp. granulated sugar
1/2 tsp. salt
4 tbsp. (1/2 stick/2 oz/56g) cold unsalted butter, cut into small pieces
3 tbsp. cold vegetable shortening, cut into small pieces
3 tbsp. very cold water

Filling:
1 can (15 oz.) 100% pure pumpkin
2/3 cup firmly packed light brown sugar
1 cup heavy cream
2 large eggs
1 egg yolk
4 tsp. all-purpose flour
3/4 tsp. vanilla extract
3/4 tsp. ground cinnamon
1/4 tsp. freshly grated nutmeg
Pinch of ground cloves
Pinch of salt

Whipped Cream Topping:
3/4 cup heavy cream
2 tbsp. granulated sugar
1/2 tsp. vanilla extract

Instructions:
To Make The Crust:
In the bowl of a food processor, combine the flour, granulated sugar and salt and pulse to blend. Add the butter and shortening and pulse until reduced to 1/2-inch pieces. Add the water a little at a time and pulse until the dough just begins to come together in a rough mass. Transfer the dough to a work surface and shape into a 5-inch disk. Wrap with plastic wrap and refrigerate until well chilled, at least 2 hours.

Position a rack in the center of an oven and preheat to 425°F (220°C).

On a lightly floured surface, roll out the dough into a 12-inch round about 1/8 inch thick. Transfer the dough to a 9-inch pie dish, fit the dough into the dish and trim the edges, leaving a 1/2-inch overhang; reserve the trimmings, if desired. Fold under the excess dough and, using your thumb, decoratively flute the edges. For an attractive finishing touch, roll out the trimmings and, using small leaf-shaped cutters, cut out leaves and press them gently onto the fluted edge. Freeze the dough for at least 30 minutes or up to 1 hour.

Line the frozen crust with aluminum foil and fill with pie weights, uncooked rice or dried beans. Bake for 15 minutes. Remove the weights and foil and continue to bake until the shell is golden, about 5 minutes more. Transfer the pie dish to a wire rack and let the shell cool completely. Reduce the heat to 325ºF (160°C).

To Make The Filling:
In a large bowl, combine the pumpkin puree, brown sugar, cream, eggs, egg yolk, flour, vanilla, cinnamon, nutmeg, cloves and salt and whisk until smooth. Pour into the crust.

Baking The Pie:
Bake the pie until the filling is set but the center still jiggles slightly when the pie dish is gently shaken, about 50 minutes, or longer if using a metal pie dish. Transfer the dish to the rack and let the pie cool completely.

Making The Whipped Cream:
To make the whipped cream, in a deep bowl, combine the cream, granulated sugar and vanilla. Using an electric mixer, beat the cream mixture until soft peaks form and the cream is billowy, about 2 minutes. Cover and refrigerate until ready to serve or for up to 2 hours. Serve the pie at room temperature or slightly chilled, topped with the whipped cream.

Makes 8-10 servings.
Source: DianasDesserts.com
Date: November 1, 2002
Reviews
Reviewer:
tommy
Rating:
Review:
i love to make this recipe come true beacause it`s my dream come true!!!
Reviewer:
Emily
Rating:
Review:
Delicious filling mix--lots of compliments. Nice thin crust too.
Reviewer:
A Sullivan
Rating:
Review:
My son made this pie for Thanksgiving and it was simply the best. I'll never go back to my old recipe.
Reviewer:
Sheila Miller
Rating:
Review:
Very good!! The best i have ever tried. Thanks for the recipe.
Reviewer:
Kimberly Martin
Rating:
Review:
Do you have a recipe for Old Fashioned Caramel Pie?
Reviewer:
Maria
Rating:
Review:
I don't have a food processor, but I have made enough pie crusts to make this one by using a fork and my finger tips with confidence. It's pretty easy for anyone. I wanted to try this different recipe out of curiousity. The pie was baked in a glass pie dish. I froze and pre-baked the crust as instructed. I left the edges of the crust exposed during blind baking. They reached a desireable golden brown. I used a double thickness of foil to cover the edges so they wouldn't burn while the filling was still baking. After 50 min., I felt the filling was too wet and jiggly so I ended up baking for 1 hr 5 min. total. Despite the fact that it cracked a little after cooling (probably my fault), I was very pleased. My family and I prefer this recipe over the recipe on the back of Libby's Canned Pumpkin! The texture was so creamy and smooth, and it wasn't overly sweet or too spice-y. The crust was PERFECT, and it wasn't soggy on the bottom AT ALL. I could really enjoy the pumpkin. I covered the crack with the homemade whipped cream *chuckles* Thanks, Diana!
Reviewer:
Crystal
Rating:
Review:
I made two pies and not a single piece was left. I have never gotten so many compliments! I will ONLY use your recipe from now on. Thank you!!!
Reviewer:
Autumn
Rating:
Review:
My mother in law kept griping about the price of spices and other stuff and insisted on store bought or the Libby mix. She is so happy I made this and was surprised how good it was. I now have to make another one so they can have more.
Reviewer:
lovely
Rating:
Review:
I loved it !!!!!!!!!!!!!