Diana's Desserts - www.dianasdesserts.com
See more recipes in
Cheesecakes
Peach and Mascarpone Cheesecake with Peach Coulis
in Diana's Recipe Book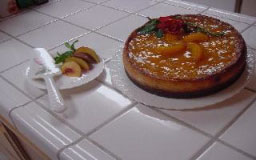 Average Rating:
(total ratings: 1)
[Read reviews]
[Post a review]
Servings: 16
Ingredients:

1/2 cup graham craker crumbs
1/2 cup ground hazelnuts
1/4 cup melted unsalted butter (2 ounces)
2 pounds cream cheese, softened
1 cup plain yogurt
1 1/2 cups mascarpone cheese
2 eggs
2 cups sugar
1 tablespoon vanilla extract
1 tablespoon Marsala wine
1 tablespoon orange juice

Peach Coulis:
4 cups sliced fresh peaches
1 cup sugar
1/2 teaspoon sugar
1/2 teaspoon vanilla extract
Instructions:
Preheat oven to 350 degrees F. Grease the sides of a 9-inch springform pan with
butter. In a bowl combine the graham cracker crumbs, hazelnuts, and melted butter
until well blended and press into the bottom of the springform pan.

In another bowl, beat the cream cheese until smooth and creamy, beat in the yogurt,
mascarpone, eggs, sugar, and continue beating until the mixture is very smooth, about
5 minutes. Add the vanilla, Marsala,and orange juice and beat until incorporated, about
1 minute.

Pour the filling into the prepared crust, and bake until brown and springy-firm, about 1 and
1/2 hours.

Leave cheesecake in oven (with oven turned off, and with oven door alittle ajar) for 1 hour.

Remove from oven, and allow to cool for at least 4 hours or overnight. Top with Peach Coulis.

Preparation:
Combine all ingredients in a small saucepan and cook over low heat for 15 minutes, allowing
it to form its own syrup.

Cool, and place in a blender until well blended. Top either the whole cheesecake or individual
slices with the topping.


Baking Tip: It is often a good idea to bake your cheesecake in a water bath. What this means is that you place the pan(with the cheesecake batter in it) in a larger baking pan filled about half way with water. This helps the cheesecake to bake evenly, and you will have a less likely "softer in the middle" cheesecake. Be carefull when you remove cheesecake from the oven, as the water in the larger pan that it is in will be quite hot.
Source: Diana Baker Woodall
Reviews
Reviewer:
catharine gionta
Rating:
Review:
I made the recipe, served it to my dinner guests and brought the rest to work. Ten people voted it the best ever. Excellent. My only suggestion: I wanted to make it again, but couldn't find the recipe at home. Went on line and could NOT find it. Actually spent hours searching online. The next day I finally found it at home - sooooooooooo happy.