Diana's Desserts - www.dianasdesserts.com
See more recipes in
Quick Breads
Macadamia Nut Fruit Bread
in Diana's Recipe Book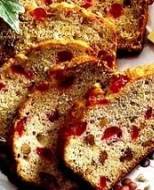 [Be the first to post a review!]
Servings: Makes 2 9x5-inch quick bread loaves
Comments:
When you are thinking about baking something a little different, try this tropical macadamia nut fruit quickbread for a change of pace. It's so delicious................Diana
Ingredients:

2 jars (10 oz. each) maraschino cherries
3 1/2 cups all-purpose flour
1 tbsp. baking powder
1 tsp. baking soda
1 tsp. salt
2/3 cup unsalted butter or margarine, at room temperature
1 1/3 cups light brown sugar
4 large eggs
2 cups ripe bananas, mashed
1 cup macadamia nuts, chopped



Instructions:
Preheat oven to 350 degrees F (180 C).

Drain maraschino cherries, cut into halves or quarters, and reserve 4 tablespoons juice to add to quick bread batter.

Combine flour, baking powder, soda and salt. In mixer, combine butter, sugar, eggs and reserved cherry juice. Mix thoroughly. Add flour mixture alternately with mashed banana. Stir in cherries and nuts. Divide batter evenly between 2 greased and parchment (baking paper) paper lined 9x5-inch loaf pans. Lightly grease parchment or baking paper also.

Bake at 350°F (180 C) for 50-60 minutes, or until golden brown and centers test done. Remove from pans and cool on racks. Invert quick breads and remove baking paper. Place on serving plates. Serve warm, or at room temperature.

Tip:
Quick breads can be refrigerated for up to one week, or wrapped tightly in plastic wrap or aluminum foil and frozen (when completely cooled) for up to 3 months.

Quick bread loaves can be thawed completely at room temperature. Heat frozen individual servings as directed below:

To heat in microwave oven, place unwrapped individual servings of quick bread loaf on napkin, microwave-safe paper towel or plate. Microwave on High about 30 seconds for each piece.

To heat in conventional oven, heat foil-wrapped individual servings of quick bread loaves at 350°F for 10 to 15 minutes, depending on the size of the serving.


Recipe makes: Two 9x5-inch quick breads; each loaf makes about 12-16 servings.

Variations:
If you like, you may substitute raisins, fresh or frozen cranberries or dried apricots for the maraschino cherries in this recipe. Use 1 to 1 1/2 cups light or dark raisins, 1 to 1 1/2 cups chopped dried apricots, or if using cranberries, use 1 to 1 1/2 cups, chopped.
Source: DianasDesserts.com
Date: October 20, 2002