Diana's Desserts - www.dianasdesserts.com
See more recipes in
Miniature & Individual Desserts
Heart Cakes with Chocolate Ganache
in Diana's Recipe Book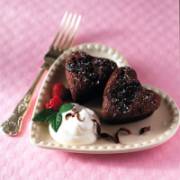 [Be the first to post a review!]
Servings: Makes 6 little cakes
Comments:

These light, soufflé-like cakes have a molten-chocolate center made of rich chocolate ganache. Ganache is very simple to make. Once melted and slightly cooled, it is often used to glaze cakes, pastries and cookies. Here, the ganache is scooped into small balls and pressed gently into the top of each cake just before baking. The heart-shaped muffin pan used to bake these cakes is available at cooking stores and on the internet. A regular muffin pan may be used as well.


Ingredients:

Cocoa powder for dusting
6 oz. bittersweet chocolate, chopped into small pieces
1 tbsp. heavy cream
3 tbsp. unsalted butter, cut into small cubes and softened
2 large eggs
1 egg yolk
1/4 cup granulated sugar
1 tsp. vanilla extract
1/8 tsp. salt
1 tbsp. all-purpose flour
Freshly whipped cream or vanilla ice cream for serving


Instructions:
Position a rack in the center of an oven and preheat to 400ºF (200 C). Grease a 6-well heart-shaped muffin pan and dust with cocoa powder.

In a medium heatproof bowl, combine 2 oz. of the chocolate and the cream. Set the bowl over a small saucepan of simmering water but not touching the water, and melt the chocolate, stirring occasionally, until the mixture is smooth and blended, 1 to 2 minutes. Transfer the ganache to a small bowl and refrigerate until firm, about 20 minutes.

In another medium heatproof bowl, combine the remaining 4 oz. chocolate and the butter, set the bowl over the saucepan of simmering water and melt the chocolate, stirring constantly, until the mixture is smooth and blended, 2 to 3 minutes; remove from the heat and cool for 10 minutes.

In a mixing bowl, combine the eggs, egg yolk, sugar, vanilla and salt. Using an electric handheld mixer or a balloon whisk, beat until thick ribbons fall from the beaters or whisk and the mixture is nearly triple in volume, 5 to 6 minutes.

Sift the flour over the bowl and gently fold until just blended. Add the chocolate mixture and gently fold together until smooth and blended. Divide the batter among the wells of the prepared pan. Remove the chocolate ganache from the refrigerator and form into 6 teaspoon-size balls. Place 1 ball on top of each cake and press gently.

Bake until the cakes pull away from the sides of the wells and the tops are just firm, 9 to 11 minutes. Transfer the pan to a wire rack and cool about 5 minutes. Invert the cakes onto the rack, transfer to individual dessert plates, and serve warm with freshly whipped cream or vanilla ice cream.

Makes 6 little cakes.
Source: DianasDesserts.com
Date: October 20, 2002