Diana's Desserts - www.dianasdesserts.com
See more recipes in
Muffins
Banana Nut Chocolate Chip Muffins
in Diana's Recipe Book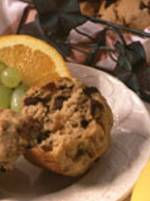 Average Rating:
(total ratings: 20)
[Read reviews]
[Post a review]
Servings: 12 muffins
Ingredients:

2 extra ripe, medium bananas, peeled
2 large eggs
1 cup packed brown sugar
1/2 cup margarine or butter, melted
1 teaspoon vanilla extract
2-1/4 cups all-purpose flour
2 teaspoons baking powder
1/2 teaspoon ground cinnamon
1/2 teaspoon salt
1 cup chocolate chips
1/2 cup chopped walnuts
Instructions:
Puree bananas in blender (1 cup). Beat bananas, eggs, sugar, margarine and vanilla in medium bowl until well blended.

Combine flour, baking powder, cinnamon and salt in large bowl. Stir in chocolate chips and nuts. Make well in center of dry ingredients. Add banana mixture. Stir just until blended. Spoon into well-greased 2-1/2 inch (6 cm) muffin pan cups.

Bake at 350 degrees F (180 C), 25 to 30 minutes or until toothpick inserted in center comes out clean. Cool slightly, remove from pan and place on wire rack.

Makes 12 muffins.
Source: DianasDesserts.com
Date: October 18, 2002
Reviews
Reviewer:
marissa
Rating:
Review:
very tasty
Reviewer:
Christine
Rating:
Review:
I've made a few types of muffins and this was definitely the best in terms of taste and texture. I tried to make it a bit healthier by using margarine and some whole wheat flour.
Reviewer:
Siobhan
Rating:
Review:
EXCELLENT!
Reviewer:
Allison
Rating:
Review:
They're just so great. I haven't had anything that came this close.
Reviewer:
Allison
Rating:
Review:
Sorry I wasn't done the review before. But this recipe was so great. I haven't tasted any type of muffin that has come close to tasting as good as these. The moment it enters your mouth the flavour bursts and makes the mouth water.
Reviewer:
ashley
Rating:
Review:
DELICIOUS!
Reviewer:
lina
Rating:
Review:
Very Delicious! I will add more nuts and more banana in my next batch though!
Reviewer:
Clell
Rating:
Review:
Margarine is not healthier than real Butter by the way. Whole wheat flour on the other hand adds some fiber and flavor. These muffins taste great!
Reviewer:
Kathy H
Rating:
Review:
I have gotten a lot of recipes off the internet and I have to say this is by far one of the best!!! THANK YOU!!
Reviewer:
zazzz H
Rating:
Review:
They taste great! I reduced some sugar and used butter instead.
Reviewer:
Francesca
Rating:
Review:
Amazing!!! I added an extra banana and extra chocolate and walnuts! These muffins were extremely tasty!! I absolutely recommend making these!! AMAZING!!
Reviewer:
Geraldine
Rating:
Review:
Yum. These are so tasty. I knew from the minute I licked the batter off the spoon that these were going to be amazing! I think next time I'd try to healthify it using wholewheat or spelt flour just so I don't feel bad when I have more than one in a row.
Reviewer:
lala
Rating:
Review:
The best muffins I have ever had!!!!!! Amazing! So addicting, people were amazed.
Reviewer:
Paddy
Rating:
Review:
Excellent taste - so yummy!! Just a note: the batter is VERY stiff - not the greatest for Grandma's with arthritis.
Reviewer:
Elizabeth
Rating:
Review:
Love these muffins. I'm a novice baker and these garnered me many compliments. They are Yummy. Thanks.
Reviewer:
Trudy
Rating:
Review:
The kids went crazy for the melt in your mouth chocolate nutty banana taste. Thanks
Reviewer:
Verna
Rating:
Review:
A denser muffin than what I'm use to. Sorry! Won't be making them again.
Reviewer:
Aleicia
Rating:
Review:
Used half whole wheat flour and they were STILL amazing.
Reviewer:
Brooke
Rating:
Review:
These just came out of the oven and they are AMAZING!!! I'm vegan so I replaced the eggs with a flax and water mixture and replaced the margarine with coconut oil...YUM!!!! I also used a little flax milk because they were too dry at first, probably due to the substitutions...THANK YOU
Reviewer:
Isabelle
Rating:
Review:
I made these for my mom's birthday! THEY WERE FANTASTIC! Everyone had 2!!! Mine made 16 though... These were seriously, hands down, the best muffins I've ever had.