Diana's Desserts - www.dianasdesserts.com
See more recipes in
Miniature & Individual Desserts
Rhubarb Tarts with Whipped Cream Topping
in Diana's Recipe Book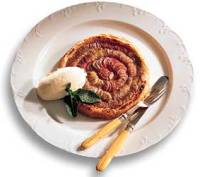 [Be the first to post a review!]
Servings: Makes 4 individual tarts
Ingredients:

For The Tarts:
12 oz. (350 g) prepared puff pastry
1 pound (450 g) rhubarb, washed and thinly sliced
6 oz. (150 g) unsalted butter, melted
3/4 cup (150 g) granulated sugar

For The Topping:
1 cup (250 ml) heavy whipping cream
1/2 cup (100 g) granulated sugar
Dash of Irish whiskey (optional)


Instructions:
For The Tarts:
Preheat oven to 350 degrees F (180 C). Roll the pastry out to make four 4 inch (10cm) diameter discs, then pleat the pastry all round the edge. Carefully arrange the sliced rhubarb on top of each pastry disc, making sure there are no gaps, then brush with the melted butter and sprinkle the sugar over. Cook in preheated oven for 30 minutes.

For The Topping:
To make the topping, whip the cream then whisk in the sugar and whiskey. When the rhubarb is tender and nicely caramelised on top, serve on heated plates with the whiskey cream and a sprig of fresh mint to garnish.

Makes 4 individual tarts.

Source: DianasDesserts.com
Date: October 13, 2002