Diana's Desserts - www.dianasdesserts.com
See more recipes in
Holidays and Celebrations
Cream Filled Chocolate Cake Roll
in Diana's Recipe Book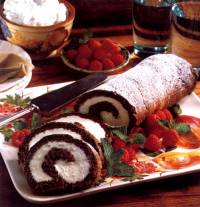 Average Rating:
(total ratings: 29)
[Read reviews]
[Post a review]
Servings: 10
Comments:
What a pretty and oh so delicious dessert to make for your holiday dinner. Your guests, especially the ones who are chocolate lover's, will love this special cake roll.
Ingredients:

For The Cake:
1/3 cup cake flour
1/3 cup unsweetened cocoa powder
2 tablespoons cornstarch
1/2 teaspoon baking soda
1/2 teaspoon baking powder
1/3 teaspoon salt
4 large eggs, separated
1 cup granulated sugar, divided
Confectioners' sugar

For The Filling:
1 container (8 ounces) frozen whipped topping, thawed


Instructions:
To Make The Cake:
Preheat oven to 350ºF (180ºC). Line a 15 x 10 x 1-inch jelly roll pan with waxed paper. Grease and flour lined pan; tap out excess.

In a medium bowl, combine flour, cocoa powder, cornstarch, baking soda, baking powder and salt. Mix well. In a separate bowl, using an electric mixer set on a medium speed, beat egg yolks and 1/2 cup sugar until fluffy.

In a small bowl, using clean beaters, beat egg whites on high until foamy. Gradually add 1/2 cup sugar, beating until stiff, but not dry, peaks form.

Fold 1/3 beaten egg whites into egg yolk mixture. Alternately fold in remaining whites and flour mixture. Pour batter in pan; smooth top. Bake until a toothpick inserted in center comes out clean, about 15 minutes.

To Roll And Fill The Cake:
Dust a clean tea towel with remaining sugar. Turn cake out onto prepared towel; remove waxed paper. Trim the cake's edges.

Starting with a long side, tightly roll up cake with towel. Transfer
cake, seam-side down, to a wire rack to cool.

Unroll cake; remove towel. Spread whipped topping over cake to within 1/2 inch of edges. Re-roll cake; place seam-side down on a plate. Dust with confectioners' sugar before serving.

Variation:
Mix some mini chocolate morsels into the filling before spreading on the cake for a chocolaty surprise.

Makes 10 servings.
Source: DianasDesserts.com
Date: October 4, 2002
Reviews
Reviewer:
Lucy
Rating:
Review:
Question - Can I freeze this cake?
Reviewer:
Mumin
Rating:
Review:
Absolutely delicious and wonderful to make. I first saw it and knew that everyone would just love it.
Reviewer:
Anna Stewart
Rating:
Review:
I love this cake and make it every year for my family, I lost the recipe and was soooo happy when I found this site!!!!
Reviewer:
Lady Di
Rating:
Review:
This is excellent. I made it because I needed something quick for New Year's Dinner and my husband loved it.
Reviewer:
mahsa farhadi
Rating:
Reviewer:
Maria
Rating:
Review:
AMAZING!
Reviewer:
Timothy Comeau
Rating:
Reviewer:
Danni
Rating:
Review:
I love making, smelling and eating this. It is so much fun!
Reviewer:
MeeM
Rating:
Reviewer:
Jiao Li
Rating:
Reviewer:
lee
Rating:
Reviewer:
Schev
Rating:
Review:
Finally found a great chocolate cake roll recipe. This is great to make & freeze for a later date.I used a cream cheese type filling. Love your site. Great recipes.
Reviewer:
Wendie
Rating:
Review:
My grandkids just LOVE this cake. I let them fill and decorate. Very tasty too.
Reviewer:
irene
Rating:
Review:
It's the best cake I've ever eaten!
Reviewer:
Sharon Piper
Rating:
Review:
I made this and it breaks and is very DRY. I salvaged 1 and the rest is in the garbage. I have been making cake rolls for years but very very dissapointed in this recipe!!!!
Reviewer:
Riki CoolJ
Rating:
Review:
Is there any way that I can make this without the whipped topping?
Reviewer:
dorothy davis
Rating:
Review:
I have made this easy cake roll, but fill it with softened ice cream and then I freeze it until right before I serve it. My family loved it!
Reviewer:
sandra parker
Rating:
Review:
I HAVE ALWAYS WANTED TO TRY MAKING A CAKE ROLL BUT SOME SAY IT WAS HARD. I FOLLOWED THE RECIPE AND THE CAKE WAS MOIST AND SO GOOD. I DID MAKE A CHANGE IN FILLING IT WITH A MIXTURE OF ICE CREAM AND COOL WHIP AND STORED IT IN THE FREEZER. I USED A SOFT COTTON PILLOW CASE TO ROLL THE CAKE UP IN, WORKED PERFECT, NO CRACKS. NEXT I WILL MAKE THE PUMPKIN CAKE ROLL. LOVE THIS RECIPE.
Reviewer:
Debi
Rating:
Review:
Hi CJ, the recipe says to fold the egg white mixture INTO the yolk mixture alternately with flour mixture. Everything goes into the yolk mixture. Hope this helps! Happy baking...it's a great recipe!
Reviewer:
s.a
Rating:
Review:
How long does it take to make this?
Reviewer:
CJ
Rating:
Review:
Question, for those who have made this. When do you fold in the mixture of the 1/3 egg whites and beaten yolks? After it instructs you to beat the 1/3 portion into the yolk, sugar mixture it says to add remaining beaten whites to flour mixture...then pour into pan. Please advise.
Reviewer:
sv
Rating:
Review:
Great recipe! Made it last night and the whole family loves it. Definitely going to be making this regularly.
Reviewer:
Unavailable
Rating:
Review:
Overall this cake was delicious! I made a chocolate whip cream filling, and added a unsweetened cocoa powder with semi-sweet chocolate morsels on top that made the cake even more chocolaty. Although the cake itself not as tasty as thought(it had an eggy/meringue? taste), when eaten with the cream filling, it becomes the moist and chocolaty cake that was expected.
Reviewer:
Ben Fo'Sho
Rating:
Review:
This should be renamed to "Giant Chocolate Sushi Roll Log Cake." Just sayin...
Reviewer:
love
Rating:
Review:
Love it!
Reviewer:
brenda
Rating:
Review:
I love this cake, its the best !!!
Reviewer:
marland countryman
Rating:
Review:
My husband loves this cake roll.
Reviewer:
Amy
Rating:
Review:
Been making jelly roll cake for years, but have lost the family recipe. Thought I would try this one. This cake seemed to be lacking in chocolate flavor. Also, cake was very crumbly. Wont be making again.
Reviewer:
Jocelyn
Rating:
Review:
I did not find this crumbly at all...as with any thin roll cake, you need to keep an eye on it & take it out of the oven the minute it starts to seem done. We all loved the texture- it was velvet-y and smooth, very light & melted in our mouths! I did however make a cream cheese frosting filling and added dark & white chocolate chips to the frosting filling. I think the seperately whipped egg whites really make a greatly noticable difference, insofar as making the cake light and fluffy! I do this when making pancakes also. Great recipe, thank you for sharing! I will be making this for Christmas Eve!