Diana's Desserts - www.dianasdesserts.com
See more recipes in
Pies and Tarts
Blueberry-Apple Streusel Pie
in Diana's Recipe Book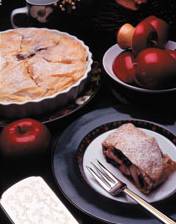 [Be the first to post a review!]
Servings: 10
Ingredients:

3 or 4 large apples (MacIntosh, Cortland, or Spartan), peeled, cored, thinly sliced
2 cups fresh or frozen blueberries (do not thaw)
1/4 cup all-purpose flour
1/3 cup brown or granulated sugar
1 teaspoon cinnamon
1 tablespoon lemon juice
8 sheets filo dough
3 tablespoons melted margarine or oil (see Note)
1/4 cup graham cracker crumbs or dry bread crumbs
2 tablespoons confectioners sugar (optional)

Instructions:
Preheat oven to 400°F. Combine apples with blueberries, flour, sugar, cinnamon, and lemon juice. Spray a 9-inch or 10-inch pie plate with non-stick vegetable spray. Place one sheet of filo dough in the pie plate, allowing the ends of the dough to hang over the edge of the pan. Brush very lightly with margarine or oil. Sprinkle lightly with crumbs.

Repeat with 6 more sheets of filo dough, overlapping each one slightly like the petals of a flower and topping each one with melted margarine and crumbs. Reserve the last sheet of dough. When done, the bottom of the pan will be completely covered with pastry, and there will be pastry hanging over all around the edges of the pan.

Spoon filling evenly into pan. Fold pastry inwards over the filling, so that the filling is completely covered with dough. Top with the reserved sheet of filo dough, tucking ends of dough between the dish and the edge of the pie. Brush top of pie with melted margarine. Cut a small circle in the center and several slits in the top of the pie to allow the steam to escape.

Bake on middle rack of the oven at 400°F for 15 minutes. Reduce heat to 350°F and bake for 45 minutes longer, or until fruit is tender when pie is pierced with a sharp knife. Cool completely. Dust with confectioners sugar before serving.

Makes 10 servings.

• Note: Instead of brushing dough with melted margarine, some cooks spray the dough lightly with non-stick vegetable spray.

Source: DianasDesserts.com
Date: September 29, 2002