Diana's Desserts - www.dianasdesserts.com
See more recipes in
Christmas
Ris ala mande-Danish Christmas Rice Pudding
in Diana's Recipe Book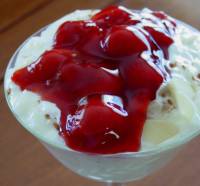 Average Rating:
(total ratings: 28)
[Read reviews]
[Post a review]
Servings: 6-8
Comments:
"My husband Kenny (who is British), lived in Copenhagen, Denmark for several years. After we married (in Copenhagen) we lived in Denmark for a year or so more. At Christmas time, our Danish friend John would always make this traditional Danish Christmas Rice Pudding (or as they call it in Denmark, Ris ala mande) and bring it to our house for our Christmas dinner dessert. There is one whole almond hidden in the pudding, and whoever gets the pudding with the whole almond is said to expect good luck, and also receives an extra Christmas gift. It is a tradition not to reveal who has the almond until all the pudding has been eaten.".........Diana

Ingredients:

1 (1/4 oz.) envelope unflavored gelatin
3 tablespoons cold water
4 cups milk
1 cup short-grain white rice, or arborio rice, uncooked
7 tablespoons granulated sugar
a dash of salt
1 cup heavy cream, for whipping
1 teaspoon vanilla extract
1/2 cup blanched almonds, chopped
1 whole almond

Garnish
Ground cinnamon
Sliced or slivered almonds
Homemade Bing Cherry Sauce (see recipe below) or use one (1) can Cherry Pie Filling
Instructions:
Place 3 tablespoons water in a small bowl. Sprinkle gelatin over water. Let stand 3 minutes to soften gelatin. Warm mixture in microwave until gelatin dissolves, about 30 seconds.

Meanwhile, place 2 cups of the milk and the rice in a medium saucepan. Stir over moderate heat until the rice is tender, about 20 minutes. Stir in the dissolved gelatin, then the remaining 2 cups of milk, the dash of salt and the sugar.

Transfer the rice mixture to a large bowl. Freeze until mixture is cold and thickens but does is not set, stirring occasionally, about 45 minutes.

Whip the cream and vanilla until soft peaks form. Fold the whipped cream into the rice mixture. Fold in the 1/2 cup chopped almonds, and the one (1) whole almond. Place in a serving bowl and chill in rerigerator.

When ready to serve, spoon Ris ala mande into individual dessert bowls, and if desired, sprinkle a little ground cinnamon or nutmeg and sliced or slivered almonds over the top of each individual bowl and serve with Homemade Bing Cherry Sauce or a spoonful of canned cherry pie filling. Refrigerate any left-over pudding.

Homemade Bing Cherry Sauce

Ingredients:
1 can (17 oz.) Pitted Bing Cherries
3-4 tbsp. granulated sugar
2 tbsp. cornstarch
Dash of salt
1 teaspoon lemon juice
1/2 tsp. almond extract or almond flavoring, optional
Water, to add to Bing Cherry liquid from can

Instructions:
Drain can of pitted bing cherries. Reserve liquid. Pour liquid (that you drained and reserved from can) into a medium saucepan, and add enough water to liquid to make 1 1/2 cups. Cook on medium heat, adding sugar, cornstarch, and a dash of salt. Cook and stir mixture until thickened and clear. Add the cherries, the lemon juice, and if desired, 1/2 tsp. almond extract. Pour sauce over individual servings of the Ris ala mande.

Note: Very Important!
Don't forget to put the 1 whole almond in the pudding.

TIP
The Ris ala mande can also be done in a dessert ring mold if desired.

Makes 6-8 servings.

Photograph taken by Diana Baker Woodall© 2002
Source: DianasDesserts.com
Date: September 28, 2002
Reviews
Reviewer:
Ma-Mag
Rating:
Review:
This is some good stuff lol...
Reviewer:
Chrystal & Pia
Rating:
Review:
Hey there, this recipe is awesome! My mum (Pia) who was born and is from Denmark cooks this every year for christmas! I think it is very very yummy! lol..I am doing this recipe for a school project..I have to research about Denmark and it's food and then I have to choose a recipe to cook and this is the recipe I am choosing! Thank you so much! IT'S YUMMY PEOPLE...Jeg Elsker Dig! hehe LVYA XOXOX Pia & Chrystal OZZY OZZY OZZY, OIE OIE OIE!
Reviewer:
Debbie
Rating:
Reviewer:
Nick Chomack
Rating:
Review:
Unreal dessert. We eat this every year at Christmas, and it is quite a fun time trying to find the almond. We don't use this exact recipe but its pretty close.
Reviewer:
jude mcarthur
Rating:
Review:
Thanks so much for having this recipe available. I was just served this wonderful dessert for the first time today and so I came home to see if I could find a way to make it myself. Your recipe is very much like what I had except the rice pudding was served with a local raspberry sauce.
Reviewer:
unknown
Rating:
Review:
so good! raspberry sauce is the best sauce for it, and i like a bit more almonds.
Reviewer:
Talia
Rating:
Review:
Thank you so much! I also needed this for a school project! It was delicious! Thanks
Reviewer:
Cynthia B Huntington
Rating:
Review:
I took Danish cooking lessons in Copenhagen in 1953. Coming from food starved north of England I just fell in love with all the great ideas in Denmark, I was a mother's helper, or ung pige i huset. Right now all my books and 'stuff' are packed as I am living in a rental while my Moroccan house is being completed in Central Mexico. But I'll make this Ris ala mande for a women's get together on Tuesday. I like your recipe. By the way, wine is not added normally, nor are eggs, so yours is the classical Danish Pud. Mange takke ska' du har!
Reviewer:
Carl
Rating:
Review:
Thanks, awesome recipe! I was glad to find this, as I tried some on a recent trip to Greenland, and wanted to share it with my family! Thanks for making it available on the internet, Merry Christmas, and Happy new Year!
Reviewer:
Tina (Danish)
Rating:
Review:
Hello Diana. Very fine recipe of my favorite christmas meal. But you forgot the Port Wine! (One glass). And it is much tastier with 2 vanilla sticks instead of vanilla extract. Merry Christmas.
Reviewer:
Jessica
Rating:
Review:
I needed this for a report. Thank you!
Reviewer:
unknown
Rating:
Review:
hey there!!! this is an awesome dish...it will liven up any party table, and everyone will love it!!!!
Reviewer:
miranda
Rating:
Review:
It seems really good.
Reviewer:
Lotte
Rating:
Review:
I Grew up in Denmark, so i had this every Christmas...I am also doing a school project and have to bring an ethnic dish. I'm going to serve Ris ala Mande. I'm sure everyone is going to love it...
Reviewer:
christine keller
Rating:
Review:
I had a Christmas Eve meal about 10 years ago in a Danish restaurant in Norwich, England (sadly now gone and replaced by a National chain). This dish was served for dessert and I have been searching for the recipe ever since. So a very big thank you from England!
Reviewer:
lene rokholm
Rating:
Review:
It was interesting to read the recipe using the gelatin, as I have never used this, just cooked in milk until reached desired consistency. Be sure to do individual portions as the recipe says! One year I served it in a large bowl, but had leftovers and the nut was hiding on the bottom of the bowl! Thanks
Reviewer:
Johnny Rode
Rating:
Review:
I am still a Dane, but have lived in California for about 8 years now. Want some danish Christmas spirit in the house and every year I cook this dessert to serve for friends. So far all like it, but wanted to find one with less cream and almonds and your recipes seem to fit well for that. Gonna give it a go this year, never tried gelatin, but will try it as it is written here. Thanks for making this available for us internet surfers.
Reviewer:
jjhowell
Rating:
Review:
My mother was born in Denmark, so every year we would have the almond pudding (her recipe) for Christmas. Sad to say no one in my family of ten liked her recipe so this year I looked for a different version. I tried this and it was sooo much better. Slightly sweeter and better texture and consistency than the recipe my mom used... I wasn't sure if I was going to continue with the Danish tradition of the almond pudding, but I think I will, with this recipe!
Reviewer:
ann johnson
Rating:
Review:
I grew up in Denmark and this is exactly like moms. You are right, it is yummy. We serve it Christmas Eve at our family dinner with pork roast, red cabbage, etc.
Reviewer:
ocean o'hara
Rating:
Review:
I use to live in Denmark between the ages of 2-7 and we still have the pudding every Christmas eve. I sometimes make it when i visit dad in Denmark but it's now more of a tradition with my mum....
Reviewer:
Diana Rasmussen
Rating:
Review:
I grew up in Denmark and had the warm version of this. Risengroed. My daughter needed to bring something danish, for a school project, that could be served cold and I found an old recipe in a danish cookbook from 1920. A lot of the ingredients I couldn't get in USA and that's when I found yours online. Great recipe!
Reviewer:
Jessie-Lee Nielsen
Rating:
Review:
My father was born in a little village outside Copenhagen, his parents brought him to Canada when he was just a boy. We never let our Danish tradition's fade away out of our hearts. I cook a lot of Danish meals in my home now that I have a family of my own. Rice Pudding is a big hit any time of year in our home.
Reviewer:
Catherine
Rating:
Review:
Thank you so much for posting this recipe. I have invited a friend of mine who is Danish over for Christmas and wanted to surprise him by attempting to incorporate his old family traditions into our meal. This sounds perfect. Wish me luck.
Reviewer:
Michelle
Rating:
Review:
Nothing says Christmas more to me than a bowl of this. My Dad and I would get up early, and eat the left overs for breakfast on Boxing Day!
Reviewer:
julie kirkham
Rating:
Review:
I make a raspberry sauce to put over my pudding.
Reviewer:
kurt larsen
Rating:
Review:
I am surprised nobody mentioned marzipan figure to the one that found the almond in the pudding.
Reviewer:
Kenneth Folman
Rating:
Review:
Hello, My Dad is from København but moved to Ireland in 1972, It's just not Christmas for me without this beautiful dessert. I'm going to make it for the 1st time this year and hopefully my dad will like it, but I'm sure he will. Thank you for posting this great recipe. Kenneth.....
Reviewer:
Kris Beirne
Rating:
Review:
I had a problem with the rice not softening. You couldn't tell if it was the almond or the rice but I knew. The taste was great and all loved it but I was disappointed. I even cooked the rice longer with the milk. I've tried another recipe and the same thing. I'm thinking of using a different rice.