Diana's Desserts - www.dianasdesserts.com
See more recipes in
Halloween
Cake O' Lantern
in Diana's Recipe Book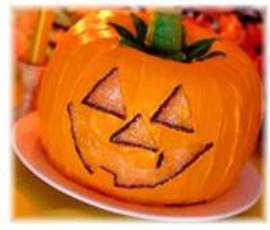 Average Rating:
(total ratings: 9)
[Read reviews]
[Post a review]
Servings: 24
Comments:
Cake O' Lantern made from two bundt cakes, this Jack O'Lantern will light up any party.

Because of its delicious homemade pumpkin flavor, this cake is sure to be carved up in a hurry. If you're pressed for time, substitute three boxes of spice-cake mix for the ingredients we've listed here.
Ingredients:

For the Cake:
5 1/2 cups all-purpose flour
4 tsp. ground cinnamon
1 tsp. ground ginger
1/2 tsp. ground cloves
1/4 tsp. ground nutmeg
4 tsp. baking powder
1 1/2 tsp. baking soda
1 tsp. salt
1 1/4 cups milk, at room temperature
1 can (15 oz.) 100% pumpkin
1 tbsp. vanilla extract
1 cup (2 sticks/8oz/226g) butter or margarine, at room temperature
1/2 cup vegetable oil
2 1/4 cups granulated sugar
6 large eggs, at room temperature

For Decorating and Frosting:
2 packages (8 oz. each) cream cheese, at room temperature
1 tbsp. vanilla extract
Approximately 9 cups powdered sugar
Green food-coloring paste
Orange food-coloring paste
One flat-bottomed green ice cream cone
12 large yellow and white gumdrops (6 of each)
Sugar (to roll gumdrops on)
2 tbsp. chocolate chips
Clear edible cake glitter
Instructions:
STEP 1:
BAKING THE CAKE O' LANTERN
Heat the oven to 350 degrees F (180 C), and butter two 10-inch bundt cake pans.

In a large bowl, stir together the flour, spices, baking powder, baking soda and salt.

In a medium bowl, stir together the milk, pumpkin and vanilla extract until smooth.

In another large bowl, beat the butter or margarine and oil together with an electric mixer until combined. Next, beat in the sugar. Then beat in the eggs, one at a time, mixing well after each addition.

Alternately beat in the milk/pumpkin mixture and the flour mixture until just combined.

Divide the batter between the two prepared pans. Bake for 50 to 60 minutes or until a toothpick inserted into the center of the cakes comes out clean.

Cool the cakes in the pans for 15 minutes, then turn them out onto wire racks to cool completely.

STEP 2:
DECORATING THE CAKE O' LANTERN
In a large bowl, beat the cream cheese until smooth.

Mix in the vanilla extract. Then beat in the powdered sugar gradually until the frosting is a spreadable consistency.

Color about 1 cup of the frosting green and the rest orange.

STEP 3:
ASSEMBLING THE CAKE O' LANTERN

Trim the bottoms of the cakes so they lie flat against each other.

Frost the flat surface of the bottom cake and place the other cake on top.

Frost the entire cake orange. When the frosting dries, add green frosting leaves and top with the ice cream cone to create a stem.

Sprinkle sugar over your work surface and use a rolling pin to flatten 12 large yellow and white gumdrops together into a pancake about 1/4 inch thick. Adults only--use a knife to cut out the eyes, nose and mouth.

Microwave 2 tablespoons of chocolate chips for about 60 seconds. Dip the left side and bottom of the facial features in the melted chocolate. Dab a small amount of water onto the top surface of each feature, sprinkle the edible glitter on top, then press the facial features onto the cake.

Makes: 24 servings.
Source: Family Fun Magazine
Date: September 27, 2002
Reviews
Reviewer:
shlby adams
Rating:
Review:
it looks good even though i have not tried it yet!!
Reviewer:
Marty
Rating:
Review:
I started making this cake for my little girl's birthday several years ago. Now she has to have it each year. This is the best recipe...
Reviewer:
Almudena
Rating:
Reviewer:
montana
Rating:
Review:
This is a great way to show your halloween spirit especially at a halloween party.
Great recipe!!!!!!!
Reviewer:
kayla
Rating:
Review:
I made this for my class Halloween party and my class loved it! I've got to say I was nervous at first about your cake recipe but then my class tried it ,my teacher tried it, and I tried it and it was DELICIOUS! This recipe is great. I hope everyone tries to make it. Thank you for this recipe!
Reviewer:
Kayla
Rating:
Review:
This really lights up a room especially for Halloween! Great recipe!!
Reviewer:
Kim
Rating:
Review:
Haven't made it yet but will be for a party for halloween weekend. Can't wait. It's gonna rock the party.
Reviewer:
Adam
Rating:
Review:
Absolutely delicious, and adorable looking, too! I wanted something fun to make for my friends for a holiday party, and this looked like just what I wanted, but I couldn't have guessed how good it would taste, too. I can't imagine a better pumpkin spice cake.
Reviewer:
denise
Rating:
Review:
Very nice recipe, I made these into miniture tube cakes. Then I made a creamy rum sauce, put some pumkin puree in the middle, drizzled the rum sauce over top and around plate. It was a hit. If I had to add something it would be a little more spice I put extra, but still fopund it could use more nutmeg...Thank you for the recipe