Diana's Desserts - www.dianasdesserts.com
See more recipes in
Springtime
English Trifle
in Diana's Recipe Book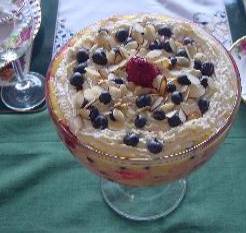 Average Rating:
(total ratings: 7)
[Read reviews]
[Post a review]
Servings: 10-12
Comments:
Trifle

Definition:
Pronounced [TRI-fuhl]. Originally from England, this dessert consists of sponge cake or ladyfingers doused with spirits (usually sherry), covered with jam and custard, topped with whipped cream and garnished with candied or fresh fruit, nuts or grated chocolate. Trifle is refrigerated for several hours before serving.

Copyright (c) 1995 by Barron's Educational Series, from The New Food Lover's Companion, Second Edition, by Sharon Tyler Herbst

What a lovely way to welcome in the new season. Make this "cheery" trifle with a few of the fresh fruits of Spring, such as strawberries, blueberries, and ever popular bananas. This decorative, creamy and fruity dessert with little cubes of cake in it will definitely be a hit.
Ingredients:

For Bottom Layer of Trifle:
1 store bought ready-made pound cake OR angel food cake OR sponge cake, OR 1 - 2 packages of ladyfingers
4 tbsp. sherry wine (optional)

For Layering over Cake Cubes:
1 box vanilla pudding mix (4.3 ounce size), OR custard mix, OR ready-made custard* (see note below)

For Layering over Custard:
1 box (small or large size) strawberry jello; prepared and cooled, OR 1 - 1 1/2 cups strawberry jam

For Layering over Strawberry Jello or Strawberry Jam:
2 pints fresh strawberries
1 - 2 pints fresh blueberries
3 - 4 medium to large size bananas
2 tbsp. lemon juice

For Garnish:
Whipped Cream or Non-Dairy Frozen Whipped Topping, thawed
1/8 - 1/4 cup sliced almonds
1/4 - 1/3 cup fresh blueberries
1 - 2 whole strawberries, for garnishing top of trifle

You will need:
1) One large baking or cookie sheet
2) One glass trifle bowl, or any other large clear glass bowl that you might have on hand




Instructions:
Preheat oven to 250 degrees F/120 degrees C. Have ready a large baking or cookie sheet.

To Prepare Cake Cubes:
Cut ready-made cake (or ladyfingers, if using) into 1 inch cubes; place cake cubes on baking sheet and place in preheated 250 degree F/120 degree C oven to dry cake cubes out for about 10 to 15 minutes. Remove from oven. Let cake cubes (or ladyfingers) cool in baking sheet. Drizzle 4 tbsp. of sherry wine over the cubes, let sherry soak into cake cubes for about 20-30 minutes ( soaking cake cubes in wine is optional). Set aside.

To Prepare Custard or Vanilla Pudding:
If not using ready-made custard or pudding, prepare custard or instant vanilla pudding according to directions on package; set aside and let cool completely.

To Prepare Fruit:
Hull, wash and slice strawberries (reserve one or two whole strawberries for garnishing top of trifle); set aside. Rinse and dry blueberries (reserving about 1/4 - 1/2 cup of the blueberries for the top of trifle); set aside. Slice bananas into 1/2 inch pieces. Place sliced bananas in a large bowl and sprinkle with the 2 tbsp. lemon juice; set aside.

To Assemble Trifle:
Place 1/4 or 1/3 of the cake cubes (how much depends on how many layers you are going to be able to fit into your particular trifle or clear glass bowl) in bottom of trifle bowl. Spread 1/4 or 1/3 of the cooled custard or vanilla pudding over cake cubes. Spread a layer of the prepared and cooled strawberry jello (or strawberry jam) over the custard; then layer the sliced strawberries, the blueberries and the sliced bananas over the strawberry jello or strawberry jam. Repeat layering cake cubes, custard (or pudding), jello (or jam, if using) and fruit until you reach the top of the glass trifle bowl, approximately 3 - 4 layers of all ingredients. Refrigerate trifle for at least 3 - 4 hours before serving.

For Garnish:
When ready to serve, top the trifle with whipped cream, or thawed non-dairy whipped topping. Sprinkle the sliced almonds over the whipped cream topping, and garnish with reserved blueberries and place 1 or 2 whole strawberries in the center of trifle.

Store any un-eaten trifle in refrigerator. Cover with plastic wrap or aluminum foil.

Enjoy!

Makes 10-12 servings.

*Notes: I use Bird's Powdered Custard Mix from England, which I get at my local supermarket. It is usually on the aisle where puddings and jellos are kept. Many markets now carry this custard mix. If your supermarket has a section for British foods or a gourmet foods section, they may have ready-made custard in a can from England, such as Ambrosia Devon Custard. You can also find Bird's ready-made custard or powdered custard online. Ambrosia Devon Custard in cans is available online also.


Date: June 13, 2001
Re-written on March 27, 2003

Photograph taken by Diana Baker Woodall© 2001
Source: DianasDesserts.com
Reviews
Reviewer:
Fatima
Rating:
Review:
Quite good and so tempting. Can't wait to eat!
Reviewer:
cornelia
Rating:
Review:
It's a easy dessert for summer.
Reviewer:
April
Rating:
Review:
I love this dessert! My grandmother made this every christmas as I requested. She passed away recently and I was so glad I found this receipe. Thanks.
Reviewer:
amanda
Rating:
Review:
ok, so i absolutely LOVE trifle! A rich creamy dessert, but also very healthy!
Reviewer:
Carole
Rating:
Review:
The best trifle in the world in deed!!!
Reviewer:
najat
Rating:
Review:
Having friends round for a hot roast this winter. Nothing better than a english tradition to finish this lively dinner off!!! Thank you.
Reviewer:
Janice
Rating:
Review:
What a Packet custard, bought cake, jello mix? How revolting, and why bother? If you are going to use store-bought chemical filled gunk just buy the whole thing and don't pretend you are actually cooking anything! Lazy and revolting.