Diana's Desserts - www.dianasdesserts.com
See more recipes in
Cheesecakes
Rhubarb-Strawberry Glazed Mascarpone Cheesecake
in Diana's Recipe Book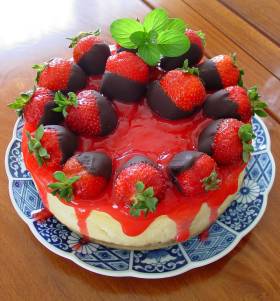 Average Rating:
(total ratings: 3)
[Read reviews]
[Post a review]
Servings: 10-12
Comments:
This luscious cheesecake is the cake I made for my husband Kenny's birthday this year. It's so creamy and light, and just melts in your mouth.

The Rhubarb-Strawberry glaze makes the cheesecake look so festive. The fresh strawberries dipped in bittersweet chocolate, topping the edges of the cake look so pretty.

This is a beautiful cheesecake for any celebration or holiday. It makes a exceptional presentation.....Diana, Diana's Desserts

Note: Start making this cheesecake at least 2 days before you are going to serve it and read the recipe thouroughly a few days before you start to make it. This will help organize the making of this cake. The time spent is well worth it.
Ingredients:

For The Crust:
Nonstick vegetable oil spray
1 1/4 cups graham cracker crumbs
2 tablespoons granulated sugar
1/4 teaspoon ground cinnamon
1/4 cup (1/2 stick/2 oz./56g) unsalted butter, melted

For The Filling:
2 (8 ounce) packages cream cheese, room temperature
1 cup granulated sugar
2 8-ounce containers mascarpone cheese,* room temperature
2 tablespoons all-purpose flour
6 large eggs
1 1/2 tablespoons vanilla extract
2 tablespoons fresh lemon juice
2 teaspoons grated lemon peel
Pinch of salt

For The Sour Cream Topping:
1 1/2 (12 ounces) cups sour cream

For The Rhubarb-Strawberry Glaze:
4 cups (1/2-inch pieces) fresh rhubarb (from about 1 1/2 pounds)
8 strawberries, washed, hulled and halved
3/4 cup granulated sugar
2/3 cup water
2 tablespoons fresh lemon juice
1 1/2 tablespoons cornstarch
3 tablespoons water (to mix with cornstarch)
1-2 tbsp. cognac or brandy (optional)

For The Chocolate-Dipped Strawberries:
6 ounces bittersweet (not unsweetened) or semisweet chocolate, chopped
12 large strawberries, washed and dried with stems left on
Instructions:
For The Crust:
Preheat oven to 325°F/160°C. Spray a 9-inch springform pan with 2 3/4 inch sides with nonstick spray. Mix crumbs, sugar, and cinnamon in medium bowl. Add butter and stir to blend. Press mixture evenly onto bottom (not sides) of pan. Bake until crust is set, about 10-15 minutes. Cool completely. Maintain oven temperature.

For The Filling:
Using electric mixer, beat cream cheese and sugar in large bowl until smooth. Add mascarpone and beat until smooth. Mix in flour. Beat in eggs 1 at a time. Mix in vanilla, lemon juice, lemon peel, and salt. Pour filling into cooled crust in pan.

Bake cheesecake until puffed around edges and center moves slightly when pan is gently shaken (center may fall and crack), about 1 hour. Turn oven off; leave cake in oven with door closed 1 hour. Transfer cake to rack and cool completely. Stir sour cream until smooth; spread atop cake. Refrigerate cake overnight.

For The Rhubarb-Strawberry Glaze:
Combine rhubarb, strawberries, sugar, 2/3 cup water, and lemon juice in large saucepan. Bring to boil, stirring until sugar dissolves. Reduce heat and simmer until rhubarb is tender, about 9 minutes. Remove from heat; let cool 10 minutes. Pour mixture through strainer set over 4-cup measuring cup, pressing on solids to extract 1 1/2 cups liquid. Return 1 1/2 cups liquid to same saucepan; bring to simmer over medium heat. Whisk cornstarch and 3 tablespoons water to blend in small bowl; add to liquid in saucepan; whisk constantly until mixture boils and thickens, about 6 minutes, and add cognac or brandy (if using). Pour glaze into small bowl; chill until cold, about 2 hours. Spread glaze over cheesecake. Refrigerate cheesecake for at least 4 hours and up to 1 day.

For The Chocolate-Dipped Strawberries:
Line small baking sheet with waxed paper. Stir chocolate in top of double boiler set over simmering water until smooth. Remove chocolate from over water. Dip strawberries halfway into melted chocolate. Gently shake off excess chocolate; place on prepared sheet. Chill until chocolate is set, about 30 minutes and up to 6 hours. Place strawberries around top edge of cake. Serve.

NOTES and TIPS

*Mascarpone cheese is available at Italian markets and many supermarkets, and at some gourmet food stores. It can also be purchased on the Internet.

Make extra rhubarb-strawberry glaze for plating. Drizzle a small amount of glaze on each dessert plate; place a slice of the cheesecake on top of glaze.

I highly recommend you start making this cheesecake at least 2 days in advance of when you are going to serve it. The recipe has several steps, and a couple of the steps require overnight chilling in the refrigerator.

Makes 10 to 12 servings.

Photograph taken by Diana Baker Woodall© 2002
Source: DianasDesserts.com
Date: September 19, 2002
Reviews
Reviewer:
chris
Rating:
Review:
Great recipe
Reviewer:
Shawnte
Rating:
Review:
This was my very first time making any kind of cheesecake. The directions were pretty easy to follow and everyone loved the cake!
Reviewer:
Daniel J
Rating:
Review:
Thank you for the brilliant Rhubarb-Strawberry cheesecake idea.. I am 13 years old, I am in year 8.. I baked your recipe and it looked great.. and tasted it too... I wrote a report for my school and I had your book and recipe in it and I got an A+, so thank you so much!!!