Diana's Desserts - www.dianasdesserts.com
See more recipes in
Pound Cakes
Libby's Key Lime Cream Cheese Pound Cake
in Diana's Recipe Book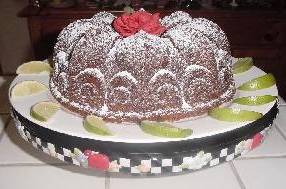 Average Rating:
(total ratings: 18)
[Read reviews]
[Post a review]
Servings: 12-16
Ingredients:

For the Pound Cake:
3 1/4 cups cake flour
1/4 tsp. baking soda
1/4 tsp. salt
2 1/4 sticks (9 oz/1 cup PLUS 2 tbsp/255g) unsalted butter, (I recommend Plugra Butter)* (see note below)
8 oz. cream cheese
3 cups granulated sugar
6 large eggs
1 tsp. pure vanilla extract
3 tbsp. Key Lime Juice* (see note below)
2 tsp. very finely grated lime zest

For the Glaze:
3/4 cup granulated sugar
1/4 cup Key Lime Juice* (see note below)

Garnish:
Confectioners' sugar (optional)

Instructions:
Have all ingredients at room temperature. Position oven rack in lower third of oven and preheat to 325 degrees F (160 C). Grease and flour a 9 or 10-inch bundt pan or Fleur-de-Lis* cake pan.

Sift together flour, baking soda and salt, set aside.

With an electric mixer, fitted with a flat beater, beat butter and cream cheese at medium speed until creamy and smooth, about 30-40 seconds. Add 3 cups of the sugar and beat until light and fluffy, about 5 minutes, stop mixer and scrape bowl occasionally. Add eggs, 1 at a time, beating well after each addition. Beat in vanilla and 3 tbsp. key lime juice (or regular fresh lime juice, if you can't find the key lime juice). Reduce speed to low. Fold in flour, baking soda, and salt mixture in 3 additions, blending each addition just until smooth, stop mixer and scrape bowl occasionally. Fold in lime zest.

Spoon batter into prepared pan, making sides higher than in center. Bake until cake is golden, and a toothpick inserted into center comes out clean, about 1 1/2 hours. Cool upright in pan on rack for 10 minutes. Invert cake onto cooling rack with waxed or parchment paper placed underneath rack, and glaze.

Makes 12-16 servings.

Key Lime Glaze:

In a small bowl, whisk 1/4 cup key lime juice and 3/4 cup sugar until blended. Set rack over a sheet of waxed paper, Generously brush cooled cake with glaze. After glaze has set; approximately 10 minutes, lightly sprinkle cake with confectioners' sugar.

Notes
Nordic Ware's Fleur-de-Lis cake pan can be purchased at Nordic Ware's website at: http://www.nordicware.com.

PLUGRA BUTTER is an unsalted European style butter, and is great for baking. Any good quality unsalted butter can be used.

KEY LIME JUICE can be purchased at most large supermarkets. It usually can be found on the juice aisle where the concentrated lemon and lime juices are kept.

Photograph taken by Diana Baker Woodall© 2002
Source: Diana Baker Woodall
Date: August 3, 2002
Reviews
Reviewer:
Lana Holland
Rating:
Review:
Excellent cake.
Reviewer:
Shelby Bauguess
Rating:
Review:
I love cream cheese pound cakes and this recipe is one of the best I have ever eaten and it is so easy to make as well.
Reviewer:
Jennifer Quinn
Rating:
Review:
This is our favorite pound cake....it is wonderful with fresh strawberries and fresh whipped cream!
Reviewer:
Butch Janca
Rating:
Review:
I bake this pound cake in 2 (6 cup) Nordic Ware Bunt pans and give them as Christmas gifts.
Reviewer:
Randall Stansell
Rating:
Review:
Great cake. I am a man and love to bake. Could not be better.
Reviewer:
Paula Lackey
Rating:
Review:
My husband has been dieting for two years but this is the only dessert that he will eat. Excellent!!
Reviewer:
Sanaz
Rating:
Review:
My uncle loves this cake.
Reviewer:
therese
Rating:
Review:
Absolutely fabulous. I made it for an office birthday cake. the cake was finished before the day was out and there are only 10 people in the office.
Reviewer:
Virgie Dean
Rating:
Review:
My first time making this cake. Cake is delicious and easy to make. A winner with my family.
Reviewer:
L. del Rosario
Rating:
Review:
I'm making my second cake in two weeks. Wanted to make a Margarita Cake but was afraid any variations would mess up the wondefulness. If anyone knows how to make this recipe into a Margarita cake, please tell here.
Reviewer:
Leonora
Rating:
Review:
Very gourmet. Mine easily cooked in one hour using a Nordic Cathedral Pan, so yummy!
Reviewer:
a. a
Rating:
Review:
I made this cake for Thanksgiving and my family loved it. Tastes best if you make it a day ahead of time with the key lime juice and confectioners' sugar glaze soaked into the cake.
Reviewer:
Marsha Belcher
Rating:
Review:
Libby's Key Lime Cream Cheese Pound Cake was the best ever!! I have made it about 6 times over the past 2 years. It is the best when served warm. It's always the first to go at dessert parties.
Reviewer:
quinton
Rating:
Review:
Good, simple, and delicious.
Reviewer:
Regina Pettaway
Rating:
Review:
This one's a keeper! The cream cheese makes all the difference from your typical Key Lime pound Cakes. The crunchy glaze is everyone's favorite. A frequently requested cake from my kitchen!
Reviewer:
Solomon Slade
Rating:
Review:
This is a great cake recipe, which I have tried two ways: First, I followed the recipe exactly as presented. The second time, I added one package of instant vanilla pudding. The pudding REALLY made a difference. This cake was the centerpiece dessert at a recent party and was a great hit. It totally holds its form, so you can cut very thin slices and they won't go crumby on you. Everyone loved the citrus elements, especially as they weren't expecting them to be there. This is much superior to regular pound cake.
Reviewer:
Julie
Rating:
Review:
BEST EVER!!
Reviewer:
Frenchie
Rating:
Review:
This cake is absolutely Divine!!!! My son says that eating this cake hazardous to your health because it's soooo addictive ??. . Once you start eating, you can't stop!!!