Diana's Desserts - www.dianasdesserts.com
See more recipes in
Cupcakes
Cream Filled Chocolate Cupcakes
in Diana's Recipe Book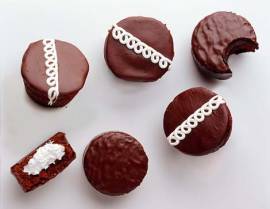 Average Rating:
(total ratings: 12)
[Read reviews]
[Post a review]
Servings: Makes 12 cupcakes
Comments:
These cream filled chocolate cupcakes are an exact "clone" to the the ones we had as children. Bite into them, and there in the middle is that lovely creamy white cream. Yes, Hostess Cupcakes!

These delicious cupcakes are still made and sold in the United States. If YOU liked them as a child, your children will most likely really enjoy them too.
Ingredients:

For the Cupcakes:
1 1/3 cups all-purpose flour, sifted
1/2 teaspoon baking soda
Pinch salt
1/4 cup unsweetened cocoa powder, sifted
6 tablespoons (3/4 stick/3 oz./84g) unsalted butter, at room temperature
1 cup plus 2 tablespoons granulated sugar
2 large eggs
1 teaspoon vanilla extract
1 cup buttermilk

For the Filling:
1/2 cup heavy whipping cream
2 tablespoons confectioners' sugar
1/2 teaspoon vanilla extract

For the Frosting:
4 ounces semi-sweet chocolate, chopped
1/4 cup water
3 tablespoons granulated sugar
1 tablespoon cold unsalted butter

For the Icing:
1 tablespoon egg white, at room temperature
1 pinch of cream of tartar
1/2 cup plus 2 to 3 tablespoons confectioners' sugar
Instructions:
TO MAKE THE CUPCAKES:
Preheat oven to 350 degrees F/180 degrees C. Line a 12-cup muffin tin with cupcake liners. In a medium mixing bowl, resift the flour with the baking soda, salt, and cocoa powder and set aside.

In a large mixing bowl, cream the butter and sugar until they're light and fluffy. Add the eggs, one at a time, beating well after each addition. Add the vanilla. Then, with a wooden spoon, beat in half the buttermilk and half the flour and cocoa mixture, stirring well to combine. Add the remaining buttermilk, and remaining flour mixture and beat until thoroughly mixed. Evenly divide the batter among the muffin tins (about 1/4 cup of batter per tin) and bake for 25 to 30 minutes, or until the cupcakes are springy to the touch and a toothpick inserted in the middle of a cupcake comes out clean. Cool the cupcake tin on a cake rack. When completely cool, remove the cupcakes from their paper liners.

TO MAKE THE FILLING:
In a chilled bowl, whip the heavy cream with the sugar and vanilla until the mixture is stiff. With a small paring knife, cut out a small cone shape from the bottom of each cupcake and reserve them for later. With a knife or small spoon, remove about a teaspoon full of cake from inside each cupcake to create a hollow.

Fill a pastry bag fitted with a 1/4 -inch round tip with the whipped cream, and pipe it into the hollow (if you don't have a pastry bag, then just spoon the cream inside the cakes as best as you can). Plug up the bottoms of the filled cupcakes with the reserved cake cones and set the cupcakes, bottom side down, on a baking sheet and refrigerate.

TO FROST THE CUPCAKES:
In a small saucepan, combine the chocolate, water, and sugar and bring to a boil. When the ingredients are at a boil, lower the heat and simmer very gently, stirring on occasion, for 5 minutes exactly. Transfer the icing bowl, which in the butter, and cool until the icing has set up a bit. Remove the cupcakes from the fridge, then pour the icing on each cupcake. With a rubber spatula, spread the icing out to the edges and refrigerate until ready to eat.

TO MAKE THE ICING:
In a medium bowl, whisk the egg white until frothy. Stir in the cream of tartar. Gradually mix in enough of the confectioner's sugar to make a fairly stiff and smooth icing. Fill a small paper cone with the icing and cut a 1/16-inch opening at the tip. Remove the cupcakes from the refrigerator. Pipe a design (a squiggle, spiral, etc.) on the top of each cupcake. Let the design harden and then cover and refrigerate the cupcakes. Serve at room temperature.

Note: The cupcakes can be made and refrigerated up to 2 days in advance, or frozen up to 2 weeks.

Makes 12 cupcakes.
Date: September 10, 2002
Reviews
Reviewer:
Raisa
Rating:
Review:
this is an excellent recipe. it makes wonderful mini cakes that look absolutely stunning.
Reviewer:
Roz
Rating:
Review:
These were delicious! I actually got 16 cupcakes from one batch. They are delicate and moist and look great with the fudge frosting. I didn't use the white icing - just left them with the shiny chocolate top.
Reviewer:
Jaclyn
Rating:
Review:
This is awesome... I always get great reviews. Can't ever stop with eating only one.
Reviewer:
Diana, Diana's Desserts
Rating:
Review:
Hi Michelle,
Yes, the Cream Filled Chocolate Cupcakes should be refrigerated as they contain whipped cream in the filling, which is a perishable item. The ones you find in the supermarkets (Hostess Cupcakes) contain some sort of preservative to prevent the whipped cream from going bad for a period of time.
You can leave them out for a little while (to bring them to room temperature) before serving, but then, if there are any left, place back in the refrigerator.......Diana, Diana's Desserts
Reviewer:
Michelle
Rating:
Review:
Wonderful delicious recipe! One question, do these cupcakes absolutely need refrigeration after they are made? Many thanks! Michelle
Reviewer:
holly
Rating:
Review:
The frosting and icing were great but the cupcake was really not good at all. My husband enjoyed eating the tops off of them though :) I'm not sure what went wrong. All my ingredients were fresh and I re-read the directions to make sure I did everything correct. They were just very bland. I wondered if anyone else had this issue. Is there a particular cocoa powder that might make a difference?
Reviewer:
Jordan
Rating:
Review:
I also had the bland issue... I used Hershey's unsweetened cocoa. I just felt they were not... well, chocolatey. They weren't -bad- but as Holly said, just kind of bland.
Reviewer:
Mike
Rating:
Review:
Excellent recipe! I first only used the filling because that was all I needed but then I used the whole recipe start to finish. Absolutely wonderful recipe! Yes and whoever said you can't stop at 1 was right!
Reviewer:
Judy Romo
Rating:
Review:
A little too sweet, and I had issues with the icing to make the little lines on top, mine was kind of runny, and didn't look like the picture above (was I supposed to let it firm up in the fridge?)
Reviewer:
Laura
Rating:
Review:
I made them with Splenda and they came out okay. My husband and mom loved them. They didn't look like the pictures though. I plan on making every cupcake. I love cupcakes.
Reviewer:
Dave
Rating:
Review:
Sorry Diana, tried them and didn't like them at all. Followed recipe to the T. Was very disappointed. Always loved hostess cream filled cupcakes.
Reviewer:
Jennifer
Rating:
Review:
I haven't made these yet because I am wondering if you can put the cream in them before baking them. I don't want to have to mess with a pastry bag or cutting out part of the cupcake. Can I fill the cupcake liner part way, add a teaspoon of cream then cover with remaining batter and bake?