Diana's Desserts - www.dianasdesserts.com
See more recipes in
Pastry
Flaky Vinegar Pie Crust
in Diana's Recipe Book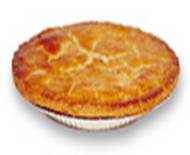 Average Rating:
(total ratings: 2)
[Read reviews]
[Post a review]
Servings: Makes Crust for 9 or 10-inch Double Crust Pie
Comments:
Why add vinegar to your pie crust dough?

When flour is mixed with water, gluten is formed--these are the protein strands that are necessary in yeast bread making, etc. When making quick breads the mixture is only mixed until blended--never overmixed--so that too much gluten is not formed. The vinegar is used in your pie crust recipe because the acid (along with the shortening) keeps the gluten strands from getting too long--thus resulting in a tender, flaky crust.


Ingredients:

1 1/2 cups cake flour
1 1/2 cups all-purpose flour
2 teaspoons white sugar
1/2 teaspoon salt
1/4 teaspoon baking powder
8 tablespoons (1 stick or 4 oz.) unsalted butter
10 tablespoons solid shortening
2 large egg yolks
4 teaspoons distilled white vinegar
6 ice cubes
1 cup cold water


Instructions:
Measure butter and shortening onto a plate, put into freezer for about 20 minutes.

Measure cake flour, all-purpose flour, sugar, salt and baking powder into the bowl of a food processor. Pulse for a few seconds to mix.

Take 1/2 of the cold butter and 1/2 of the cold shortening, put into processor with dry ingredients and pulse off and on for about 1 minute. Scrape down twice while doing this.

Take remainder of the cold butter and cold shortening and cut in very briefly with the processor, leaving visible pea-sized chunks. Do not over process at this stage.

In a measuring cup, mix egg yolks and vinegar together, add ice cubes and water. Let this get chilled, about 3 to 4 minutes.

Remove mixed flours and shortening from processor, put into a large mixing bowl. Sprinkle in approximately 7-8 tablespoons of this egg, water, vinegar mixture, a little at a time, mixing gently with a fork. The very important thing here is you do not want a wet dough, and you do not want to overmix.

Place this dough into plastic wrap or plastic bag, chill in refrigerator for a few minutes. (May also be frozen for a few weeks at this stage for future use).

Remove from refrigerator and roll out.

Makes enough dough for 1 (one) 9 or 10-inch double crust pie.



Source: DianasDesserts.com
Date: September 5, 2002
Reviews
Reviewer:
Lord Potter
Rating:
Review:
It tastes GREAT!!!!!!!!!!!!!
Reviewer:
Maria
Rating:
Review:
I'm ecstatic as this turned out to be a great success! Yippee! This is my third attempt (after 2 humiliating failures) at making a homemade pie crust! I'm so glad I didn't give up and resort to buying ready-made pie crusts. The crust was very tender and flaky and sooo melt-in-your-mouth. I ended up using 1/2 cup of the vinegar/water/egg mixture for the crust. I learned that they key is to keep the dough and butter very cold, not to overmix the fat into the flour ( it makes for a craker-like crust), and not to overwork the dough. I stopped adding liquid when the dough was just beginning to clump. I chilled the shaped pie dough once more before blind baking at 425°F for 20 minutes on the bottom third of the oven. Then, I removed the foil and pie weights and baked for 10 more minutes at 350°F. * P.S. I DO NOT yet own a food processor so this pie shell was made successfully using a pastry cutter and my clean fingers. Perfect crust for my coconut cream pie!!! :) Thanks for another winning recipe, Diana!