Diana's Desserts - www.dianasdesserts.com
See more recipes in
Pastry
1 Dozen Pie Crusts
in Diana's Recipe Book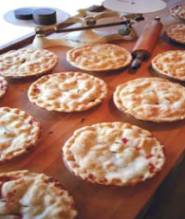 [Be the first to post a review!]
Servings: Makes 1 dozen Double Crust 9 or 10 Inch Pies
Comments:
This recipe is for all of the "pie bakers" out there that bake several pies during the holiday season. All you have to do is make up this batch, and you'll have enough pie dough for 12 double crust pies.

Freeze dough if desired to use later!
Ingredients:

7-1/2 lbs. all purpose flour
1/4 cup salt
1-1/2 cups sugar
9 cups unsalted butter, chilled and cut into small pieces
1 quart plus 2 cups vegetable shortening, chilled and cut into small pieces
4 cups ice water


Instructions:
***This recipe is for 12 (twelve) 10-inch double crust pies or 12 (twelve) 9-inch double crust deep dish pies.***

Directions:
Combine first 3 ingredients in a food processor. Pulse twice to combine. Add chilled butter and shortening pieces. (The colder the better.) Pulse 9-10 times to cut in butter until mixture resembles very small peas. Transfer mixture to a bowl and sprinkle with 3 cups of the ice water. Stir with a large fork until dough starts to come together. Add remaining water if mixture is too dry and won't hold together. Divide mixture into 24 balls, with one slightly larger than the other. Press each ball into about 5 inch discs. Sprinkle lightly with flour, wrap each with plastic wrap and refrigerate 25-30 minutes, or freeze for up to 1 month.

To Prepar Pie Crusts:
Place larger disc of dough on a lightly floured work surface. Lightly sprinkle dough with flour. Using the side of your hand, press down across the top to flatten dough slightly. With a lightly floured rolling pin, using semi-firm pressure, start at center of dough and roll away from body. Start at center again and roll toward the body. Place rolling pin perpendicular to body and roll out from center, repeating process to the other side. Carefully turn dough over and repeat process of rolling and turning dough until it is 1/8 inch thickness. Gently wrap dough around rolling pin and arrange in pie plate. Repeat rolling process with remaining disc of dough. Add filling to be used and place dough over top, pinching and crimping dough around edge of pie plate. Using a sharp knife, cut a 2 inch slit in center of dough for steam to escape. Repeat above steps for each pie you are making. Bake pies as directed.

*NOTE: This recipe serves 96 people (12 pie crusts, each crust making a double crust pie with 8 servings).




Makes: 12 (twelve) 10-inch double crust pies, or 12 (twelve) 9-inch double crust deep dish pies.

Source: DianasDesserts.com
Date: September 4, 2002