Diana's Desserts - www.dianasdesserts.com
See more recipes in
Candy and Confections
Truffles With Spirit
in Diana's Recipe Book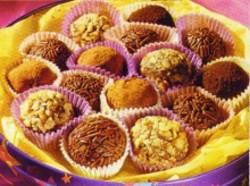 [Be the first to post a review!]
Servings: Makes about 4 dozen truffles
Comments:
"Truffles With Spirit" are made with liqueur, so these ones are for the adults. You can make some of these "oh so chocolatey" delights for the kids too, leaving the liqueur out. You can substitute orange extract for the liqueur in the recipe, and no one will know the wiser..................Diana
Ingredients:

1 1/2 cups heavy cream
1 lb. good-quality semisweet chocolate, chopped into small pieces
6 tbsp. unsalted butter, cut into 6 pieces
1/4 cup cognac or a liqueur like Grand Marnier, Drambuie or Tia Maria, optional
1-2 tsp. orange extract*
1/2 cup unsweetened cocoa
1/2 cup chocolate jimmies, optional
1/2 cup candied orange peel, optional
1 cup finely chopped toasted walnuts, pecans or almonds


Instructions:
In a small, heavy saucepan, scald the cream. Remove from heat and gradually stir in the chopped chocolate, stirring until it is melted. Add butter, a piece at a time, stirring until it is melted and mixture is smooth. (Return to gentle heat briefly if needed to melt all of the chocolate and the butter.) Stir in liqueur. Pour mixture into a bowl. Cover bowl with plastic wrap, positioning wrap so that it actually touches the top of the chocolate mixture. Seal tightly and refrigerate overnight.

Using a teaspoon, spoon out a portion of the mixture. Grease your hands and roll the spoonful into a 1" ball. Roll in cocoa, chocolate jimmies, or chopped nuts, or roll some of the truffles in candied orange peel. Place on a wax paper-lined tray and return to refrigerator. When truffles are very cold, remove to a tin or plastic container with a tight cover. Store in the refrigerator.

Makes about 4 dozen truffles.

*Note: If substituting orange extract for the liqueur in this recipe, mix in the extract very carefully, as it is very concentrated. You will need to taste the truffle mix, adding in small drops at a time of the extract to make sure the orange flavor isn't too strong.

Source: DianasDesserts.com
Date: August 25, 2002