Diana's Desserts - www.dianasdesserts.com
See more recipes in
Cheesecakes
Lemon Mascarpone Cheesecake with Lemon Curd
in Diana's Recipe Book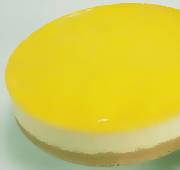 Average Rating:
(total ratings: 6)
[Read reviews]
[Post a review]
Servings: 10-12
Comments:
A wonderful double lemon cheesecake with a lemon-mascarpone filling, topped with lemon curd. It's a perfect dessert for the "lemon lovers" in your life.

Try making this cheesecake in 4 to 5-inch miniature springform pans to serve as individual desserts, and serve with a small scoop of ice cream on the side, and garnish with mint sprig for a pretty presentation.........Diana
Ingredients:

For The Almond Shortbread Crust:
1/4 cup almond meal (finely ground almonds)
1 1/4 cup all-purpose flour
1/3 cup granulated sugar
1/4 tsp. salt
6 tbsp. unsalted butter, chilled and cut into small pieces
1 large egg yolk

For the Cheesecake Filling:
12 oz. cream cheese
1/4 cup plus 2 tbsp. granulated sugar
1 tbsp. Meyer lemon zest*
1/3 cup Mascarpone Cheese**
5 tbsp. heavy cream
1/2 tsp. vanilla extract
2 tsp. Meyer lemon juice*
2 large eggs, separated

For The Meyer Lemon Curd Topping:
3 large eggs
3 large egg yolks
1 cup plus 1 tbsp. granulated sugar
1 tbsp. Meyer lemon zest*
1/3 cup Meyer lemon juice*
1/4 cup regular lemon juice
4 oz. unsalted butter
Instructions:
For The Almond Shortbread Crust:
Combine the dry ingredients in the bowl of an electric mixer with the paddle attachment. Add the butter and mix slowly until the mixture looks like bread crumbs. Add the egg yolk and just mix to distribute the egg. Do not allow the crumbs to come together. The mixture should look dry. Press lightly into the bottom of a 9-inch springform pan and prick with a fork. Bake at 350 degrees F (180 C) for about 15 minutes or until golden brown. Allow to cool.

For The Cheesecake Filling:
In the bowl of an electric mixer with the paddle attachment, combine sugar, cream cheese and lemon zest. Mix until smooth. Add the mascarpone cheese and mix until just combined. Add cream, vanilla extract and lemon juice and mix until smooth. Stir in the yolks then transfer to a medium sized mixing bowl. Wash and dry the electric mixing bowl. Using the whisk attachment, whip the egg whites until soft peaks form. Gently fold the egg whites into the cream cheese mixture then pour it over the shortbread crust in the springform pan. Bake at 350 degrees F (180 C) for 30-35 minutes or until the center is almost set. Let cool, then refrigerate for three hours or overnight.

For The Meyer Lemon Curd Topping:
Whisk eggs and yolks together in a medium sized bowl. Add sugar and mix together thoroughly. Mix in zest and juices. Place the bowl over a pot of gently simmering water and cook until thickened (about 5 to 7 minutes), stirring occasionally. Remove from the heat and stir in the butter, stirring until it becomes completely melted. Pour the lemon curd over the cooled cheesecake and bake at 300 degrees F (150 C) for 15 minutes. Allow to cool at room temperature then refrigerate for three hours or overnight.

Makes 10-12 servings.

*Note: If you can't find Meyer lemons at your market, use regular lemons instead. I have also seen Meyer Lemon Juice concentrate sold in some gourmet food stores.

**Note: Mascarpone Cheese:
Definition: [mas-kar-POHN; mas-kahr-POH-nay] Hailing from Italy's Lombardy region, mascarpone is a buttery-rich double-cream to triple-cream cheese made from cow's milk. It's ivory-colored, soft and delicate, and ranges in texture from that of a light clotted cream to that of room-temperature butter. It's versatile enough to be blended with other flavors and is sometimes sold sweetened with fruit. In Italy's Friuli region a favorite blend is mascarpone mixed with anchovies, mustard and spices. But in truth, this delicately flavored cheese needs little embellishment other than being topped with fruit.
Mascarpone cheese can be found in most large supermarkets in the cheese or dairy section, or in gourmet food stores.
Source: DianasDesserts.com
Date: August 25, 2002
Reviews
Reviewer:
Donald Moore
Rating:
Review:
If you are a lemon lover, this recipe will make you come home. I found this cheesecake light, satisfying, and very tasty. Also it's so easy to create.
Reviewer:
Alexandra
Rating:
Review:
This cheesecake is absolutely delicious! Although it takes time before you can serve it, it is very easy to make!
Reviewer:
agee
Rating:
Review:
I did not make the cheesecake recipe, i was looking for a lemon curd for a friend. This is the best lemon curd i have had. I made my own cheesecake and put this lemon curd on top of individual slices. I have to say each bite was better than sex.
Reviewer:
Maria
Rating:
Review:
My sister requested a lemon cheesecake for her 26th birthday, so this recipe was perfect. A handful of toasted, flaked almonds got a quick pulse in the food processor to yield enough almond meal. I added 1/2 tsp almond extract and about 2 tsp cream to the crust because I felt it was a tad too dry and sandy. I do have an issue with the lemon recipe: I didn't have access to Meyer lemons. Consequently, I used regular lemons which are more tart. I'd cut back on the total amt of lemon juice when using regular lemons. It was a wee bit too tart. 1/3 cup is suffice IMO. I wonder if it's a typo in the recipe. Also, I cooled the cheesecake in front of a fan for a mere hour before topping it with the curd. It didn't negatively effect anything- just saved time! After the final bake, I cooled it on a rack for another hour before refrigerating overnight. Topped with whipped cream before serving. ABSOLUTELY LUSCIOUS DECADENT! My lemon-loving sister did not want to share :-) Thank you for ANOTHER winning recipe, Diana
Reviewer:
Maria
Rating:
Review:
Correction: For the curd, use 1/3 cup Meyer lemon juice OR 1/4 cup regular lemon juice. DO NOT COMBINE THE AMOUNTS OF JUICE
Reviewer:
Karen
Rating:
Review:
Absolutely delish! Perfectly lemony for me and my lemon loving friends. I didn't change a thing. It's now our standard dessert at get togethers.