Diana's Desserts - www.dianasdesserts.com
See more recipes in
Cheesecakes
White Chocolate Hazelnut Raspberry Cheesecake
in Diana's Recipe Book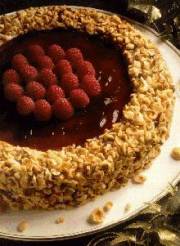 Average Rating:
(total ratings: 2)
[Read reviews]
[Post a review]
Servings: 12-16
Comments:
This creamy, smoothe cheesecake tastes as good as it looks. It is well worth the extra time to frost it with the White Chocolate Cream Cheese Frosting, although it is also delicious served plain with just a bit of raspberry sauce on the side. To keep the top from cracking as it cools, be sure to grease the pan well and to cool away from drafts.


Ingredients:

The Cheesecake
* 3 ounces white chocolate*, choped
* 1/3 cup whipping cream
* 3/4 cup granulated sugar
* 3 strips lemon peel, cut in 1/2 inch pieces
* 1 1/2 pounds cream cheese, softened
* 1 cup sour cream
* 2 tablespoons fresh lemon juice
* 4 large eggs
* Raspberry Grand-Marnier Sauce (recipe follows)
* White Chocolate/Cream Cheese Frosting (recipe follows)
* 1 cup medium chopped toasted hazelnuts
* Fresh Raspberries

Raspberry-Grand Marnier Sauce

* 16 ounces fresh or frozen raspberries (1 cup juice)
* 1/3 to 3/4 cup granulated sugar, or to taste
* 2 tablespoons orange liquer (such as Grand Marnier)

Hazelnut Crust

* 25 vanilla wafers (1 cup crushed)
* 1 tablespoon granulated sugar
* 1/2 cup coarsely chopped toasted hazelnuts
* 2 tablespoons melted unsalted butter

White Chocolate Frosting

* 2 tablespoons whipping cream
* 2 ounces white chocolate, chopped
* 4 ounces cream cheese, softened
* 1 teaspoon lemon zest

Instructions:
Preheat oven to 350 degrees F. Generously butter a 9-inch spring form pan. Cover the outside of the pan and up the sides about two inches with wide aluminum foil. This will prevent water from seeping in the pan while baking. Position a baking rack in the center of the oven.

In a food processor, finely chop vanilla wafers. Add sugar and hazelnuts; chop fine. With the machine running, pour in butter. Press the mixture into the bottom of the prepared pan. Refrigerate until firm.

Place white chocolate in small bowl. Gently warm cream and pour over the chocolate. Let stand, stirring often, until chocolate is melted. Cool slightly.

Place sugar and lemon peel in a food processor work bowl fitted with a metal blade. Process until the lemon peel is very fine, about one minute. Add softened cream cheese and process until smooth, about 30 seconds, scraping the sides of the bowl several times. Mix in white chocolate, cream, sour cream, and lemon juice. Add eggs, one at a time, and process until smooth, another 30 seconds. Pour half of the mixture over the chilled crust, and drizzle with 1/4 cup of the Raspberry Sauce. Top with remaining batter.

Place the cheesecake in a baking pan about 2 1/2 to 3 inches deep and wide enough so there is at least an inch of room around the cheesecake. Pour boiling water into the baking pan to about half way up the sides of the spring form pan.

Bake in the center of a 350 degree oven for 45 minutes. Turn oven off and let cheesecake remain in oven, with door closed, for another 60 minutes. Remove from waterbath and cool in the pan, away from drafts. When cool, remove from pan and refrigerate.

To finish dessert, cut a piece of parchment or waxed paper in a six-inch round, using a saucer as a guide, and place in the center of the cheesecake. Frost the sides and top, around the paper, with White Chocolate & Cream Cheese Frosting. Press chopped hazelnuts into the frosting. Remove paper and chill until frosting is firm, about one hour. Spoon Raspberry Grand-Marnier Sauce into the center and garnish with fresh raspberries.

White Chocolate Frosting
Place whipping cream in a small bowl and gently heat. Add white chocolate to cream and stir until melted. Cool to room tempature.

With electric mixer beat cream cheese and lemon zest together. Add white chocolate and cream; whip until smooth. If frosting is too soft, refrigerate until it is thick and creamy.

Raspberry-Grand Marnier Sauce
In a saucepan, heat berries until just warm, and juice is released. If using fresh berries, add 1/4 cup water. Force the mixture thru a sieve or juicer. Return juice to saucepan; discard solids. Add sugar to taste. If using fresh berries 1/3 to 1/2 cup sugar shoud be adequate. If using pre-sweetened berries, little or no additional sugar may be needed. Cook over medium high heat until liquid is reduced by half. Remove from heat, add orange liqueur and cool.

*NOTE: White confectionery products with cocoa butter as an ingredient are general referred to as white chocolate. The term "white chocolate" is a misnomer, however, as chocolate refers to the brown chocolate liquer found when processing the cocoa beans. Look for cocoa butter listed as the first ingredient on the package, as the higher the ratio of cocoa butter in the product, the finer the confection. If cocoa butter is not listed as an ingredient, the product is a white compound or confectioner's coating. White chocolate should be handled carefully. it should not be over heated. In this recipe, the cream should be just barely warm enough to gently melt the chocolate. If the chocolate gets too warm, it may "seize" and refuse to melt.


Date: August 25, 2002
Reviews
Reviewer:
joja
Rating:
Review:
it was bad!! my friends liked it but gosh i thought it was gross!!! and like skye said it was a waste of my time and money!!
Reviewer:
Skye
Rating:
Review:
I thought that this cheesecake was absolutley disgusting. First of all, you get the nuts stuck in your mouth. Secondly it is VERY difficult to make. Lastly the white chocolate frosting was also disgusting. I wish I could lie and say something different, but it was a waste of time and money.