Diana's Desserts - www.dianasdesserts.com
See more recipes in
Miniature & Individual Desserts
Warm Molten Chocolate Cakes
in Diana's Recipe Book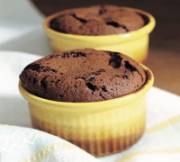 Average Rating:
(total ratings: 3)
[Read reviews]
[Post a review]
Servings: 6
Comments:
A favorite dessert of mine, these rich little chocolate cakes "oozing" with a delicious warm chocolate center are perfect to serve at a small intimate dinner party or as a very special treat for Valentine's Day. They will dazzle your guests, yet are so simple to prepare. Definitely, a chocolate lover's dream come true. If desired, serve with Crème anglaise or vanilla ice cream or just dust tops with confectioners' sugar.
Ingredients:

8 oz. bittersweet chocolate, finely chopped
1/4 cup (1/2 stick/2 oz/56g) unsalted butter, cut into pieces
1 tsp. vanilla extract
Pinch of salt
4 egg yolks
6 tbsp. granulated sugar
2 tbsp. Dutch-process cocoa powder, sifted
1 tsp. finely grated orange zest (optional)
3 egg whites, at room temperature

Serve with (optional)
Crème anglaise (see recipe below) or vanilla ice cream or dust tops with confectioners' sugar
Instructions:
Preheat an oven to 400°F (200°C). Lightly butter six 3/4-cup ramekins and dust with cocoa powder. Set the ramekins on a small baking sheet.

In the top pan of a double boiler, combine the chocolate and butter. Set the pan over but not touching barely simmering water in the bottom pan and melt the chocolate and butter, then whisk until the mixture is glossy and smooth. Remove from the heat and stir in the vanilla and salt. Set aside to cool slightly.

In a large bowl, using an electric mixer, beat the egg yolks, 3 tbsp. of the sugar, the cocoa powder and the orange zest on medium-high speed until thick. Spoon the chocolate mixture into the yolk mixture and beat until well blended. The mixture will be very thick.

In a bowl, using clean beaters, beat the egg whites on medium-high speed until they are very foamy and thick. Sprinkle in the remaining 3 tbsp. sugar and increase the speed to high. Continue beating until firm, glossy peaks form. Spoon half of the beaten whites onto the chocolate mixture and whisk in until just blended. Add the remaining whites and stir gently until just blended. Spoon into the prepared ramekins, dividing evenly.

Bake the cakes until they are puffed and the tops are cracked, 13 minutes. The inside of the cracks will look very wet. Remove from the oven and serve immediately in the ramekins. Or run the tip of a small knife around the inside of each ramekin to loosen the cake, then invert the cakes onto individual plates. If desired, serve with a drizzle of crème anglaise or a scoop of vanilla ice cream, or just dust tops of cakes with confectioners' sugar.

Makes 6 servings.

Variation:
If you would like your molten chocolate cakes to have crunchy bottoms and sides, dust the buttered ramekins with superfine sugar instead of with cocoa powder.

Creme Anglaise

Makes 2 cups

Ingredients:
2 cups whole milk or half-and-half
1 vanilla bean, split lengthwise ( optional)
5 egg yolks, at room temperature
1/2 cup granulated sugar
Pinch of salt
2 teaspoons pure vanilla extract ( if not using vanilla bean)

Instructions:
In a heavy saucepan, combine the milk or half-and-half and vanilla bean (if using). Place over medium heat and bring almost to the boiling point, them remove from the heat. If using a vanilla bean, using the tip of a small, sharp knife, scrape the seeds into the milk and stir to combine; discard the bean.

In another heavy saucepan, combine the egg yolks, sugar, and salt and whisk until creamy. Gradually whisk in the hot milk or half-and-half. Place over low heat and cook, stirring constantly, just until the mixture is thick enough to coat the back of a spoon ( your finger should leave a trail when you run it across the spoon), about 5 minutes. To prevent the eggs from overcooking or curdling, do not allow the mixture to approach a boil.

Pour the mixture through a fine-mesh strainer into a bowl. If not using a vanilla bean, stir the vanilla extract into the sauce.

Serve warm, or set aside to cool to room temperature, stirring frequently to prevent a skin from forming on the surface.

Cover and refrigerate until well chilled, at least 4 hours or for up to 3 days.

Makes 2 cups.
Source: Williams-Sonoma Collection Series
Date: August 21, 2002
Reviews
Reviewer:
p-dizzle
Rating:
Reviewer:
kartika
Rating:
Review:
Another of your best recipes!! My boyfriend totally loved it!!!!!
Reviewer:
eduardo
Rating:
Review:
I made these as tiny cupcakes (i wanted them really small, almost like an amuse). I shed the paper, served it with a tiny dollop of vanilla ice cream. It was a hit at my soiree!