Diana's Desserts - www.dianasdesserts.com
See more recipes in
Miniature & Individual Desserts
Miniature Pavlovas with Plums and Crème Fraîche
in Diana's Recipe Book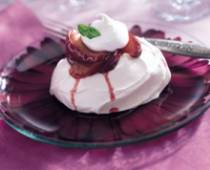 [Be the first to post a review!]
Servings: Makes 6 miniature Palovas
Comments:
PAVLOVA

Definition: [pav-LOH-vuh] Hailing from Australia, this famous dessert is named after the Russian ballerina Anna Pavlova. It consists of a crisp meringue base topped with whipped cream and fruit such as strawberries, passion fruit and kiwi. A pavlova is usually served with fruit sauce or additional whipped cream.
Copyright (c) 1995 by Barron's Educational Series, from The New Food Lover's Companion, Second Edition, by Sharon Tyler Herbst

"If you love meringue, you'll love Pavlova. These miniature "light as a feather" sweet meringues topped with a cardamon scented plum sauce and a dollop of sweet creamy whipped crème fraîche, make a very special Mother's Day dessert"..........Diana's Desserts


Ingredients:

For The Plums:
1 1/2 pounds plums (fresh or canned), halved, pitted, sliced 1/4 inch thick
1/2 cup granulated sugar
1 tablespoon fresh lemon juice
1/2 teaspoon ground cardamom

For The Meringues:
4 large egg whites
1/4 teaspoon cream of tartar
1 cup granulated sugar
2 teaspoons cornstarch
1/2 teaspoon apple cider vinegar
1/2 teaspoon vanilla extract
1/4 teaspoon ground cardamom

For The Topping:
1 1/2 cups chilled crème fraîche*
2 tablespoons granulated sugar

Instructions:
For Plums:
Combine all ingredients in large skillet; toss to coat. Cover and cook over medium-high heat until sugar dissolves, stirring occasionally, about 5 minutes. Uncover and cook until plums are tender but still hold shape, stirring occasionally, about 3 minutes longer; cool to room temperature. (Can be made 1 day ahead. Transfer to bowl. Cover and chill.)

Note: If using canned plums, you will probably not need to cook them as long as fresh plums. Watch carefully when cooking them, making sure the canned plums still hold their shape, but are tender.

For Meringues:
Preheat oven to 350°F. Line large baking sheet with parchment paper. Using electric mixer, beat egg whites in large bowl 1 minute. Add cream of tartar. Continue to beat until soft peaks form. Gradually add sugar, beating until whites are thick and resemble marshmallow creme, about 5 minutes. Beat in cornstarch, vinegar, vanilla, and cardamom. Drop meringue onto prepared sheet in 6 mounds, spaced 3 inches apart. Using back of spoon, make depression in center of each.

Place meringues in oven. Immediately reduce temperature to 250°F. Bake until meringues are dry outside (but centers remain soft) and pale straw color and lift easily from parchment, about 50 minutes. Cool on sheet on rack. (Can be made 8 hours ahead. Let stand at room temperature.)

For Topping:
Beat crème fraîche and sugar in medium bowl until peaks form. Refrigerate up to 2 hours.

Place meringues on plates. Spoon plum mixture into center depression. Spoon topping and any plum juices over.

Makes: 6 miniature pavlovas.

*Note: Crème fraîche is sold at some supermarkets and gourmet food stores. Look for it in the dairy department, or if your market has a gourmet section.

If unavailable at your supermarket, you can make your own by heating 1 1/2 cups whipping cream to lukewarm (85°F). Remove from heat and mix in 3 tablespoons buttermilk. Cover and let stand in warm draft-free area until slightly thickened, 24 to 48 hours. Refrigerate until ready to use.
Source: DianasDesserts.com
Date: August 12, 2002