Diana's Desserts - www.dianasdesserts.com
See more recipes in
Muffins
Honey Raisin Bran Muffins
in Diana's Recipe Book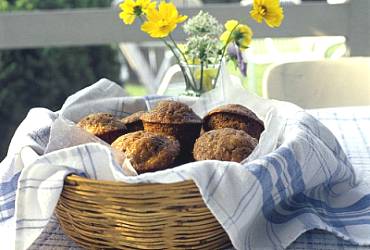 [Be the first to post a review!]
Servings: Makes 18 muffins
Comments:
Wheat bran, the outer layer of grains of wheat, is a by-product of the flour-milling process. Although almost tasteless, fresh bran contributes a mild earthy flavor to muffins and other baked goods and is added to recipes along with flour to boost the fiber content and overall nutrition. Unprocessed wheat bran, which has not been toasted, is also packaged as miller's bran. Look for it in the cereal section of supermarkets or in natural-foods stores. Because bran is high in natural oils, it should be stored in the refrigerator to maintain freshness.
Ingredients:

2 cups all-purpose flour
2 cups unprocessed bran flakes
1 1/2 cups mixed dark and golden raisins
1/3 cup toasted wheat germ
2 tsp. baking soda
1 tsp. baking powder
1 tsp. salt
8 tbsp. (1 stick/4 oz./113g) unsalted butter, at room temperature
1/2 cup firmly packed light or dark brown sugar
1/2 cup honey
1 cup plain yogurt
1/2 cup buttermilk
2 tsp. vanilla extract
3 eggs, beaten
Instructions:
Preheat oven to 400°F/200°C. Grease 18 standard muffin cups with butter or butter-flavored nonstick cooking spray; fill the unused cups one-third full with water to prevent warping.

In a bowl, stir together the flour, bran flakes, raisins, wheat germ, baking soda, baking powder and salt.

In another bowl, using an electric mixer on medium speed or a wooden spoon, cream together the butter, brown sugar and honey until fluffy. Beat in the yogurt, then the buttermilk and vanilla, until well blended and smooth.

Make a well in the center of the flour mixture and add the butter mixture and the eggs. Beat just until evenly moistened. The batter will be thick and slightly lumpy.

Spoon the batter into the prepared muffin cups, filling them level with the rim.

Transfer the pan(s) to the oven and immediately reduce the oven temperature to 350°F/180°C. Bake the muffins until golden, dry and springy to the touch, and a toothpick inserted into the center of a muffin comes out clean, 18 to 22 minutes.

Transfer the pan(s) to wire racks and let the muffins cool for at least 15 minutes. Remove the muffins from the pan(s) and serve warm or at room temperature.

Makes 18 muffins.

Source:
Recipe Adapted from The Williams-Sonoma Baking Book, Edited by Chuck Williams (Oxmoor House, 2009).
Date: March 6, 2010