Diana's Desserts - www.dianasdesserts.com
See more recipes in
Ice Creams and Frozen Desserts
Mini Mud Pies with Chocolate Sauce
in Diana's Recipe Book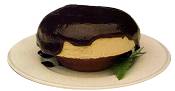 [Be the first to post a review!]
Servings: 12
Comments:
These are miniature ice cream pies made with a chocolate tart shell bottom filled with coffee ice cream (or flavor of your choice), and covered with a bittersweet chocolate sauce. "Very decadent"...........Diana's Desserts
Ingredients:

FOR THE CHOCOLATE TART SHELLS:
1 cup unsalted butter, at room temperature
1 cup confectioner's sugar
1/4 cup unsweetened cocoa powder
1 large egg, at room temperature
1 1/2 cups all-purpose flour
1/2 cup finely ground almonds

FOR THE ICE CREAM:
1/2 gallon Vanilla, Coffee, or Almond Ice Cream,
(or ice cream flavor of your choice)

FOR THE BITTERSWEET CHOCOLATE SAUCE:
4 1/2 tbsp. water
4 1/2 tbsp. granulated sugar
12 ounces bittersweet chocolate, broken into pieces
1 1/2 cups whipping cream

FOR GARNISH: Optional
Fresh Strawberries, hulled, washed and dried
sliced in halves

Instructions:
TO PREPARE THE TART DOUGH:
Beat the butter and sugar in an electric mixer until light and creamy. Add cocoa, and beat until well combined. Add egg, and beat until smooth.

Sift the all-purpose flour and ground almonds into the cocoa mixture. Beat mixture on low speed until well combined. Scrape the dough onto a sheet of plastic wrap and form into a disk. Cover, and chill until firm, about 1 hour.

Preheat oven to 350 degrees F. On a lightly floured surface, roll the dough to a thickness of 3/16th of an inch. Using a 3 1/2 inch round cutter, cut out 12 circles of dough, and press them into individual 3-inch tartlet pans, trimming away any excess dough. Chill tart shells 20 minutes.

Line shells with 5-inch squares of foil, and fill with dried beans or rice as weights. Place shells on a baking pan, and bake 12-14 minutes, until set. Remove foil and weights, and cool shells on a rack.

TO PREPARE THE BITTERSWEET CHOCOLATE SAUCE:
Combine water and sugar in a sauce pan, bring to a boil over low heat, stirring constantly until sugar dissolves. Place the bittersweet chocolate in top of a double boiler. Place over hot water and stir until the chocolate has melted. Add the sugar syrup to the chocolate. In a separate small saucepan bring the whipping cream to a boil. Pour into the chocolate mixture and stir until smooth and shiny. Cool sauce at room temperature completely before drizzling or pouring over mud pies.

TO ASSEMBLE THE MUD PIES:
Remove tart shells from tartlet pans, and allow to cool completely on waxed paper.
On the waxed paper, place a scoop of ice cream (4-6 ounces) into each completely cooled tart shell, and level top of ice cream so it is rounded or dome shaped. Pour or drizzle the tarts with the cooled bittersweet chocolate sauce, covering the tarts completely.
Transfer the mud pies to a cookie sheet, and place in freezer. Freeze pies until firm, 1-2 hours. Serve frozen mud pies on chilled dessert plates and place strawberry halves decoratively around each mud pie (optional). Makes 12 mud pies.

Tip: Any un-eaten mud pies can be tightly wrapped in plastic wrap, and kept in freezer for up to 2 weeks.


Here's an alternate chocolate sauce recipe for a more creamier and fudgier sauce to cover mud pies with:

Rich And Creamy Hot Fudge Sauce

Makes about 3 cups

1 1/2 cups (12 fluid-ounce can) Evaporated Milk
1/2 cup granulated sugar
2 tablespoons butter or margarine
2 tablespoons light corn syrup
2 cups (12-ounce package) Semi-Sweet Chocolate Chips
2 teaspoons vanilla extract

Combine evaporated milk, sugar, butter and corn syrup in medium saucepan . Bring to a boil over medium heat, stirring constantly. Reduce heat to low; cook, stirring constantly, for 3 minutes. Remove from heat. Stir in morsels and vanilla extract until thickened and smooth. Serve over ice cream or cake. Store leftover sauce in refrigerator; reheat before serving. If needed, add water to thin to desired consistency. Makes about 3 cups of sauce.





Source: DianasDesserts.com
Date: August 7, 2002