Diana's Desserts - www.dianasdesserts.com
See more recipes in
Holidays and Celebrations
Chocolate Walnut Holiday Toffee
in Diana's Recipe Book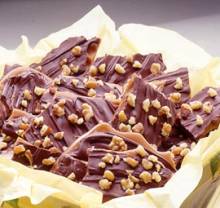 [Be the first to post a review!]
Servings: 9-inch pan of toffee, broken into pieces
Ingredients:

1 cup butter
1 cup granulated sugar
1 tbsp. white corn syrup
3 tbsp. water
1 1/2 cups chopped walnuts
6 oz. semi-sweet chocolate chips


Instructions:
Butter 9-inch square pan. Melt 1 cup butter in 2-quart saucepan, slowly stir in sugar.
Add syrup and water. Stir. Cook over medium heat (290 degrees on candy thermometer)
or until a little mix dropped in cold water becomes brittle. Add 1 cup walnuts, cook 3
minutes more, stir. Pour into pan. Remove when cold. Place on wax paper. Melt chocolate
chips. Coat toffee with chocolate. Sprinkle with nuts, allow to set about 1 minute, turn
over and repeat coating. Break into bite-size pieces.

Makes a 9 inch pan of toffee, broken into pieces.

Source: DianasDesserts.com
Date: August 3, 2002