Diana's Desserts - www.dianasdesserts.com
See more recipes in
Pies and Tarts
Pecan Streusel Apricot Pie
in Diana's Recipe Book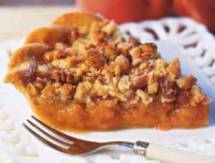 [Be the first to post a review!]
Servings: 8
Ingredients:

1 9-inch ready made frozen pie crust, thawed (for bottom crust of pie), or make your own crust

For Pie Filling:
1/4 cup granulated sugar
3 large eggs
1/4 cup unsalted butter, melted
1/4 cup dark corn syrup
1 teaspoon vanilla extract
1/4 teaspoon salt
2 cups toasted pecans, chopped
1 cup Apple Cider Syrup* (see recipe below)
1 cup dried apricots, chopped

For Streusel Topping:
3/4 cup finely crushed vanilla wafers (about 20 wafers)
1/2 cup chopped pecans
3 tablespoons butter or margarine


Instructions:
Preheat the oven to 425° F.
Prepare your pastry and line a 9-inch pie pan. Set aside.

In a large bowl beat the eggs until blended. Add the apple cider syrup*, corn syrup, sugar, butter, vanilla and salt. Beat until thoroughly combined. Stir in pecans and apricots. Pour the mixture into the pastry-lined pan.

In a medium bowl combine crushed vanilla wafers and pecans. Cut in margarine or butter until crumbly. Sprinkle streusel over pie. To prevent overbrowning, cover edge of pie with foil.

Bake for 15 minutes, then reduce the heat to 350 degrees F, and bake until the filling has puffed and set around the edges but the center is slightly soft, and the streusel is golden brown; about 25 minutes longer. Serve warm or at room temperature with lightly whipped cream.

Apple Cider Syrup*
Ingredients:
1/2 cup sugar
4 teaspoons cornstarch
1/2 teaspoon cinnamon
1 cup apple juice
1 tablespoon lemon juice
2 tablespoons margarine

Stir sugar, cornstarch, and cinnamon in a small saucepan. Add apple juice and lemon juice.
Cook and stir the mixture over medium heat until thickened and bubbly. Cook and stir for 2
minutes more. Remove the saucepan from the heat and stir in the margarine until melted. Add 1 cup of cider syrup to pie filling as recipe states above.

Makes: about 1-1/3 cups.
Source: DianasDesserts.com
Date: August 1, 2002