Diana's Desserts - www.dianasdesserts.com
See more recipes in
Miniature & Individual Desserts
Mini Strawberry Cheesecakes
in Diana's Recipe Book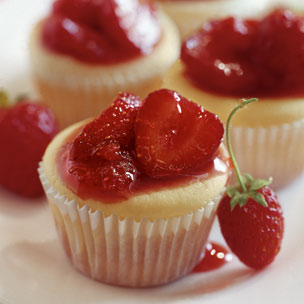 Average Rating:
(total ratings: 10)
[Read reviews]
[Post a review]
Servings: Makes 24 mini cheesecakes
Comments:
These little indulgences are scaled-down versions of a dessert favorite: the classic New York cheesecake. They combine the sweet fruitiness of fresh strawberries with the rich creaminess of cheesecake, and they taste every bit as luscious as any full-size version.
Ingredients:

For the Topping:
1 lb. fresh strawberries, hulled and halved
1/2 cup plus 2 tbsp. granulated sugar
1 tbsp. fresh lemon juice

For the Filling:
1 1/4 lb. cream cheese, at room temperature
3/4 cup granulated sugar
1/2 tsp. vanilla extract
1/4 cup sour cream
2 eggs, at room temperature
3 tbsp. all-purpose flour
Instructions:
To Make the Topping:
In a nonreactive saucepan, combine 1/2 lb. of the strawberries with the sugar. Using a fork, gently mash the strawberries. Set the pan over medium-high heat and cook until the strawberries are softened, about 3 minutes. Remove from the heat and stir in the remaining 1/2 lb. strawberries and the lemon juice. Transfer to a small bowl and let cool completely. (The topping can be refrigerated in an airtight container for up to 2 days.)

Preheat an oven to 350°F/180°C. Line a 24-cup miniature muffin pan with miniature paper or foil liners.

To Make the Filling:
In a bowl, using an electric mixer on medium-high speed, beat the cream cheese until fluffy, about 3 minutes. Reduce the speed to low, gradually add the sugar and beat until smooth, scraping down the sides of the bowl as needed. Add the vanilla and sour cream and beat until combined. Add the eggs one at a time, beating well after each addition. Add the flour and beat until combined.

Divide the filling evenly among the prepared muffin cups, filling each about three-fourths full. Bake until the cheesecakes are just set in the center, about 15 minutes. Transfer the pan to a wire rack and let the cheesecakes cool in the pan for 5 minutes. Using a small offset spatula, transfer the cheesecakes to the rack and let cool completely, about 45 minutes.

Refrigerate the cheesecakes in an airtight container for at least overnight or up to 3 days. Spoon about 1 tbsp. of the strawberry topping onto each chilled cheesecake and serve immediately.

Makes 24 mini cheesecakes.

Adapted from Cupcakes, by Shelly Kaldunski (Weldon Owen, 2008).
Date: December 2, 2008
Reviews
Reviewer:
Aranna
Rating:
Review:
Excellent
Reviewer:
Diana
Rating:
Review:
Hi Amy, You can freeze the cheesecakes without the topping. I would make the topping 1-3 days before you are going to serve the cheesecakes. Yes, you would thaw, top with sauce and serve. Good luck!.....Diana, DianasDesserts
Reviewer:
Amy Wilson
Rating:
Review:
I haven't made these yet, but wondered if they could be frozen for about a week and then just thawed and served cool or at room temp? Would anyone know? Thanks!
Reviewer:
FromMe4You
Rating:
Review:
That pic. of 'em looks incredible and yummy!!can't wait to taste 'em!!!
Reviewer:
Tranaye
Rating:
Review:
I made these mini cheesecakes. They were great. The baking time was longer then I thought, but they were GREAT!
Reviewer:
Sophie
Rating:
Review:
What size of paper cup should I use? Mini cupcakes cup or normal size?
Reviewer:
Sarah
Rating:
Review:
The recipe is very easy to follow! The cheesecakes are simple and tasty. loved it!
Reviewer:
sue
Rating:
Review:
I have made minis many times...this is the first I have seen flour & sour cream. What would the difference be? The other recipe made 36 --- does this one only make 24? Thank you
Reviewer:
Sharon
Rating:
Review:
How many eggs does this recipe call for? It is not listed with the ingredients for the filling.
Reviewer:
Gabi
Rating:
Review:
Well, I popped these in on party day and was very excited until I got to the end of the recipe and realized we can't eat them until tomorrow. Yaaaaaaaaaay. Maybe mention how long it takes at the beginning?