Diana's Desserts - www.dianasdesserts.com
See more recipes in
Cheesecakes
New York Deli Style Cheesecake
in Diana's Recipe Book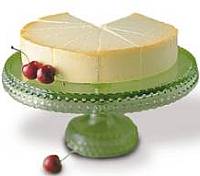 Average Rating:
(total ratings: 20)
[Read reviews]
[Post a review]
Servings: 10-12
Comments:
A traditional cheesecake you would find in a New York City Deli; a great basic cheesecake that is always delicious and one that people seem to ask for the most.
Ingredients:

For the Crust:
15 graham crackers, crushed
2 tablespoons butter, melted

For the Filling:
4 (8 ounce) packages cream cheese, softened
1 1/2 cups granulated sugar
3/4 cup milk
4 large eggs
1 cup sour cream
1 tablespoon vanilla extract
1/4 cup all-purpose flour
Instructions:
Preheat oven to 350 degrees F (180 C). Grease a 9-inch springform pan.

In a medium bowl, mix graham cracker crumbs with melted butter. Press onto bottom of springform pan.

In bowl of an electric mixer, mix cream cheese with sugar until smooth. Blend in milk, then mix in the eggs one at a time, mixing just enough to incorporate. Mix in sour cream, vanilla and flour until smooth. Pour filling into prepared crust.

Bake cheesecake in preheated oven for 1 hour. Turn oven off, and let cake cool in oven with the door closed for 5 to 6 hours. This prevents cracking. Chill in refrigerator until ready to serve.

Makes 10-12 servings.


Source: DianasDesserts.com
Date: July 31, 2002
Reviews
Reviewer:
Mary Morgan
Rating:
Review:
This is better than Junior's...very good.
Reviewer:
Jody
Rating:
Review:
This is an awesome recipe. It always turns out and never gets turned down.
Reviewer:
Roxy
Rating:
Review:
It's the best looking cheesecake I've ever made. I froze it for the holidays using your tips. Can't wait to try it.
Reviewer:
Becky
Rating:
Review:
This cheesecake turned out perfect! I've always had a problem with cracks, but not with this one. And it got rave reviews! It made my Easter dinner a success.
Reviewer:
Wendy
Rating:
Review:
This cheesecake is better than any you can buy. My only problem was the top cracking but that didn't affect the taste so I didn't mind.
Reviewer:
Elbereth
Rating:
Review:
From Spain, it was a marvellous gift for my friends. Thanks for your fantastic recipes. I love your website.
Reviewer:
Susan
Rating:
Review:
This is a great cheesecake. Light and fluffy but still rich and tasty. Guests could not stop eating it!!
Reviewer:
Meda Adinarain
Rating:
Reviewer:
Shelly
Rating:
Review:
I cut the recipe in half and put filling into a ready-made graham craker crust. I sprinkled Heath Bits on the top - it was absolutely delicious. Thanks!
Reviewer:
melisa
Rating:
Review:
This is the best recipe. It's phenominal!
Reviewer:
Sanaz
Rating:
Reviewer:
victor
Rating:
Reviewer:
JodyAnn
Rating:
Review:
I made this for the first time for xmas dinner.. everyone loved it.. its the best cheese cake yet.. Thanks
Reviewer:
Teresa
Rating:
Review:
This is the best cheesecake recipe I've ever found. Perfect every time. YUM!
Reviewer:
anne
Rating:
Review:
love it
Reviewer:
Dixie
Rating:
Review:
Thank you so much for sharing this tasty and mouth-watering recipe. I made this recipe for my husband's meeting and everybody loved it... I put my homemade whipped topping on top then put frozen (thawed already) mixed berries on top and drizzled it with Hershey's Strawberry Syrup and it turned out soooo good! Visual presentation made it look so yummy and when they tasted it everybody just wanted a piece.... Did i mentioned that it was an all male meeting? Thank you again and I will definitely make this again.
Reviewer:
Jessica
Rating:
Review:
I tried this recipe and was very disappointed because the top cracked. Now I have to cover it with a fruit topping. I was hopping to serve it as is. I followed the directions exactly - well buttered sides, left it in the oven and didn't open the door and it cracked after about an hour. Any suggestions?
Reviewer:
Jack Kessler
Rating:
Review:
The addition of lemon zest and substituting cottage cheese in place of part of the cream cheese makes a real mouthwatering cheese cake with Pennsylvania Dutch cheesecake taste and texture.
Reviewer:
john
Rating:
Review:
This was very good. I had the problem with cracking but all I did was cut my cheesecake by working around the cracks before serving. no one knew there were cracks in it
Reviewer:
Daragh
Rating:
Review:
Having tried so many different recipes with some disasters and some not too bad results, this one finally hit the nail on the head. I had been in New York for a few days the week before and was determined to get it right and this is the best recipe I have tried so far. I don't think I will try any more as this one was so good. Really liked the cheesecake from the Roxy in Times Square which is the best I have ever tasted!!