Diana's Desserts - www.dianasdesserts.com
See more recipes in
Valentine's Day
Chocolalate Hazelnut Pate
in Diana's Recipe Book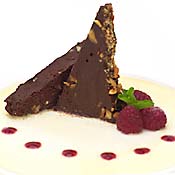 [Be the first to post a review!]
Servings: 12
Ingredients:

12 ounces best-quality bittersweet chocolate, chopped
1/2 cup (1 stick) unsalted butter
3/4 cup chocolate hazelnut spread (Nutella)
3/4 cup whipping cream
1 cup toasted hazelnuts, chopped

Optional Sauces (see recipes below)
French Cream or,
Raspberry Sauce


Instructions:
Butter bottom of pate mold OR a 7, 8, or 9 inch loaf pan and line with piece of parchment paper, trimmed to fit bottom evenly. Melt chocolate with butter in large metal bowl over pan of simmering water, stirring occasionally until smooth. Remove from heat and stir in Nutella. Let stand until cool but not set, stirring occasionally, about 20 minutes.

Whip cream to soft peaks in another bowl. Fold cream into chocolate mixture. Fold in half of nuts. Spoon chocolate mixture into mold, smoothing evenly. Sprinkle remaining hazelnuts over top, pressing lightly into chocolate to adhere. Chill until firm, overnight. (Can be prepared up to 1 week ahead; cover.)

Release pan sides and invert onto plate; peel off parchment. Using warm slicing knife, cut into thin slices. Serve with Creme Anglaise, Raspberry sauce, or French Cream. Serves 12.

Tip: Unmolding such a delicate dessert can be tricky; so if you can, use a pate mold
with collapsible sides. The pate will come away from the sides cleanly and can then be easily
inverted to a serving platter.

Note: If using a loaf pan and not a pate mold, line the pan with plastic wrap, and let edges
of wrap hang over sides of pan. This will help when you are unmolding the pate; just lift pate
out of pan, remove plastic wrap, slice into thin slices while cold, and serve.


Recipe For French Cream:

NOTES: You can make the cream up to 1 day ahead; cover and chill. If mixture softens, whisk to thicken.

MAKES: 2 cups

1 package (3 oz.) cream cheese, chilled

1 cup whipping cream

1/2 teaspoon grated lemon peel

1 tablespoon lemon juice

3 to 4 tablespoons powdered sugar

1. Chill a deep bowl and the rotary or whip beater of a mixer for at least 10 minutes.

2. Put cream cheese in bowl and mix on high speed with rotary or whip beater until cheese is spread around base of bowl. With mixer on high speed, pour cream down the side of the bowl (not into beaters) into the cheese, slowly enough that the cheese stays thick and forms ridges like stiffly whipped cream as you beat it; scrape sides of bowl as necessary.

3. When all the cream is whipped into the cheese, turn off mixer. Add lemon peel, lemon juice, and powdered sugar to taste; mix at medium speed to blend. Spoon over slices of pate. Store in refrigerator. Makes 2 cups.


Recipe for Raspberry Sauce:

2 cups fresh or frozen (unsweetened) red raspberries
1/3 cup granulated sugar
2 tablespoons brandy (optional)

In the bowl of a food processor fitted with chopping blade,
puree raspberries, granulated sugar, and brandy, if desired,
until smooth. Transfer mixture to a fine strainer set over the
bowl of an airtight container. Using the back of a spoon,
press purée through strainer; discard pulp and seeds. Cover
and refrigerate until ready to use. Drizzle over serving plate, and
top with slice of pate.



Source: DianasDesserts.com
Date: July 28, 2002