Diana's Desserts - www.dianasdesserts.com
See more recipes in
Candy and Confections
Diana & Kenny's Maraschino Cherry Rocky Road Fudge
in Diana's Recipe Book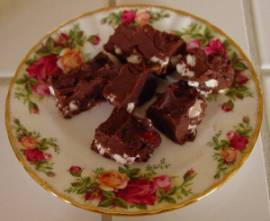 [Be the first to post a review!]
Servings: 48 Pieces
Comments:
We hope you enjoy this fudge. It is so special to us. It was the first "Sweet" that Kenny and I made together. We give it to friends and family as gifts during the holiday season, and everybody loves the combination of the Maraschino Cherries, the Marshmallows, and the Walnuts with the Chocolate.........Diana
Ingredients:

2 cups semi-sweet chocolate chips
1 1/4 cups (14 oz. can) sweetened condensed milk
1 teaspoon vanilla extract
1/2 teaspoon coffee extract or flavoring (optional)
1/2 teaspoon vanilla-nut flavoring (optional)
2 teaspoons maraschino cherry juice (reserved from jar)
3 cups miniature marshmallows
1 cup maraschino cherries in jar, cut into halfs (reserve liquid from maraschino cherries jar)
1 1/2 cups chopped walnuts (optional)
Instructions:
Line a 13 x 9-inch baking pan with foil, and lightly grease foil with butter. Or use 3-4 small decorated foil baking tins that have clear plastic lids (to make small portions to give as gifts).

In a large microwave safe bowl, microwave chips and sweetened condensed milk on HIGH (100% power) for 1 minute, stir. Microwave at additional 10-20 second intervals, stirring until smooth.

Stir in vanilla extract, vanilla-nut flavoring, coffee extract (optional), and reserved maraschino cherry juice. Stir in marshmallows, maraschino cherry halfs, and nuts (nuts are optional).

Press mixture into prepared baking pan or small decorated foil tins.

Refrigerate until ready to serve. Lift from pan, remove foil. Cut into one inch squares.

NOTE:
If using small decorated tins with clear lids, do not use foil to line tins, and do not cut fudge into pieces, leave fudge whole in tins, and when fudge has become firm in the refrigerator, place lids on tins.

Makes approximately 48 pieces.




Source: Diana and Kenny Woodall
Date: December 7, 2001