Diana's Desserts - www.dianasdesserts.com
See more recipes in
Summertime Treats and Beverages
Waldorf Salad
in Diana's Recipe Book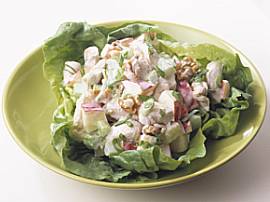 [Be the first to post a review!]
Servings: 8-10
Comments:
Oscar Tschirky, the maître d' of the old Waldorf-Astoria Hotel in New York City, created the original recipe for Waldorf salad, which consisted of equal amounts of chopped apples and celery blended with mayonnaise. Later, walnuts were added, increasing the popularity of this salad, and over time the recipe has been embellished with various ingredients to fit the tastes of the period. In the eastern United States, the dish has become a part of the traditional Thanksgiving meal, adding a taste of freshness to the feast.

I like to add sliced pineapple or sliced bananas to this wonderful and refreshing salad which makes it a great light side dish with dinner during the warm summer months......Diana, Diana's Desserts
Ingredients:

3/4 cup walnut or pecan halves, toasted
4 crisp apples, such as pippin, McIntosh or Rome Beauty
Juice of 1 lemon
1 cup finely diced celery
3 green onions, including some of the tender
green portions, finely chopped
3/4 cup sour cream
1 tbsp. Dijon mustard
1 1/2 tbsp. honey
Salt and freshly ground pepper, to taste
1 or 2 heads Bibb, Boston or Butter lettuce
Instructions:
To Toast the Nuts:
Preheat oven to 200 degrees F/90-95 degrees C. Spread the nuts on a baking sheet and bake until lightly toasted, 6 to 7 minutes. Coarsely chop and set aside.

Peel, core and quarter the apples, and cut into 1/2-inch dice. In a bowl, toss the apples with the lemon juice. Add the celery, the green onions and the toasted nuts and stir to combine.

In another bowl, combine the sour cream, mustard and honey. Whisk until well blended, and season with salt and pepper.

Separate the lettuce leaves and use only the crisp inner leaves; reserve the larger outer leaves for another use. Arrange the lettuce leaves around the rim of a serving platter. Add the dressing to the apple mixture and mix well. Spoon the salad onto the center of the platter.

Makes 8-10 servings.
Date: May 20, 2008