Diana's Desserts - www.dianasdesserts.com
See more recipes in
Diabetic and Lower Carb Treats
Creamy Chocolate Cheesecake
in Diana's Recipe Book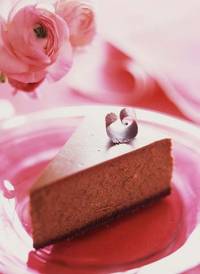 Average Rating:
(total ratings: 3)
[Read reviews]
[Post a review]
Servings: 12
Comments:
This is a cheesecake that everyone can enjoy, especially for all of those chocolate lover's out there. It's particularly nice and very suitable for people who are diabetic, or for people who are on a low-carb or low-fat diet. I like it because it fits right into my Weight Watchers Points plan. It's only 5 Weight Watcher points and 220 calories per slice, and it's truly delicious and "oh so creamy."

I made this cheesecake to bring to my cousin's home for a Mother's Day lunch this year, and everyone loved it. No one could believe that it was low-fat and almost sugar-free. They all raved. Hope you enjoy this as much as we did.....Diana, Diana's Desserts

Note:
If you can't find Splenda Granular sugar substitute, you may use Equal Spoonful sugar substitue instead.
Ingredients:

For the Crust:
1 (9-inch) chocolate cheesecake crumb crust (ingredients follow)

Ingredients for Crust:
3/4 cup chocolate graham cracker crumbs (about 12 squares)
3 tablespoons Splenda Granular Sugar Substitute
2 teaspoons unsweetened cocoa powder (regular or Dutch process)
2 tablespoons butter or stick margarine

For the Filling:
2 cups low-fat cottage cheese
8 oz. tub style light or reduced fat cream cheese (1/3 less calories than regular cream cheese), at room temperature
8 oz. tub style fat-free cream cheese, at room temperature
1/2 cup semisweet chocolate chips
1 1/2 cups Splenda Granular Sugar Substitute
4 tbsp. brown sugar
1/4 cup Dutch process cocoa powder
2 tablespoons all-purpose flour
1 tablespoon cornstarch
1 teaspoon vanilla extract
1/2 teaspoon almond extract
1 large egg
3 large egg whites
1/2 cup light sour cream

Garnish: (optional)
Chocolate curls or Chocolate Chips

Serve with: (optional)
Fat-free whipped cream or Fat-free, Sugar-Free or Lite Non-dairy whipped topping, such as Cool Whip
Instructions:
For the Crust:
Preheat oven to 350 degrees F/180 degrees C. Spray a 9-inch springform pan with nonstick cooking spray. Set aside.

If starting with whole graham crackers, place them in a blender or food processor and pulse graham crackers to make fine crumbs.

Melt the 2 tablespoons butter (or margarine, if using) in a small saucepan. Set aside.

Place crumbs in a bowl and add the Splenda, the 2 tsp. cocoa powder and the melted butter or margarine. Stir to mix. Spoon the crumb mixture into the bottom of the prepared springform pan. With your fingers, the back of a spoon, or a sheet of plastic wrap, press down on the crumbs to cover the bottom of the pan.

Bake crust in preheated oven for 5 minutes. Set aside and let cool. Leave oven on at 350 degrees F/180 degrees C.

For the Filling:
Wrap the springform pan filled with baked crust tightly in heavy duty aluminum foil. Set aside.

Place chocolate chips in a small saucepan and melt on low heat on stove stop. Let cool.

Place cottage cheese into a blender or food processor. Puree until completely smooth. Spoon into large mixing bowl, and add fat-free and reduced fat cream cheeses.

Beat mixture on medium speed with an electric mixer until creamy. Add the cooled melted chocolate, Splenda, brown sugar, cocoa powder, flour, cornstarch, and extracts. Beat on low speed until smooth. Add whole egg and then egg whites, beating briefly after each addition to incorporate. Stir in the sour cream with a large spoon.

Pour mixture into prepared sprinform pan and smooth top of cheesecake.

Place the foil wrapped pan in a large deep baking pan and pour boiling water into the larger pan until it reaches halfway up the outside of the springform pan (this is called a "water bath").

Bake cheesecake for 55-60 minutes or until sides of cheesecake appear firm and center jiggles slightly. Turn off the oven, open the oven door, and let cheesecake cool in the oven for 30 minutes. Remove cheesecake from "water bath" and finish cooling at room temperature. Once cooled, refrigerate cheesecake for at least 6 hours to overnight before serving.

When ready to serve, remove sides of springform pan and decorate top of cheesecake with chocolate curls or semisweet or white chocolate chips (optional), and cut cheesecake into 12 slices. You may serve cheesecake with fat-free whipped cream or fat-free or sugar free or lite non-dairy whipped topping, if desired.

Makes 12 servings.

NUTRITIONAL INFORMATION
Serving Size: 1/12 of cheesecake
Weight Watcher Points: 5 (per 1/12 slice of cheesecake)

Diabetic Exchanges:
1 1/2 carbohydrates
2 very lean meats

Calories: 220
Carbohydrates: 24 grams
Fiber: 1 gram
Protein: 13 grams
Total Fat: 8 grams (5g saturated)
Sodium: 380mg

Source:
Recipe adapted from: Marlene Koch's 375 Sensational Splenda Recipes
Date: May 14, 2008
Reviews
Reviewer:
Mandy
Rating:
Review:
I made it for a special dinner party and it got great reviews from everyone. Very rich and creamy so you need just a small slice! Thank you for a great recipe!
Reviewer:
Sarah Marshall
Rating:
Review:
Delicious! I elected to put a drizzle over the top of mine using Hershey's Special Dark syrup. You have to be careful not to overdue that, though. But, it embellishes the chocolate flavor.
Reviewer:
Madyn
Rating:
Review:
My sister is a type 1 diabetic, she loves cheesecake but usually it contains to much sugar. I found this recipe an made it for her birthday. SHE LOVED IT. I will make again!!!!