Diana's Desserts - www.dianasdesserts.com
See more recipes in
Miscellaneous Desserts, Etc.
Chocolate Soufflé
in Diana's Recipe Book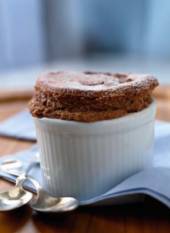 Average Rating:
(total ratings: 3)
[Read reviews]
[Post a review]
Servings: 4-6 or 6-8
Comments:
Soufflé

Definition: [soo-FLAY] A light, airy mixture that usually begins with a thick egg yolk-based sauce or puree that is lightened by stiffly beaten egg whites. Soufflés may be savory or sweet, hot or cold. Baked soufflés are much more fragile than those that are chilled or frozen because the hot air entrapped in the soufflé begins to escape (causing the mixture to deflate) as soon as the dish is removed from the oven. Savory soufflés are usually served as a main dish, are almost always hot and can be made with a variety of ingredients including cheese, meat, fish or vegetables. Dessert soufflés may be baked, chilled or frozen and are most often flavored with fruit purees, chocolate, lemon or liqueurs. Both sweet and savory soufflés are often accompanied by a complementary sauce. Soufflés are customarily baked in a classic soufflé dish, which is round and has straight sides to facilitate the soufflé's rising. These special dishes are ovenproof and come in a variety of sizes ranging from 3 1/2-ounce (individual) to 2-quart. They're available in kitchenware shops and the housewares section of most department stores. Foil or parchment "collars" are sometimes wrapped around the outside of a soufflé dish so that the top of the foil or paper rise about 2 inches above the rim of the dish. Such collars are used for cold dessert soufflés so that the sides of the frozen or molded mixture are supported until they set. Once the collar is removed, the soufflé stands tall and appears to "rise" out of the dish.

Source: The New Food Lover's Companion, Secon Edition, by Sharon Tyler Herbst
Ingredients:

For 4-6 Servings:
1 cup skim milk
1/2 cup granulated sugar, divided
1/3 cup unsweetened cocoa
1/4 cup all-purpose flour
1/8 teaspoon salt, optional
1/2 teaspoon vanilla extract
4 eggs, separated
1/2 teaspoon cream of tartar

For 6-8 Servings:
1 1/2 cups skim milk
3/4 cup granulated sugar, divided
1/2 cup unsweetened cocoa
1/3 cup all-purpose flour
1/4 teaspoon salt, optional
3/4 teaspoon vanilla extract
6 eggs, separated
3/4 teaspoon cream of tartar

Garnish: (optional)
Confectioners' sugar
Instructions:
For 4-6 Servings:
In a covered jar or blender container, shake or blend together milk, 1/4 cup of the sugar, cocoa, flour and salt, if desired. In medium saucepan over medium heat, cook, stirring constantly, until mixture boils and is smooth and thickened. Stir in vanilla. Set aside.

In a large mixing bowl at high speed, beat egg whites with cream of tartar until foamy. Add remaining sugar, 2 tablespoons at a time, beating constantly until sugar is dissolved and whites are glossy and stand in soft peaks. (rub just a bit of meringue between thumb and forefinger to feel if sugar is dissolved.) Stir egg yolks into reserved sauce until well blended. Gently, but thoroughly, fold yolk mixture into whites. Carefully pour into 1 1/2- to 2-quart soufflé dish or staight-sided casserole.

Bake in preheated 350°F/180°C oven until puffy, delicately browned and soufflé shakes slightly when oven rack is gently moved back and forth, about 30 to 40 minutes. If desired, dust soufflé with a light sprinkling of confectioners' sugar. Serve immediately.

For 6-8 Servings:
Bake in 2 to 2 1/2-quart soufflé dish or straight-sided casserole in preheated 350°F/180°C oven about 45 to 55 minutes.

For 8 Individual Soufflés:
Use proportions for 6 to 8 servings and bake in 8 (10-ounce each) soufflé dishes or ramekins in preheated 350°F/180°C oven about 20 to 25 minutes.
Date: July 24, 2002-Revised April 22, 2006
Reviews
Reviewer:
neha
Rating:
Review:
awesome!!
Reviewer:
gregory
Rating:
Reviewer:
Polita Linda
Rating:
Review:
Yummy! I Loved it!!!