Diana's Desserts - www.dianasdesserts.com
See more recipes in
Chocolate Sweets
Old-Fashioned Chocolate Layer Cake
in Diana's Recipe Book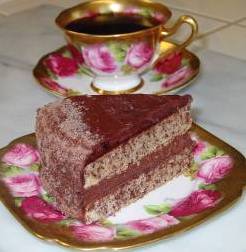 Average Rating:
(total ratings: 1)
[Read reviews]
[Post a review]
Servings: 12
Comments:
A CHOCOLATE SALUTE TO THE MASTER

In celebration of Julia Child's 85th birthday on August 15, 1997, the Chocolate Manufacturers Association (CMA) offered the recipe for the chocolate cake served to Julia Child for her birthday. When asked about this cake, Mrs. Child exclaimed, "The recipe is eminently worth dying for."

Chef Marcel Desaulniers, of Trellis Restaurant in Williamsburg, Virginia, (also author of "Death by Chocolate") created this special cake for the lifetime chocolate lover herself. Guittard Chocolate donated the chocolate for the cake on behalf of CMA. "Old-Fashioned Chocolate Layer Cake".
Ingredients:

Speckled Chocolate Cake:
1/2 pound (2 sticks/1 cup/8 oz/226gm) unsalted butter
2 tablespoons melted unsalted butter
8 egg yolks
1 1/4 cups granulated sugar
6 egg whites
1 1/2 cups cake flour, sifted
10 ounces semisweet chocolate, finely grated (reserve 2 ounces of the grated chocolate for garnishing sides of cake)

Chocolate Icing:
1/2 pound (2 sticks/1 cup/8 oz/226gm) unsalted butter
3/4 cup unsweetened cocoa
1/4 teaspoon salt
4 cups confectioners' sugar
1/3 cup half-and-half (half cream/half milk)
1 teaspoon pure vanilla extract

Special Equipment (optional)
Cardboard Cake Circles (can be purchased at baking supply stores)

Instructions:
FOR THE CAKE:
Lightly coat insides of two 9 x 1 1/2-inch cake pans with melted butter. Line each pan with parchment paper, then lightly coat parchment with more melted butter. Set aside. Preheat the oven to 325 degrees F (160 C).

Heat 1 inch of water in the bottom half of a double boiler over medium heat. Place 1/2 pound of butter in top half of double boiler. Heat butter slowly, stirring continuously until it is melted but not separated. Remove from heat.

Place egg yolks and 3/4 cup of granulated sugar in bowl of electric mixer fitted with balloon whip. Whisk on high until slightly thickened and lemon-colored, about 1 minute. Adjust mixer speed to low and continue to mix while whisking egg whites.

Whisk egg whites in a large stainless bowl until soft peaks form, about 3 minutes. Add remaining 1/2 cup sugar and continue to whisk until stiff but not dry, about 2 to 3 minutes.

Gradually add flour to egg yolks while mixing on low. Add melted butter and continue to mix on low for 10 seconds. Increase speed to medium and mix for 5 seconds. Remove bowl from mixer and use rubber spatula to thoroughly combine ingredients. Add a third of beaten egg whites and stir to incorporated, gently fold in remaining egg white and 8 ounces grated chocolate.

Divide batter between prepared pans, spreading evenly, and bake until a toothpick inserted in center comes out clean, about 25 to 30 minutes. Remove cakes and cool in pans for 20 minutes.

Invert cakes onto cake circles; cool to room temperature, about 20 minutes. Remove parchment and refrigerate for 30 minutes.

FOR THE ICING:
Place 1/2 pound butter, cocoa, and salt in bowl of electric mixer fitted with a paddle. Cream mixture on low until thoroughly combined, about 3 minutes. Add confectioners' sugar, half-and-half, and vanilla. Combine on low for 10 seconds. Reaadjust speed to high and beat until icing is light and fluffy, about 3 minutes. Remove from mixer and keep at room temperature until needed.

TO ASSEMBLE CAKE:
Slice each cake horizontally into 2 layers (see note below)** of equal size. Place one tablespoon icing in center of cake circle. Place a layer of cake onto dab of icing and gently press in place. Evenly spread 3/4 cup of icing over cake layer. Repeat steps for remaining three cake layers. After fourth (top) cake layer is placed, evenly spread remaining icing over top and sides of cake. Press reserved 2 ounces of grated chocolate into icing on sides of cakes, coating evenly.

Serves 12.

Note
I made this cake as a 2-layer cake (see above photo) instead of a 4-layer cake. The recipe calls for 4 layers...Diana, Diana's Desserts

Photograph taken by Diana Baker Woodall© 2002
Source: Death by Chocolate by Marcel Desaulniers
Date: July 23, 2002
Reviews
Reviewer:
Christine Mantino
Rating:
Review:
This is one amazing cake! I learned to make it from watching Marcel on his PBS Series, "Death by Chocolate". I had misplaced this recipe (talk about a sin!) and am so glad you had it posted. This will be the cake I bake for my "chocoholic" brother's 44th birthday this weekend. Thank you!